Trump's trade war triggers global food fight
By Emiko Terazono | July 05, 2018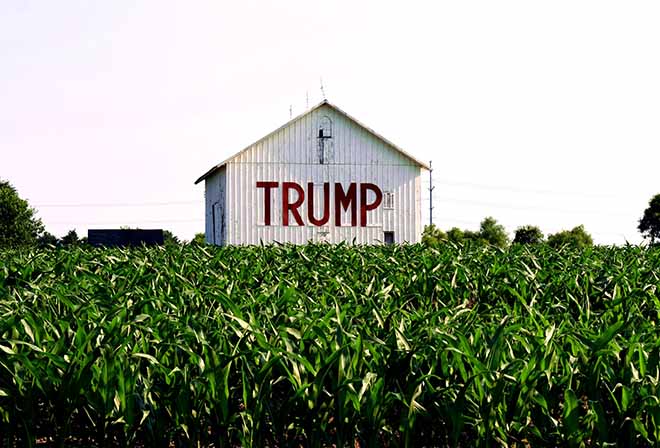 Spiralling trade tensions between the US and its key trading partners are starting to reshape the market for agricultural commodities. While US soyabean farmers risk being significant losers, Vietnamese yarn spinners and German pig farmers look like potential winners.
Canola

Chinese buyers of soyabeans, such as state-owned Cofco, have already turned to Brazil as an alternative to the US for supply of the livestock feed. Soyabeans are one of the commodities targeted by Beijing as a retaliation against US import duties.
However, producers of canola, or rapeseed — another oilseed that can be crushed and fed to livestock — may also prove winners.
Even before the flaring of trade tensions with the US, China had been buying more canola. The country bought about 4.8m tonnes of canola last year, up a third from 2016, with the bulk coming from Canada, the world's largest exporter.
"China is looking to import more canola and rapeseed as long as prices are competitive," said Tracey Allen, an analyst at JPMorgan.
Although canola imports are just a fraction of China's soyabean purchases, which totalled 95m tonnes last year, hopes of further buying has been enough to hold the Canadian canola price firm. ICE canola for November has risen almost 3 per cent since the start of the year to C$506 per tonne, with the premium over soyabeans more than doubling to more than C$85 per tonne. 

Some investors are already trying to profit from the move. "The spread between [canola and soyabeans] have widened as hedge funds have gone long canola and short soyabeans," said Mike Jubinville, analyst at Pro Farmer Canada.
Corn
Fears over the future of Nafta, the free-trade agreement between the US, Mexico and Canada, has already encouraged Mexico to diversify its sourcing of agricultural commodities. 

China has put corn on its list of US products that will face import duties from July 6, which has shifted the focus on to where US exports will go and how Mexico, the biggest importer of corn from its northern neighbour, will react. 

The Latin American country has not included any measures on corn in its response to tariffs the US has imposed on steel and aluminium products. 

But last year Mexico purchased just under 600,000 tonnes of the grain from Brazil, a tenfold increase from 2016, according to data from the International Trade Centre. Although this is only 4 per cent of Mexico's overall corn imports, the country's efforts to reduce its reliance on the US will only increase, analysts said. 

"It will be hard to replace all US imports but up to 30 per cent can be bought from Brazil, Argentina and other countries," said Stefan Vogel, Rabobank's head of agri commodity markets research. 

Cotton

Cotton is another commodity on the list of tariffs targeted by Beijing. Given China is the second-largest buyer of US cotton, prices in Chicago have plunged as trade tensions escalate. 

China will try to buy more cotton from such regions as Australia, west Africa and Brazil, according to cotton merchants Plexus. India, another leading producer, is also likely to win more market share as a result. 

Another beneficiary could be yarn producers in Vietnam, who import US cotton and export the yarn to buyers, including in China. The Vietnamese yarn spinners are already reaping gains from the fall in cotton prices that has pushed up their margins. 

"The Vietnamese should be beneficiaries from the low [US cotton] prices," said Ms Allen of JPMorgan. 

Pork
Germany's pig farmers saw their produce sent to Mexico for the first time in June, as Mexican tariffs on US pork created opportunities for rival producers. 

With Mexico and China, two leading destinations for American pork, set to slap additional duties on imports this week, the ramifications for the market are likely to deepen. 

"[US] shipments to China are declining as [Chinese] buyers are looking for other sources," said Justin Sherrard, global strategist of animal protein at Rabobank. 

Beijing lifted duties on US pork to 37 per cent from 12 per cent in April, and will raise them again on July 6. 

China is by far the largest producer, consumer and importer of pork, while Germany is the leading exporter followed by the US. Analysts say Canada and Spain will also be looking to take advantage of a fracturing in trade relations between America and China. 

"There is a lot of rearrangement of trade flows, which means opportunities for some and risks for others," Mr Sherrard added. 

Beef

As Beijing gears up to impose tariffs on US beef, Australian farmers could gain. It does not take up a lot of space on the shelves of Chinese retailers, but US beef is considered a premium product. 

Producers of US beef regained access to the Chinese market for the first time in 14 years in 2017 and, along with Australian beef, commands a premium price. By contrast, beef from Brazil, the top exporter to China, is seen as "volume products" according to a US Department of Agriculture report. 

Selling beef in the premium Chinese market is about building the brand and confidence, according to analysts, who point to the damage that tariffs could do. The tariffs "could ultimately restrict market access and weaken a major competitor of Australian beef exporters", said Mark Bennett, head of Australian agribusiness at ANZ.

© The Financial Times Limited 2018. All Rights Reserved.
Not to be redistributed, copied or modified in any way.