US bull market continues to ride out Trump risks
By Robin Wigglesworth and Nicole Bullock in New York | August 10, 2018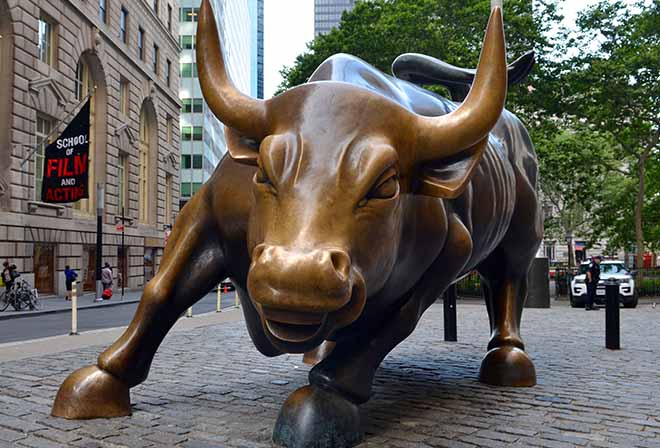 Apple recently became the first US company to be valued at a cool $1tn, but another less-heralded but no less important landmark is looming: on August 22, the US stock market will officially have enjoyed its longest-ever bull run.
It has been a bruising but rewarding obstacle course. US equities have returned over 400 per cent over the nine years since the financial crisis nadir in March 2009. Underscoring how shrugging off temporary sell-offshas repeatedly proven a winning strategy, the bestselling T-shirt on StockTwits, a website for day traders, shows a basketball player dunking on a bear, emblazoned with the acronym BTFD — or "Buy The F***ing Dip".
The recent resilience of US stocks might come as something of a surprise. After all, there are myriad reasons to worry: fears of a trade war; rising US interest rates; political uncertainty around US midterm elections in November; renewed Chinese market ructions; a slowdown in Europe; and questions about the growth prospects of the technology behemoths that have helped power the US equity rally.
"We're in the eighth or ninth innings of the bull market. Those innings can be strong . . . But there are tremendous storm clouds on the horizon," said Alan Schwartz, Guggenheim Partners' chairman, in a television interview this week. This week, Pimco's chief investment officer Dan Ivascyn also sounded a glum note, warning that central bank accommodation was now gradually being replaced with populism as a big market driver.
"For both equity and fixed income investors, we think this means lower returns and, unfortunately, higher volatility," Mr Ivascyn wrote in a note to clients this week. "This combination creates a much more challenging investment environment."
And yet, the US stock market has staged another dramatic comeback. The S&P 500 has clawed back almost all this spring's losses and is once again close to a record high. There are three major, interlinked factors that have helped assuage concerns and propelled US stocks higher again: strong economic growth, dazzling corporate earnings and a wave of share buybacks.
US gross domestic product expanded 4.1 per cent in the second quarter, the fastest rate of growth since 2014, and swingeing tax cuts have juiced up corporate profits. Almost four-fifths of S&P 500 companies beat earnings expectations in the second quarter — the highest since FactSet began tracking the numbers in 2008.
"History suggests that we should see some headwinds. But history isn't used to the kind of earnings growth we're seeing," says Wayne Wicker, chief investment officer of ICMA-RC, a pension plan manager. "Despite what's happening on the political front, the earnings help neutralise the negatives."
The earnings bonanza, coupled with the repatriation of profits previously held overseas to avoid taxes, have helped finance a share buyback spree. Goldman Sachs believes US companies will repurchase a record $1tn of their own shares this year. Throw in a relative lull in the trade war rhetoric and bond market yields staying subdued, and investors have had the right recipe for another rally.
It is hard to poke holes in the earnings picture. What is less airtight is the outlook over the coming year. Investors have been fretting for some time about the ageing Wall Street bull, fears that only intensify with each day and month that the rally continues.
A blizzard of interest rate cuts and multi-trillion dollar monetary stimulus programmes from central banks were the dominant factor behind the roaring stock market rally that followed the financial crisis. But with the 10-year anniversary of the bankruptcy of Lehman Brothers approaching, that stimulus is being scaled back.
The Federal Reserve has raised US interest rates seven times since 2015, and another two increases are pencilled in this year. At the same time, the Fed's balance sheet shrinkage is accelerating. Fitch Ratings estimates that the bank's portfolio of bonds bought to fight the financial crisis will shrink by $315bn this year and $437bn in 2019.
Tighter monetary policy has already contributed to the first signs of increased stock market volatility that arose in February of this year, and rising interest rates means that even ultra-safe, cash-like three-month Treasury bills now yield over 2 per cent — more than the dividend yield of US stocks for the first time in a decade.
"It's been a fascinating bull market. But the longer it goes on the more its sustainability will be questioned," says Michael Hartnett, chief investment strategist at Bank of America Merrill Lynch. "People used to buy the dip because there was no other alternative. Now there is one."
Jeremy Siegel, professor of finance at the University of Pennsylvania's Wharton School and author of Stocks for the Long Run, is also worried by rising rates, but argues that a trade war is the biggest threat confronting the rally.
"The market is saying that is a very low probability event. Although we hope it is, no one knows for sure," he says. "A major trade war with China or anyone else could easily lop 20 per cent off this market, which would bring it into a bear territory. If we really get trade resolution, the market could sprint up 5-10 per cent."
At the same time, there have been renewed questions around tech stocks— particularly the group of big, hot tech companies known colloquially as the Faangs — that have powered the US stock rally in recent years.
Investors in Facebook, Amazon, Apple, Netflix and Google's parent Alphabet have reaped roaring gains over the past few years as these companies delivered consistent growth and fat profit margins. A New York Stock Exchange index that includes the Faangs, Tesla, Twitter and other high-flying tech companies such as Chinese groups Alibaba and Tencent has trebled since the start of 2015. But cracks have emerged here too.
Some black spots in the latest earnings season came in the tech sector, casting doubt on its growth prospects. While Intel, Netflix and Twitter disappointed investors, former darling Facebook served up the biggest setback. Shares of the social network collapsed when it warned of slowing user and advertising growth, shaving more than $120bn off its market value in just one day.
Nonetheless, investors have found it hard to ignore just how strong corporate earnings have been, despite some pockets of disappointment. With 90 per cent of companies having reported, US corporate earnings rose 24.6 per cent year on year in the second quarter. That is the second-biggest gain in nearly eight years after the 24.8 per cent rise in the first quarter, according to FactSet.
Profit margins are clocking in at a record 11.8 per cent, and top-line sales growth — which is not flattered by a lower corporate tax — has also been strong. Revenues for S&P 500 companies rose 9.9 per cent in the three months through June, the best showing since 2011. Some 72 per cent of companies surpassed revenue forecasts, above the five-year average of 58 per cent.
"Tax reform has helped, but even without it, there was enough momentum for earnings to grow in the double digits," says Krishna Memani, chief investment officer at OppenheimerFunds. "If we find some way of resolving that [trade tension] I think the markets are going to be meaningfully higher."
Importantly, much of the earnings bonanza has been shovelled back into the stock market. Corporate share repurchase authorisations have already surged by 80 per cent to a value of $754bn this year, spurring Goldman Sachs's $1tn forecast for overall US buybacks in 2018.
Even this may be conservative. Inigo Fraser-Jenkins, a senior analyst at Bernstein, estimates that if buying patterns follow the historic average, then US buybacks could total as much as $1.2tn for 2018. That would lift the total since 2010 to over $5.1tn, bigger than the Fed's entire $4tn quantitative easing programme. In fact, companies themselves have been the single biggest buyers of stocks since the financial crisis.
Given this wall of money — supplemented by another $3tn of dividends — it is perhaps more surprising that the US stock market is not even higher. An old Wall Street adage says stocks "climb a wall of worry", and the fact that investors are far from euphoric at the moment could indicate that the bull run has much further to go.
However, the relatively lacklustre US equity upswing since the spring — in spite of the strong fundamentals — does underscore that investors remain wary of the longer-term outlook. Strong earnings are already reflected in equity prices, and markets are always on guard for inflection points.
Investors are right to be worried, according to Robert Shiller, a finance professor at Yale University, Nobel laureate and author of Irrational Exuberance. He argues that corporate earnings have been goosed by the Trump administration's "spending spree economy" rather than a fundamental improvement. Meanwhile, investors are ignoring the elephant in the White House.
"Donald Trump may say he's a stable genius, but he's not. And markets don't seem to be factoring that in," Prof Shiller says. Nor is he convinced that the "wall of worry" adage means investors have little to fret about: "It's not a stable theory of human behaviour, and I do think there is a risk of a sudden market drop," he warns.

© The Financial Times Limited 2018. All Rights Reserved.
Not to be redistributed, copied or modified in any way.