BlackRock's low inflows highlight investor anxiety
By Robin Wigglesworth and Laura Noonan in New York and Owen Walker in London | October 16, 2018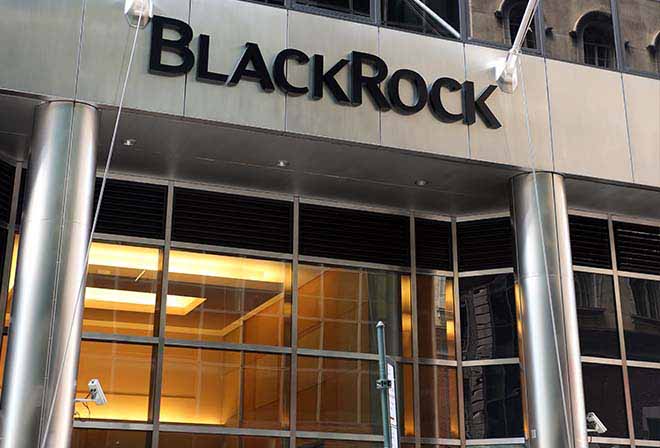 BlackRock, the world's biggest asset manager, said inflows into its funds sank to a two-year low in the third quarter, highlighting the rising tide of investor anxiety that has been driving this month's market turbulence.
BlackRock revealed its difficulties as leading Wall Street banks Goldman Sachs and Morgan Stanley reported robust earnings, underscoring the divergence between a gloomier international backdrop and a red-hot US economy that has fanned fears that the Federal Reserve will ramp up interest rates.
Global equity markets clawed back some of their recent losses on Tuesday, with the S&P 500 heading for its best day in half a year, but concerns about the longer-term outlook continued to gnaw at investors.
"Right now there are many new questions in many new areas of the world . . . [such as], are we at peak earnings?" Larry Fink, BlackRock's chief executive and chairman, said in an interview. This led to a "pause by investors looking to de-risk".
The group had long-term net inflows of just $10.6bn for the third quarter — the lowest since 2016, as institutional clients such as hedge funds and pension schemes yanked money out of increasingly volatile financial markets.
That sent BlackRock's shares tumbling as much as 5.7 per cent on Tuesday, with the company's stock down nearly 20 per cent this year by midday trading in New York.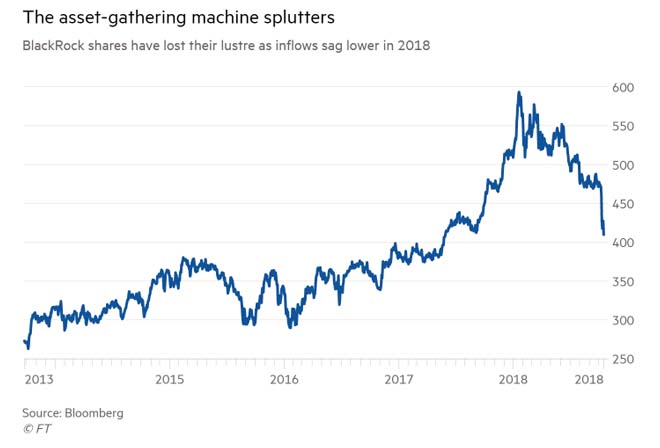 US bank shares enjoyed a welcome bounce, with Morgan Stanley and Goldman rounding off the big banks' reporting season on Tuesday by both announcing increases of about 19 per cent in net income for the third quarter against a year earlier.
Citigroup, Bank of America, JPMorgan Chase and Wells Fargo had earlier reported increases in net income of between 12 per cent and 32 per cent for the same periods, driven in part by lower tax bills because of reforms introduced this year.
But while the headline numbers were glowing, some of the detail and commentary was less so.
Goldman said its fixed-income trading revenues had fallen 10 per cent year on year amid "sluggish" demand from some clients.
JPMorgan also suffered a 10 per cent fall in fixed-income trading revenues, and chief executive Jamie Dimon noted that risks such as Brexit, Italy, trade wars and tighter monetary policy remained a concern.
"We have a lot of uncertainty around the Federal Reserve and interest rates".
Larry Fink, BlackRock chief executive
"They seem to be increasing to me. Eventually they may have an effect. No one should be surprised if it happens down the road," he added on a call with analysts.
The global economy started 2018 on the front foot, buoyed by accelerating tax cut-fuelled growth in the US.
But the bout of emerging markets turmoil, the slowing global expansion, climbing bond yields and rising concerns that the current corporate profit bonanza is as good as it gets has triggered some anxiety.
Bank of America's latest survey of investors, released on Tuesday, revealed that a record percentage of fund managers think that the global economic expansion is on its last legs.
The net percentage of those surveyed who said they believe the economy will weaken over the next 12 months was the greatest since November 2008, and expectations for global corporate profits has slumped to a two-year low.
Mr Fink said he did not believe that corporate profits had peaked, but said that "these are questions we have to ask", given the growth outlook, simmering trade tensions and the prospect for tighter monetary policy from the US central bank.
"We have a lot of uncertainty around the Federal Reserve and interest rates. Do they hike twice, three times, four times more? That would probably slow down the economy," he said.
BlackRock's fading growth is emblematic of a tricky period for asset managers, which have struggled to retain clients. This year's performance stands in stark contrast to 2017, when the global asset management industry scooped up record assets.
As recently as the second quarter of 2017, BlackRock reported inflows of $94bn. The world's biggest asset manager has benefited from a broader suite of products than many of its big, more active product-oriented rivals, but also faces increased competition from Vanguard, the second-largest money manager, which is fast catching up.
BlackRock's total assets under management reached $6.4tn, up 8 per cent on the same period last year, while revenues increased 2 per cent.
The group also reported adjusted earnings per share of $7.52 for the quarter, a 27 per cent increase on the same quarter last year and beating the average analyst estimates of $6.84 per share.
One bright spot was the asset manager's technology unit, which sells solutions and platforms such as BlackRock's famed Aladdin system, which posted an 18 per cent increase in revenues in the third quarter, as it keeps climbing to Mr Fink's goal of technology accounting for 30 per cent of revenues by 2022.

© The Financial Times Limited 2018. All Rights Reserved.
Not to be redistributed, copied or modified in any way.