Canada's troubles are also the Fed's
By Roger Blitz, Financial Times | September 22, 2015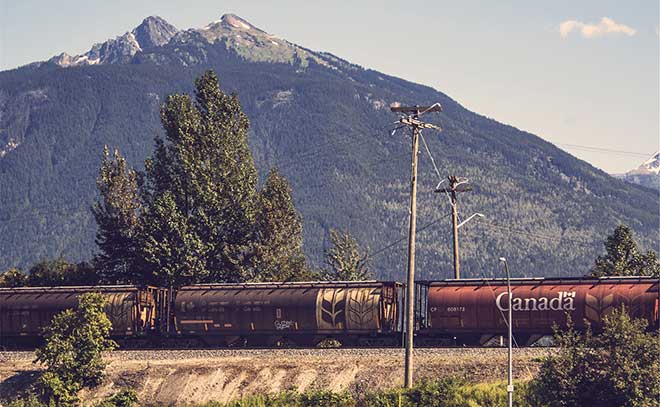 Nothing quite captures American parochialism as sharply as Saul Steinberg's 1976 New Yorker front cover, View of the World from Ninth Avenue.
Dominating the foreground is Manhattan, before the image slopes away towards 10th Avenue and the Hudson river. There are thin strips to depict the rest of the US and the Pacific Ocean, and finally the barely discernible, faraway lands of China, Russia and Japan.
The US is parochial no more. What happens in China matters deeply to the US economy, as Federal Reserve Chair Janet Yellen made clear when the central bank took a pass on raising rates last week.
The US does not directly trade significantly with China. But it does trade heavily with neighbours Canada and Mexico (which are more prominent in Steinberg's cover than those faraway countries).
As Ms Yellen implied, if China's economic slowdown hurts America's neighbours, then it hurts the US.
Canada, she said, was "an important trading partner of ours that has been negatively affected by declining commodity prices, declining energy prices".
For some commentators, Canada may be just another in a long list of reasons for an ultra-cautious Fed to avoid raising rates.
But others say Canada's first recession since 2008 and the depreciation of the Canadian dollar (nicknamed the "loonie") against its neighbour cannot be ignored in Washington.
The Bank of Canada has twice cut interest rates this year, hoping a weaker loonie and the strength of the US economy would help the country's exporters.
But US-Canada trade cuts both ways. US exporters in turn need Canadian consumers, yet the strength of the US dollar and recession are big obstacles, and the US economy is starting to notice.
As Federal Reserve Bank of Atlanta President Dennis Lockhart said on Monday, weaker demand from China will not have much impact on US exports, but "demand for our exports from emerging markets or Europe" may be affected.
He might have mentioned Canada as well. It accounts for 19 per cent of US exports. Mexico takes up 15 per cent. "The strength of the demand for US products in these countries matter," says Charles St-Arnaud, senior FX strategist at Nomura.
It matters to the US that the dollar has been strong all year, that tighter monetary policy by the Fed could continue that trend, that capital is flowing out of Mexico and that weaker energy prices hit demand in these two neighbours.
Stephen Gallo, European head of FX strategy at the Bank of Montreal, says all these factors have a knock-on effect on trade and growth in the North American Free Trade Association, which consists of the US, Canada and Mexico.
"Even though the US consumer benefits from weaker energy prices, it's not ideal that two very large trading partners of the US are big energy exporters," he says.
Nor does it help US exporters to see the loonie and the Mexican peso depreciate so significantly. Both currencies are down 14 per cent against the dollar over the year. That makes US goods in these key export markets pricier.
Cars, machinery and equipment will struggle to perform. The Bank of Montreal expects the trade-weighted dollar index to grow 3-5 per cent in the next six months. That will put the spotlight on the US car sector, says Mr Gallo, and could see it come under competitive pressure from its Mexican counterparts.
From Canada's perspective, right now a weaker loonie suits its struggling economy. The Bank of Canada governor, Stephen Poloz, said on Monday its floating exchange rate helped "absorb" declining oil and commodity prices, and enabled the central bank to focus on hitting its inflation target.
It is a similar story in Mexico City where Banxico, the central bank, on Monday predictably left rates unchanged. With the Fed staying pat on rates, pressure on EM countries like Mexico has eased for the time being.
The penny has dropped at the Fed that the global consequences of a rate rise are serious, says Luis Costa at Citigroup.
"In spite of being a theoretically 'more closed' economy, the Fed has finally conceded the current picture of global growth, highly dependent on developed market growth rather than EM growth, is extremely dangerous. EM growth is still clearly under pressure, and Mexico is a case in point," Mr Costa says.
That heralds a period of closer co-operation between the US and its near-neighbours, particularly on exchange rates. Mr Gallo says it would be stretching it to suggest that the BoC and Banxico were about to set up formal or quasi-pegs to the US dollar.
"But it does mean the exchange rate is going to have an increasingly elevated status for these central banks, and you will probably see a lot more cross-border co-ordination of monetary and exchange rate policies in the years to come," he suggests.
The view of the world from Ninth Avenue, as well as the Fed's headquarters in Washington's Constitution Avenue, just gained a wider perspective.

© The Financial Times Limited 2015. All Rights Reserved.
Not to be redistributed, copied or modified in any way.