China retaliates against new U.S. tariffs as trade war escalates
By Tom Mitchell, Emily Feng and Xinning Liu in Beijing | September 18, 2018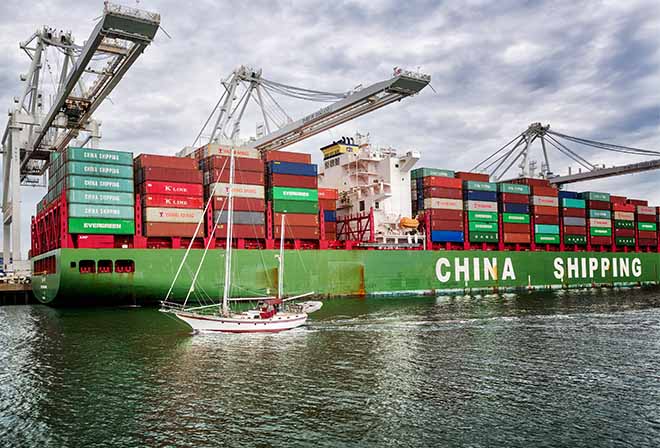 Beijing retaliated against Donald Trump's decision to impose duties on more than half of all Chinese imports by slapping new tariffs on $60bn of American goods and scolding the US president for a lack of "good faith" in bilateral trade negotiations.
Despite the angry words from Chinese officials, the new tariffs announced by the state council — at 5 and 10 per cent — are less than Beijing had first threatened when it put forward a list in August of duties of up to 25 per cent.
Mr Trump also imposed tariffs towards the lower end of expectations on Monday, announcing 10 per cent duties on about $200bn worth of Chinese imports beginning next week. He threatened to increase the rate to 25 per cent next year if no trade deal were reached with Beijing.
One person briefed by Chinese officials on Tuesday said the White House decision to hold off from 25 per cent tariffs for now could still provide room for the two sides to manoeuvre.
"A 10 per cent tariff is not going to be earth-shattering for the Chinese economy," the person said, adding the Chinese authorities were "still trying to figure out" the "many different signals" from the US.
Financial markets appeared relieved that both Beijing and Washington holstered the biggest guns available in their escalating trade war. Hong Kong's Hang Seng index closed up 0.6 per cent, and the CSI 300, comprising big companies listed in Shanghai and Shenzhen, rose 2 per cent. US equities were also higher in midday trading.
Beijing has struggled to gauge their response to Mr Trump's aggressive use of tariffs, attempting at first to engage in talks with US cabinet officials, only to find those negotiations largely ignored by the White House.
"We have been stressing that talks need to happen on the basis of parity, equality and good faith," a Chinese government spokesperson said at a daily foreign ministry briefing. "What the US has done shows no sincerity and good faith at all."
Mr Trump continued to give few signs he is willing to strike a compromise with Beijing, warning on Twitter that he was willing to impose yet another round of duties if China targeted US farmers or blue-collar workers in their measures.
"China has openly stated that they are actively trying to impact and change our election by attacking our farmers, ranchers and industrial workers because of their loyalty to me," Mr Trump wrote just ahead of the Chinese announcement.
Later that afternoon, at a press conference, the US president added: "China rebuilt their country with tremendous amounts of money pouring out of the United States. We cannot let them do any more what they have done.
"We are the piggy bank to the world," he said. "We have been ripped off by China, we have been ripped off by …the European Union."
A senior Chinese securities regulator had criticised the US president earlier in the day for "poisoning" the atmosphere for negotiations.
"He tries to put pressure on China so he can get concessions," said Fang Xinghai, who works closely with vice-premier Liu He. "That kind of tactic is not going to work." Mr Fang was speaking at a World Economic Forum event that will be formally opened by Premier Li Keqiang on Wednesday. 
Beijing is targeting fewer goods than Washington because China imports less from the US than vice versa. US exports to China last year totalled about $130bn, compared with Chinese exports to the US valued at more than $500bn.
The tit-for-tat tariffs between the world's two largest economies have unnerved leaders worldwide since they helped spark jitters in emerging markets and threatened to exacerbate a slowdown in more mature economies outside the US.
"This escalation is very unfortunate," Cecilia Malmstrom, the EU's trade commissioner, said. "Trade wars are not good and they are not easy to win."
It has also angered some within Mr Trump's party, who worry over rising prices and shrinking exports for US consumers and producers.
Dave Reichert, Republican chairman of the House ways and means trade subcommittee, said that instead of punishing China, the announcement "places the burden on American families, manufacturers and farmers, who will pay the higher tariffs and bear the brunt of retaliation".
Mr Trump's top trade officials attempted to reassure US voters they would feel no ill effects from the tariffs on China. Wilbur Ross, the commerce secretary, told CNBC the 10 per cent tariff being imposed on $200bn of Chinese imports would be spread over thousands of products, meaning that "nobody is actually going to notice it at the end of the day".
"He tries to put presssure on China so he can get concessions. That kind of tactic is not going to work". Fang Xinghai, vice-chaiman, China Securities regulator
Peter Navarro, the White House trade adviser, argued on National Public Radio that far from inflicting pain, the tariffs would buoy investment and wages in the US, pointing to the strong performance of the US stock market as evidence of the benefits.
Despite the reassurances, there appear to be few paths to avoiding further brinkmanship. On a trip to Beijing this month, Blackstone chairman Stephen Schwarzman helped broker an offer by US Treasury secretary Steven Mnuchin to meet Mr Liu for a fifth round of trade talks, according to two people briefed on the effort.
The people added that Wang Shouwen, a vice-minister of commerce who led a Chinese negotiating team to Washington in August, was due to fly to the US capital this week for preliminary discussions on Mr Mnuchin's offer. 
Chinese officials and analysts said it was highly unlikely that Mr Wang's trip, which was never formally announced, would now go ahead. "Given this new round of destructive tariffs, it is doubtful where, when and at what level the two sides will hold negotiations," said Lu Xiang at the Chinese Academy of Social Sciences. 
"Sino-US relations have reached their worst moment in 40 years," Mr Lu added. "We don't know if Trump has a plan B to get out of the quagmire." 
Listen: How one US port is dealing with Trump's trade war
Additional reporting by Sam Fleming and Demetri Sevastopulo in Washington, Yuan Yang in Beijing and Jim Brunsden in Brussels

© The Financial Times Limited 2018. All Rights Reserved.
Not to be redistributed, copied or modified in any way.