Emerging markets — basket case or opportunity?
By Kate Beioley | September 28, 2018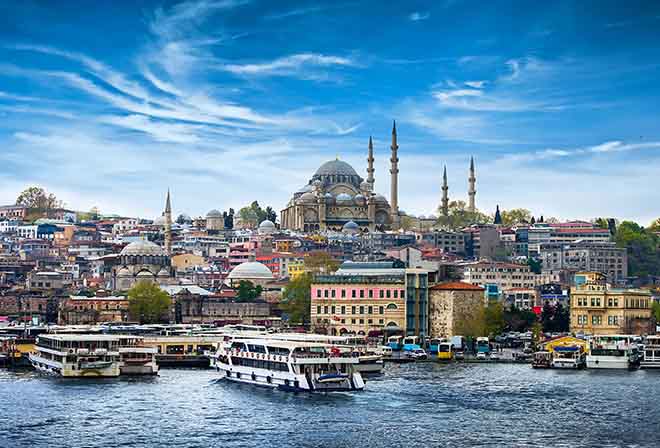 What do you get if you combine a trade war between the US and China with higher US interest rates, a stronger dollar and an economic crisis in Turkey and Argentina? Answer: an emerging markets meltdown that is certainly no joke.
But battered markets also mean lower prices. And some analysts say now is the time to invest, not run for the exit. FT Money looks at the forces roiling emerging markets, the areas worst affected — and those where fund managers think value beckons. What strategy should individual investors adopt to come out on top in this volatile sector?
What a difference a year makes. In 2016 and 2017 emerging markets could do no wrong. Rising commodity prices, a global economic recovery and low interest rates sent money flooding into markets such as China, Taiwan and South Korea.
The MSCI Emerging Markets index, a major benchmark of stocks, gained more than 30 per cent in 2016 and another 25 per cent last year in sterling terms — more than double the return of the S&P 500 that year — peaking at a record high in January 2018. Emerging market currencies surged too: the MSCI Emerging Currency index hit its strongest level on record against the dollar at the start of 2018.
From this point, though, things started to sour. The twin spectres of rising interest rates and a strong dollar in the US led to currency crises in Argentina, Turkey and South Africa and triggered a contagion that rippled through emerging currency and stock markets, leaving investors thinking the bubble might have burst.
"Emerging markets are facing a perfect storm in 2018 with their currencies, stock and bond markets all taking a battering," says Jason Hollands, managing director at Tilney Group.
In the year to date, the MSCI Emerging Markets index has lost just under 8 per cent and volatility has spiked. Emerging market funds were among the best performing of any last year, but the average Investment Association emerging market fund is now the worst performing of any sector.
In the UK, investors pulled more than £255m from emerging markets funds between June and July 2018, according to the Investment Association. Emerging markets funds experienced net outflows from retail investors in four of the first seven months of the year.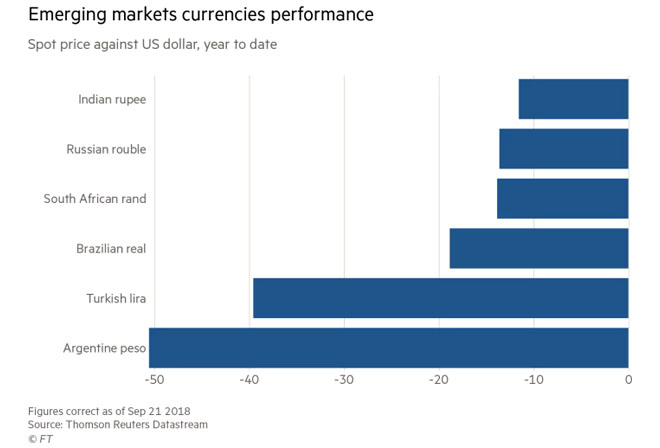 The dominance of the dollar
"A key driver of emerging market performance [this year] has been the tightening of US monetary policy and the subsequent rise in the dollar," says Tom Stevenson, investment director at Fidelity. "A strong US currency is typically bad news for emerging markets as it encourages a flight back to safety in the US, and also makes life more difficult for borrowers with dollar-denominated debts, which become more expensive to service."
Higher US rates and a stronger dollar have long been triggers for money flooding out of emerging markets. The theory is that when the dollar strengthens, the volume of debt that emerging markets have sold in dollars, rather than their local currency, becomes more expensive and harder to pay back, which makes investors fearful.
Since 2016, US rates have moved from 0.25 per cent to 2 per cent, with six rises in total. That caused a run on emerging market currencies this year, according to Lena Tsymbaluk, analyst at Morningstar.
"A stronger dollar and interest hikes from the US Federal Reserve resulted in a big currency sell-off [at the start of the year]," she says. "Most emerging currencies weakened, but particularly those with large current account deficits and high external debt, like South Africa, Turkey, Brazil and Indonesia."
So far this year the Argentine peso is down 50 per cent against the dollar, making it the worst-performing currency in the world over the period. The Turkish lira is a close second, sliding almost 40 per cent, while the Brazilian real, South African rand and Russian ruble have all suffered too.
Argentina, which was only promoted to emerging market status in June after almost a decade as a riskier "frontier market", has been punished hard after its current account deficit ballooned under pro-market president Mauricio Macri. Elected in 2015, he borrowed in dollars to plug the hole, raising the risks to the country by leaving about 80 per cent of its sovereign debt dollar-denominated.
Turkey was also heavily dependent on foreign debt. President Recep Tayyip Erdogan this year stoked economic tensions with his controversial comments on interest rates, which he called "a tool of exploitation". The country's central bank waited months to raise rates, despite double-digit increases in inflation and a run on the lira before finally taking action this month.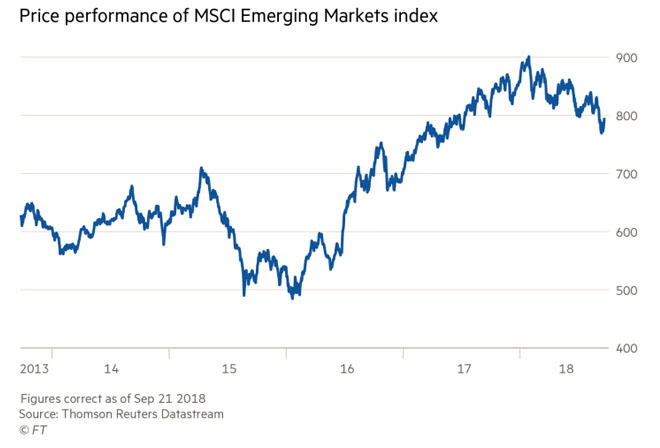 Which funds were hardest hit?
Due to the relatively small weights that most emerging markets fund managers hold in countries like Turkey, few emerging markets funds have suffered losses close to the extent witnessed in those markets. But neither has any fund in the Investment Association global emerging markets sector delivered a positive return in the year to date.
Tanvi Kandlur, analyst at FE, says: "Turkey and Argentina are not big weights in the index, so you won't find many funds with large overweights to those. Emerging Europe funds or funds invested in Latin America are doing far worse than general emerging markets funds."
The average global emerging markets fund in the Investment Association Global Emerging Markets sector has fallen by almost 10 per cent in the year to date, compared to a 24.4 per cent total return in 2017. However the best-performing funds have lost far less.
"The worst-performing funds were those with overweight positions in Brazil, South Africa and Turkey," says Ms Tsymbaluk. "Even though Brazil has not suffered this year to the same extent as Turkey, it is a larger weight in the index and so managers might have held more of it. The same goes for South Africa."
Fund managers buying small- and mid-cap stocks also suffered as fearful investors sought safety in larger household names. For example, Jupiter Global Emerging Markets has so far lost almost 20 per cent in the year to date — putting it in the top three worst performers in its sector. Ross Teverson, fund manager, says his emphasis on small- and mid-cap stocks had weighed on performance in a year when "the market has gravitated toward highly rated, large-cap stocks which investors perceive as safe havens".
Investment trusts, whose share prices fluctuate based on sentiment and performance, have also been punished, with share price discounts widening across the sector. The average emerging market investment trust now trades on a discount of 7.3 per cent compared with an average of 5.8 per cent at the end of December 2017, according to Winterflood Securities.
Winterflood analyst Simon Elliott says: "Double-digit discounts appear to have become ingrained in the case of mainstream global emerging markets trusts," despite active share buyback programmes by several trusts in a bid to prevent such activity.
What a difference a year makes
Returns from selected emerging markets
Argentina
2018 to date*: -43.65%; 2017: 58.45%
China
2018 to date* -7.9%; 2017: 40.73%
India
2018 to date*: -4.46%; 2017: 26.74%
* MSCI figures correct 21/9/18. Source: FE
A time for the brave
A sell-off does not mean investors should head for the exit. In fact, it may signal fresh opportunities and bargains for the bolder investor. Emerging markets remain the engine of global growth and they are far from a uniform group: countries such as Taiwan and China are responsible for some of the brightest investment stories of tomorrow, even as Argentina sinks into recession.
"When emerging markets are doing well, everyone is talking about the rise of the consumer, growing middle-class populations and strong GDP growth that we don't enjoy in the west," says Mr McDermott. "Then, when emerging markets start doing badly, suddenly we're all saying they're basket cases with rubbish currencies and massive debt piles. It isn't true."
Argentina, Turkey and South Africa may be enduring serious economic problems, but the MSCI Emerging Markets comprises 24 countries including China, India and Taiwan. Twenty companies in the index are individually larger than the entire Turkish stock market, according to asset manager Franklin Templeton.
"People are getting panicked by white noise," says Mr Hollands. "But Turkey, for example, is a tiny component of the emerging markets universe. The big markets to pay attention to are China, South Korea and Taiwan."
Investors are also too easily spooked by dollar strength, say analysts. Not all emerging markets are equally vulnerable to the dollar, and many have spent the past five years overhauling their economies and reducing their foreign debt piles, meaning they have been unfairly treated in the most recent sell-off.
Jan Dehn, head of research at Ashmore, says the volume of debt issued in dollars across emerging markets has shrunk significantly in the past five years. Local currency debt now makes up almost 90 per cent of all bonds issued, greatly reducing the potential for more currency shocks.
"We're at a more attractive entry point in emerging markets today compared with the 'taper tantrum' in 2013 [an emerging market crisis connected to US rate rises]," says Ms Kandlur. "The issue then was the fact that countries had enormous current account deficits, but five years on and many of those have either reduced, or turned into surpluses."
Meanwhile, the potential for growth in markets such as Taiwan and India remains far higher than in developed economies. According to the International Monetary Fund, developed and emerging economies are on track to grow by almost double the rate of the global economy in 2019 alone — at a rate of 5.1 per cent, compared to 3.9 per cent. And according to the McKinsey Global Institute, emerging economies have accounted for almost two-thirds of the world's GDP growth and more than half of new consumption over the past 15 years, though performance in each varies significantly.
The MSCI Taiwan, dominated by global heavyweight stock Taiwan Semiconductor, returned almost 5 per cent up to September 21. The index is currently trading on a price/earnings ratio of 13.8 times, according to Morningstar, indicating that investors believe it is likely to grow significantly.
Prices for emerging market stocks are plumbing fresh lows. Equity valuations are trading at more than a 40 per cent discount to the US market on price/earnings terms, according to Mobius Capital Partners — the widest gap since 2002. And emerging market currencies (with the exception of China) are approaching pre-2008 crisis lows.
"This is a time for contrarianism and a time for the brave," says Mr McDermott. "If you are a high-risk equity investor, this could be a very good time to increase your emerging market exposure given the fact that it's done so badly."
One of the biggest components of emerging markets funds is China. This week, an additional $200bn of US tariffs against Chinese goods came into effect, escalating Sino-US tensions to a new pitch and laying the ground for retaliation by Beijing. China is likely to see lower economic growth as a result, but could support its exports by cooperating with other trading partners and easing domestic policy to offset the negative shock.

Ian Samson, market research analyst at Fidelity International, says: "Trade tensions between the US and China are escalating, but new developments will have a limited and temporary overall effect on the economies of both countries. We estimate US tariffs of 25 per cent on Chinese goods will somewhat dent China's growth prospects, and provide a small one-off boost to US inflation."
But, he says, China's bigger problems are arguably domestic. US exports account for only 5 per cent of the economy, according to Fidelity. Other Asian economies meanwhile remain less affected than investors might think.
"There is no sign of damage from US tariffs in Korea, one of Asia's most export-oriented countries," says Mr Dehn. In August, he says, the rate of growth of South Korean exports accelerated by more than two percentage points. Other Asian countries such as Taiwan continue to power ahead: the MSCI Taiwan index has returned almost 5 per cent in the year to date, in large part due to the performance of Taiwan Semiconductor.
What a difference a year makes
Returns from selected emerging markets
South Africa
2018 to date*: -20.53%; 2017: 24.33%
Taiwan
2018 to date* 4.98%; 2017: 16.49%
Turkey
2018 to date*: -47.71%; 2017: 26.38%
* MSCI figures correct 21/9/18. Source: FE
How to invest
Broad emerging market funds are the best option for most investors, according to analysts. Although certain countries or markets might look like good bets and investors might want to dodge some locations, the diversification of a broad-based fund generally offers better protection and a less volatile ride.
"No matter what your attitude to risk, the best way to gain exposure to emerging markets is to start with a broad fund and then complement that with potentially a single country fund in a large emerging market," says Adrian Lowcock, head of personal investing at Willis Owen.
Emerging market fund managers loosely differ between those more likely to invest in high-octane, high-growth stocks, those who invest in cheap, out-of-favour stocks and those that opt for stocks less likely to be punished in a downturn. Different styles are likely to suit different investors' risk appetite and are likely to perform well at different points in a market cycle.
Over the long term, the best-performing emerging markets funds have been actively managed and invested in small- and mid-cap stocks. JPM Emerging Markets Small Cap fund has returned more than 240 per cent over 10 years, compared with the MSCI Emerging Markets index return of 115.83 per cent.
This is not for the faint-hearted, though. Over one year, the JPM fund has lost 3 per cent, and the wider list of top-performing funds looks very different. Investors with a lower risk profile may not be best served in a small-cap fund where returns are volatile and companies are punished hardest in the event of a downturn.
Fidelity Emerging Markets fund, run by veteran manager Nick Price, is one defensive option, according to Mr Lowcock. Over the long term, Mr Price's long-standing fund has failed to beat the benchmark consistently, but it has delivered smoother returns than rival funds.
The best-performing investment trusts over the long term have been Utilico Emerging Markets, which invests in infrastructure projects, and JP Morgan Emerging Markets, which have both generated total returns of more than 134 per cent, easily beating the index.
JPMorgan is also the strongest performer of any emerging markets trust over the medium term, returning more than 50 per cent over five years, far higher than the 40 per cent return of the MSCI Emerging Markets benchmark over that time and delivering a positive return of 1.6 per cent over one year. Austin Forey, its manager, has assembled a portfolio that includes Latin American ecommerce company Mercadolibre and Indian banks HDFC and Indusind.
With trade wars, currency crises and more potential rises in US interest rates to contend with, emerging market investors face a rocky ride over the short term. But those brave enough to risk the journey could reach the destination of significantly higher returns in the long term.
Mr Stevenson says: "There are certainly good reasons for this weakness but at some point the long-term positive growth story in emerging markets will start to look compelling. As such, the contrarian in me is starting to get interested here."

© The Financial Times Limited 2018. All Rights Reserved.
Not to be redistributed, copied or modified in any way.