Five things to watch as oil prices fall
By David Sheppard, Financial Times | March 14, 2017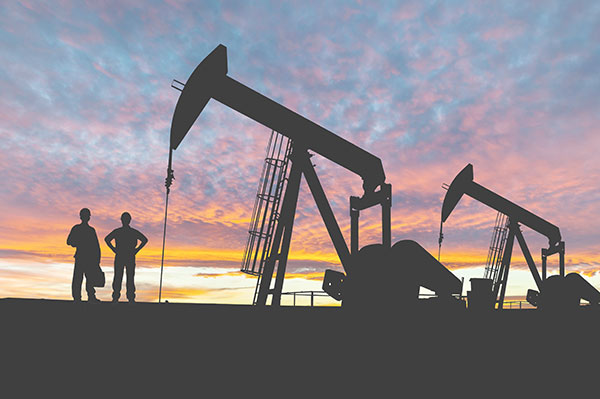 Oil prices have fallen almost 10 per cent in the past week to their lowest level since Opec agreed to cut output in November.
Here are five factors contributing to the renewed bout of selling that could dictate whether Brent crude can hold above $50 a barrel.
1. Shale
The US shale industry has come back with a bang, with oil prices back above $50 a barrel. After two years of contraction, the US Energy Information Administration sees output rising 300,000 barrels a day to 9.2m b/d in 2017 before adding a further 500,000 b/d next year.
Those are already big numbers but only tell half the story. The industry has squeezed down costs during the two-year downturn and executives are talking up efficiency and production gains that lead many to forecast an even bigger rebound.
The speed of shale's recovery is a reminder that the industry has to adapt to a big structural shift rather than just a short-term glut. Oil companies are directing spending towards the most productive plays such as the Permian Basin in Texas. Drilling rigs in the US are at the highest level in 18 months. Other producers, such as those focused on Canadian tar sands, have also squeezed down costs.
"Given the constant improvement in Permian production-type curves and strength in Canadian production of late, it would not be entirely inconceivable to see combined US and Canadian output rising by 1m b/d in 2017," analysts at Energy Aspects said this week.
2. Opec
Stronger than expected North American production poses a serious threat to Opec. The 13-member cartel successfully boosted prices after they agreed supply cuts late last year, bringing other big producers from outside the group — such as Russia — onboard.
But after the initial rally in December prices flatlined above $50 a barrel for the first two months of 2017, despite signs the group was collectively coming close to its output target. The group faces a difficult decision when it next meets on May 25.
It could roll over the existing cuts, which many analysts believe will see inventories finally start to draw down in the second half of the year.
It could agree to cut deeper to give the price a further boost, but knowing it would almost certainly give up more market share to other producing countries.
Or it could abandon attempts to manage the market and revert to an all-out price war — a strategy the group only fully embraced during 2015 before the pain of low prices became too much for their oil-dependent economies to accept.
The first option may be most likely — unless cohesion among participating countries starts to unravel should the current price drop endure. Saudi Arabia, the world's biggest exporter, has been consistent in saying it will not do all the heavy lifting on its own.
The kingdom rushed out a statement late on Tuesday saying it remains committed to the cuts and "stabilising the global oil market" with its partners, as Brent slipped towards $50 a barrel.
Russia, the largest crude exporter outside Opec, has however been lukewarm so far to the possibility of further action given the recovery in shale. Moscow said on Tuesday it was "too early" to decide, saying higher prices meant shale producers "are putting pressure on the oil market".
3. Inventories
The biggest short-term problem for Opec is that US inventories keep on rising. The sell-off really got going last week after the EIA reported crude stocks had gone up for the ninth consecutive week to an all-time high of more than 528m barrels.
While some analysts argue stocks are tightening elsewhere in the world, the US has by far the best — and most timely — data, giving it an outsized influence over the market. The US also remains the world's biggest oil consumer, making it the key battleground between shale and Opec.
4. Hedge funds
Investors had lined up to back Opec's cuts, amassing the biggest ever bet on rising prices in the first two months of this year. Across Brent and US benchmark West Texas Intermediate their net long position — the difference between bets on rising and falling prices — had reached 951m barrels, or the equivalent of 10 days of oil demand, by February 21.
But oil's failure to break higher in 2017 meant that position was getting more expensive to defend. Traders say it is not surprising funds have started to scale back their position — a move that probably accelerated after Wednesday's drop.
"We saw a situation that speculative traders held almost 12 lots of longs per short," said Ole Hansen, analyst at Saxo Bank. "Such a scenario reduces traders' ability to provide a solid bid into a falling market with the majority being sellers."
5. Demand
If the supply picture has many moving parts, demand should be easier to track, and may provide some comfort to Opec. The group raised its estimates and predicts growth at almost 1.3m b/d to average 96.3m b/d in 2017.
While the rise of electric cars has led some big players in the industry to warn of peak oil demand in the near future, others are far more sceptical.
Analysts at Morgan Stanley point out that the conventional global car fleet is increasing by 40m a year, net of scrapping. That alone should account for about 600,000 b/d of growth, or half the 10-year average. Higher use in planes, freight and petrochemicals will also boost consumption.
"Oil is a mature energy source and efficiency is improving," said Martijn Rats at Morgan Stanley. "But 'peak demand' is still some time off."

© The Financial Times Limited 2017. All Rights Reserved.
Not to be redistributed, copied or modified in any way.