Nafta talks set to drag in to next year after missed deadline
By Shawn Donnan in Washington and Jude Webber in Mexico City | May 17, 2018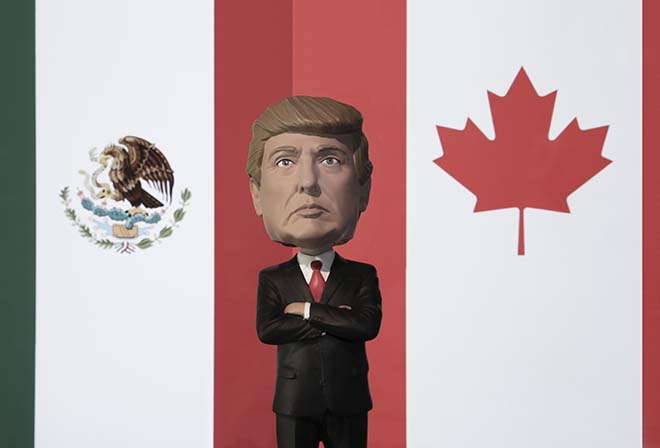 Donald Trump's efforts to renegotiate the North American Free Trade Agreement with Canada and Mexico appear likely to drag into next year after his administration failed to meet a congressional deadline to present a deal to legislators. 

Negotiators also have to factor in July 1 Mexican presidential elections in which leftist populist Andrés Manuel López Obrador is leading in the polls.
Paul Ryan, the Speaker of the House of Representatives, said last week that Thursday would be the notional deadline for the administration to provide notification that it planned to sign a new agreement if it wanted the Republican Congress to vote on the deal, according to the rules governing trade legislation.
But the administration has provided no such notification, potentially giving a vital role to the next US Congress, which will take office next January after midterm elections in which the Democrats are increasingly confident.

Mr Ryan said on Thursday that there could still be a few weeks of "wiggle room" for a deal to be considered by the current Congress, but stressed even that seemed uncertain. "Will there be a deal? I don't know," he said.

Since launching negotiations in August last year, Robert Lighthizer, US trade representative, and Mr Trump have been pushing for a rapid deal with Canada and Mexico, threatening that otherwise the US could withdraw from the quarter century-old pact that the president has labelled a "disaster".

In a statement released on Thursday Mr Lighthizer said: "The Nafta countries are nowhere near close to a deal." He pointed to "gaping differences" on key issues. But he added: "We of course will continue to engage in negotiations, and I look forward to working with my counterparts to secure the best possible deal for American farmers, ranchers, workers, and businesses."

"You need flexibility or else there just won't be a deal that can be sold to Mexico. In that case, we prefer no deal"
- Person close to the Mexican negotiating team
In recent weeks Mr Lighthizer and his counterparts have been meeting in Washington trying to hash out a deal on automobiles, with the US pushing for new tougher content and wage rules to encourage the repatriation of car factories from Mexico.

But both Canada and Mexico have resisted the push and other US proposals dubbed "poison pills" by critics, such as a sunset clause that would see Nafta expire or be renegotiated every five years unless it met specific deficit-reduction goals. 

Despite the scramble, important issues such as intellectual property rules and the treatment of politically sensitive agricultural products such as dairy have yet to be tackled fully. Only nine of 32 prospective Nafta chapters have been closed, said Laura Dawson, director of the Canada Institute at the Wilson Center in Washington.

"Despite the theatrics of the recent weeks we are not even close to getting through those 32 chapters," she added. "They are not even into the meat and potatoes that normally are a feature of these negotiations." 

Ildefonso Guajardo, Mexico's economy minister, posted an acerbic tweet congratulating Justin Trudeau, Canada's prime minister, for participating in a discussion on Nafta at the Economic Club of New York, but noted: "It is important to clarify: a renegotiated Nafta that implies a loss of existing jobs in Mexico is unacceptable."

Both Canada and Mexico have said they remained committed to striking a deal with Mr Trump. Even after the Mexican election, officials say, there is room to negotiate. A new government in Mexico will only take office in December and even Mr López Obrador is supportive of the current negotiations. 

In an interview with business confederation Coparmex on Thursday Mr López Obrador said that he "totally" supported Nafta and wanted a deal. But he added: "We must not rush to sign something that is detrimental to us. The Mexican government is very weak and the foreign powers can abuse that."

Mr Lighthizer has also been courting leading Democrats and won backing for some of his Nafta proposals from unions and other Democratic constituencies that are traditionally sceptical of trade deals. Such efforts could prove useful if the Democrats win control of the House.

"My objective is to get an agreement that is going to have overwhelming support [from both Democrats and Republicans] and I think we will do that," he told the US Chamber of Commerce earlier this month. 

While the talks have intensified in recent weeks they have also been heated at times, according to people close to the discussions, with Canada and Mexico both accusing the Trump administration of trying to bully them into a bad deal. 

Mr Guajardo told Mexican radio this week that he did not rule out a deal being struck by the end of May or even early June. 

But Mexican negotiators have been frustrated by US proposals on autos, which US carmakers have expressed doubts they can comply with, and Mr Lighthizer's response to their counter-proposals for longer phase-in periods for new content and wage rules that the US is demanding. 

"[Mr] Lighthizer went ballistic. He just wants everything," said one person close to the Mexican negotiating team. "You need flexibility or else there just won't be a deal that can be sold to Mexico. In that case, we prefer no deal." 

The uncertainty over the future of Nafta has cast a shadow over all three economies, weighing on both currency markets and corporate investment decisions. "Mexico is already being affected by Nafta. It creates uncertainty," said Alberto Gavazzi, who oversees spirits group Diageo's operations in Latin America. 

But there is also growing consensus that Mr Trump's repeated threats to pull out of Nafta have lost some of their bite amid vocal opposition from Republicans like Mr Ryan in Congress and important constituencies such as farmers and the US business community. 

"I think there is still a realistic possibility of Donald Trump launching an action to withdraw in the coming months but there is a much less realistic possibility of him being able to conclude such an action because so many important US stakeholders are opposed," Ms Dawson at the Wilson Center said.

© The Financial Times Limited 2018. All Rights Reserved.
Not to be redistributed, copied or modified in any way.