Passive fund managers face showdown in U.S. gun debate
By Attracta Mooney in London and Robin Wigglesworth in New York | March 03, 2018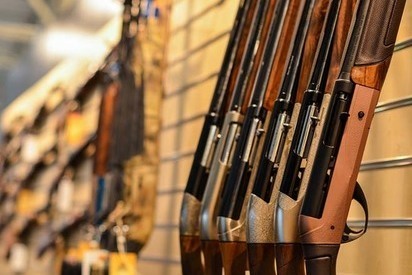 BlackRock, State Street Global Advisors and Vanguard struck an analogous note this year as one after another of the world's largest fund managers announced they were beefing up corporate governance and stewardship in 2018.
The fund giants, which collectively oversee $14tn in assets, called on companies to make a positive contribution to society, as they unveiled plans for their corporate governance teams.
"Companies must benefit all their stakeholders, including shareholders, employees, customers and the communities in which they operate," said Larry Fink, BlackRock's chief executive.
The trio have faced accusations in the past that they do not do enough to monitor controversial issues, including climate change and excessive executive pay.
Now they collectively face their biggest test yet to show just how seriously they are taking their renewed focus on stewardship as the debate over the role of gunmakers and distributors intensifies, following the deadly massacre at Marjory Stoneman Douglas High School in Florida last month.
The fractious discussion around gun control has highlighted the challenges BlackRock and rival passive fund managers face as they demand better behaviour from companies and led to questions about whether they can truly exert influence on companies they invest in.
"[The passive managers] are out with their huge marketing pitches right now on corporate governance, but you wonder how serious it really is," says a senior figure in the fund industry.
But each of the companies has been vocal about the important role passive fund managers can play in driving up standards in businesses across the word this year. Their argument is that they are long-term investors that have no choice but to stay invested, meaning stewardship is vital to ensuring a company performs strongly.
Tim Buckley, chief executive of Vanguard, told a conference this year: "Corporate governance is an absolute priority …We care about governance, not strategy."
The $5tn fund house plans to grow its corporate governance team by 50 per cent in 2018 and is setting up a new European stewardship team, as part of its efforts to drive up global standards across Europe. It also co-signed a letter calling for companies to move away from short-termism.
Mr Fink, meanwhile, called for a "new model of shareholder engagement" in his yearly letter to companies in January and said the $6.3tn asset manager would double the size of its corporate governance team.
In this letter Mr Fink wrote: "A company's ability to manage environmental, social, and governance matters demonstrates the leadership and good governance that is so essential to sustainable growth, which is why we are increasingly integrating these issues into our investment process."
SSgA said it would clamp down on executive pay. Nick Good, co-head of SSgA's global SPDR business, said at a recent conference: "We are stewards of a large part of the US economy, and it's important to do that properly. If we didn't do that, we'd open ourselves up to opprobrium from our investors. We can do more, but it's a step up from where we were."
The debate on gun control is among the most high-profile stewardship issues fund managers will grapple with this year. There are questions over whether gun manufacturers and distributors are doing enough to make arms safer and ensure they do not fall into the wrong hands.
BlackRock, Vanguard and SSgA are all large shareholders in gunmakers and distributors through their index funds. This means they invest in companies such as American Outdoor Brands, formerly known as Smith & Wesson, and Sturm Ruger because they are constituents of an index, rather than based on the investment case.
In the wake of the recent Florida school shooting, which left 17 people dead, BlackRock and SSgA have said they will engage with gunmakers.
Unlike an active manager, which can sell its shares in a company if it disagrees with how the company operates or believes it could face potential losses, passive fund managers have to hold on to their stocks in line with the index. Without the threat of divestment, there are questions over what real influence they have.
"We will be engaging with weapons manufacturers and distributors to seek greater transparency from them on the ways that they will support the safe and responsible use of their products," SSgA said. "We will also seek to ensure that any shareholder resources used to influence legislation and regulations, or fund other advocacy efforts is consistent with the company's public views."
Vanguard did not comment directly on its interactions with gunmakers, saying it believes it "can be more effective in advocating for change by not publicly disclosing the nature of engagements with portfolio companies".
It added: "With respect to engagement, Vanguard engages companies on a wide variety of governance issues ranging from board composition, executive compensation, and director elections, to oversight of risk and strategy."
What impact they will have remains to be seen, but the news that the three fund houses have stepped up their efforts on wider stewardship issues has been widely welcomed by others in the investment industry, which is coming under intense pressure from the public and politicians to better police the companies they own.
Deborah Gilshan, governance and stewardship director at Standard Life Aberdeen, the UK's largest listed fund house, described it as a "good thing".
"The more capital that can be used to steward companies, the more pressure boards get to look at these issues, that can only be a good thing for investors and savers," she added.
But that increased pressure will be from a low base. The trio currently have less than 100 people managing the governance of trillions of dollars worth of investments across thousands of companies in hundreds of countries around the world.
One senior individual involved in stewardship suggested that even with plans to increase staff numbers, the fund houses are likely to have more people working in marketing than governance, which begs the question just how important they see the issue, especially given the rising expectations and rhetoric for how active they should and will be.
Catherine Howarth, chief executive of ShareAction, an non-profit that campaigns for a better investment system, says the voting records of passive fund managers in 2018 would show how seriously they are taking their stewardship duties, arguing that a vote against management is a key governance tool. "The vote is the key risk management tool because [passive fund managers] cannot exit [their investment]," she said.
According to data from Proxy Insight, BlackRock and Vanguard backed management proposals at annual meetings at least 90 per cent of the time in the year to June 2017, while SSgA supported almost 87 per cent. In contrast, Allianz Global Investors backed management just 77 per cent of the time.
The fund managers say they engage behind the scenes, rather than routinely publicly criticise or vote against companies at annual meetings, but will escalate if necessary.
Ms Howarth says: "It has been thought for too long that passive meant sitting back and tracking an index. That is clearly inadequate," she said. "It is really important that the passive fund managers invest in building world-class teams on corporate governance. Sheer size means their votes have a hell of an impact."
A chief executive of a rival asset manager said BlackRock, Vanguard and SSgA have the capacity to drive up standards at companies around the world. "The proof will be in the pudding," he added.
Shunning guns: How investors might unwittingly be exposed
Many individual investors are connected to the firearms industry — even if they do not realise it.
This is because many pension funds, mutual funds and exchange traded funds are invested in gun stocks. More than 40 ETFs invest in gun stocks, such as BlackRock's iShares Russell 2000 ETF, State Street's SPDR portfolio 600 Small Cap ETF and Vanguard's Small Cap ETF.
BlackRock and Vanguard are now among the top shareholders of three publicly traded gun companies: Sturm Ruger, American Outdoor Brands and Vista Outdoor.
Although there have been suggestions that passive funds could shun gun stocks if index providers opted to remove them, such a move is likely to be divisive. This is because while some investors see guns as a so-called "sin" stock, others are happy to back the sector.
Joe Linhares, European chief executive of Russell Investments, the asset manager, says one of the big challenges for asset managers when it comes to stewardship issues is that investors rarely agree on what makes something morally good and bad.
"Everyone's exclusions are different. Some clients don't like oil companies, some don't want firearms. Some don't want animal testing. Where does it start and where does it stop?"
A spokesperson for BlackRock said: "We are working with clients who want to exclude from their portfolios weapons manufacturers or other companies that don't align with their values. We currently have more than $200bn in assets under management for clients in these types of portfolios."

© The Financial Times Limited 2018. All Rights Reserved.
Not to be redistributed, copied or modified in any way.