Russian oil industry proves its resilience
By Henry Foy in Volzhsky | June 05, 2018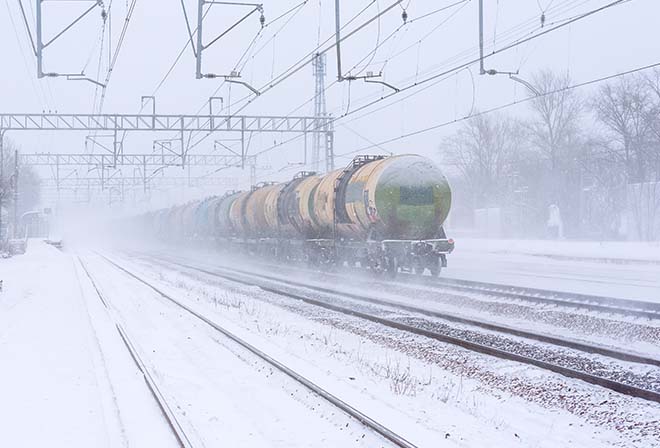 As a barometer of confidence in Russia's oil and gas industry, the thundering production line at pipe manufacturer TMK's Volzhsky plant tells a bullish story.

The furnaces, lathes and conveyors are running at full capacity, churning out white-hot lengths of pipe every 60 seconds that soon will be driven into the Russian earth in search of yet more hydrocarbons.
Despite US and European sanctions and ever-increasing technical demands that some analysts said would be beyond Russian producers, the country's oil and gas industry is booming, riding a surge in prices and a weaker rouble, and encouraged by initial successes in the largely untapped Arctic. 
"For seamless pipes we are working at full capacity. In terms of metres, we are at full charge," said Sergey Chetverikov, the plant's chief executive. "There is a huge demand for thin-walled pipes, casing pipes for wells, for the oil and gas industry." 

TMK's seamless pipes, made by punching a hole through a superheated steel rod, are a critical part of the industry, used to line the shafts that run deep underground to oil and gas deposits.

Three-quarters of the pipes made at Volzhsky, on the Volga river in Russia's southern plains, are used domestically, normally within six months of leaving the factory gates. 

They appear to be being put to good use. Investors drove the Moscow stock exchange's oil and gas index to its highest-ever level last month, and the country's oil and gas production is running close to record highs. 

Last month, France's Total bought a 10 per cent stake of a proposed $25.5bn liquid natural gas project in Russia's Arctic and UAE-based Mubadala Petroleum bought a 44 per cent stake in a Russian oilfield, alongside a dozen other agreements signed between state-controlled energy giants Rosneft and Gazprom and international groups. 

"This project fits into our strategic partnership with Novatek and also with our sustained commitment to contribute to developing the vast gas resources in Russia's far north," said Patrick Pouyanné, Total's chief executive. 

Three years ago, the picture was very different. Western sanctions imposed in 2014 after Moscow's invasion of Crimea cut off many major Russian energy companies from long-term international credit, and banned supplies of technology and expertise to offshore, shale and Arctic projects. 

At the same time, global oil prices were rapidly falling, dipping below $30 a barrel in early 2016, levels that were problematic for even low-cost Russian producers. 

But Russian state banks stepped in where the international creditors left, and Chinese capital rescued some big-ticket projects. And in some cases, Russian companies have pushed ahead alone with projects that had earlier been earmarked for joint ventures with western majors. 

"In my opinion, the stability of Russian production was underestimated by the market," said Igor Sechin, chief executive of Rosneft, the country's top oil producer. "In general, the Russian oil sector investments in rouble equivalent under the crisis conditions were increasing, and so did the production." 

Rosneft, the country's biggest oil company, recently announced a seven-fold increase in first-quarter net profit to $1.5bn, while privately held rival Lukoil reported a 75 per cent jump over the same period a year earlier. Gazprom, its top gas producer, reported a 11 per cent rise in profit to Rbs372bn ($5.93bn), with revenue rising to a record Rbs2.14tn. 

Much of that financial cheer is due to the fruits of a December 2016 deal between Russia and the Opec oil producing cartel to curb global crude output by 1.8m barrels a day, which dragged prices up from historical lows. 

Currency markets have also helped. Previously, the rouble strengthened when oil prices rose, but government policy and fears over more US sanctions has meant that since January the currency has fallen, increasing local revenue per barrel for Russian producers. 

Lukoil has said it will buy back $3bn worth of its shares over the next five years, while Rosneft last month announced its first ever $2bn buyback programme through 2020. It has also vowed to use the recent windfall to cut its debt by Rbs500bn ($7.9bn) — roughly 22 per cent. 

"We expect rated Russian oil and gas companies' operating cash flows to exhibit strong growth in 2018, which will bolster their already robust liquidity profiles and result from a combination of higher oil prices, a weak rouble and a favourable domestic taxation system for oil exports," rating agency Moody's said in a recent note. "Stable oil production and improved oil prices will be credit enhancing across the sector." 

Since Brent crude hit $80 a barrel in May, that production cap agreed with Opec is now being called into question: Moscow and Riyadh will lead talks this month with other participants on easing the cap by 1m barrels a day, news that saw prices fall to about $75. 

Russian companies have encouraged such a move, and have the spare capacity to ramp up output. 

"From our contacts with the producers, if there is a decision to exit this deal, it will be based on ensuring a balance between supply and demand and not overturning the balance on the market," said Alexander Novak, Russia's energy minister. 

Inching up output while keeping the oil price stable is a key priority for Mr Novak and his cabinet colleagues. Energy accounts for 66 per cent of Russia's exports, and a complex web of taxes, duties and incentives apply across the industry. 

With this year's federal budget set to balance at $54 a barrel, a 2018 average price of $75 a barrel would result in a surplus of $30bn, said Chris Weafer of Macro Advisory, a Russia-focused consultancy. 

"There is high demand for more pipes, and more technically complex products," said TMK's Mr Chetverikov, whose pipes are all manufactured for specific drilling projects. "We have long-term investment plans for new capacity, and for research and development."
Industry struggles away from home
While Russia's domestic oil and gas industry is powering ahead, its companies' overseas ventures are not all going to plan.

US president Donald Trump's decision to withdraw from an international agreement to ease sanctions on Iran and instead to impose restrictions on companies working there has seen Lukoil suspend its intent to enter the country's oil industry, and could complicate similar plans by other Russian players such as Tatneft and Transneft.

In Venezuela, crumbling oil output is a threat to Russia's Rosneft, which has invested billions of dollars in projects in the country, and is also owed around $1.6bn by the country's state-owned oil producer PDVSA.

Rosneft said in its 2018 annual report that it would only make a "final investment decision" in 2020 on whether to develop two gasfields it acquired last December.

Rosneft, in which the Russian government owns a majority stake, also faces potential issues in the semi-autonomous Iraqi region of Kurdistan, where it has spent $1.8bn to secure oil deliveries and pledged $400m more to develop new fields. 

That has angered the federal government in Baghdad, which insists all oil deals inside the country should be negotiated with them.

"The contracts signed between Rosneft and Kurdistan violate our constitution. Only the Baghdad government has the right to sign such contracts, so we see this as unlawful," Iraq's Ambassador to Russia Haidar Mansour Hadi said last month.

© The Financial Times Limited 2018. All Rights Reserved.
Not to be redistributed, copied or modified in any way.