Sweet Home Alabama: US uncertainty has grown greater
By John Authers, Financial Times | December 12, 2017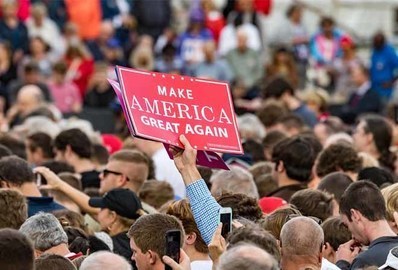 The fair state of Alabama has a severe image problem in the rest of the US, much of it undeserved, and those who live there dislike being told what to do by outsiders. Lynyrd Skynyrd's classic Sweet Home Alabama was a response to criticism from the Canadian rocker Neil Young.
Many in the rest of the US urged the inhabitants of the state to vote against Roy Moore, the Republican candidate in Tuesday's special election for the US Senate because he had been credibly accused of child molesting. It is highly unlikely that this will have swayed Alabama's voters. The many strongly conservative voters of Alabama did not need advice from the rest of the country to decide that Mr Moore was beyond the pale and to elect his Democratic rival Doug Jones. The result is arguably an even bigger surprise, compared with expectations two months earlier, than was the election of Donald Trump as president last year.
And it may well have market effects. Not many market analysts bothered to crunch the consequences in the result of an upset in Alabama, because it seemed so implausible. But it does matter.
Steven Englander of Rafiki Capital said earlier this week that a surprise in Alabama "would be material" — "It shifts the distribution of asset market outcomes away from the optimism that has emerged in recent weeks. Tax reform tail risk would rise, but the rest of the Trump agenda along with expectations on 2018 midterms would also shift. That would make a much bigger difference than the likely surprises in CPI or FOMC."
The meeting of the Federal Reserve today pales into insignificance by comparison. Why? Here is more of Steven Englander.
"The market reaction would reflect altered expectations on how fat the tail risk on tax reform failure is, what Republicans would be able to accomplish next year, and whether it means that there is serious risk that Democrats could stage a big surprise on the midterms.
"Much of the rally in the last few weeks has been driven by the expectation that tax reform will get through and that first big legislative win could be a stepping stone for further activity. If Democrat Doug Jones were to win over Republican Roy Moore, the Republican advantage would be 51-49. The Democrats have exceeded the North Korean parliament in their ability to vote as a bloc, while the Republicans have lacked party discipline. The new Senator would be seated somewhere between Dec 23 and early January. Any 2018 Republican legislative initiative becomes a long shot if you can afford only one defection.
"There would be much more pressure to finish tax reform by end year, while Republicans held the two vote advantage. It would still be possible to accomplish tax reform with a 51-49 Senate but it might require far more watering down than is now priced in. The odds of some 'accident' that prevented passage would be much higher than they are now (although well below 50%, and probably no more than 20%). the Republicans would not be able to afford any mistakes in the legislative process. It would also be harder to pass a 'fix-up' bill (as is common) in 2018 to correct mis-drafted language and provisions."
The reason this is not a greater accident for the Republican agenda is that Mr Jones does not take his seat until the new year. They can still afford to lose one more vote (they had a 51-49 margin in the Senate on the tax bill) and pass a tax cut before the new year. It has arguably increased the leverage of Republican senators who are inclined to vote against any compromise version of tax reform that emerges from the conference process with the House.
This was Deutsche Bank's commentary earlier this week: "While this will not likely impact tax reform if passed according to Republicans' ideal schedule, it could have an impact if the bill's progress drags out into next year. Negotiations regarding government funding are also proceeding apace, with a two-week continuing resolution passing last Thursday, keeping the lights on until December 22nd. This is intended to give lawmakers time to put together a longer term budget deal, but there is a chance this turns messy with some politicians on both sides spoiling for a fight. We ultimately view a protracted government shutdown as unlikely, but it is still a risk worth flagging.
More significant is the damage to the longer term agenda of the Trump administration, which had recently appeared to be in better health.
Marc Chandler of Brown Brothers Harriman summed it up thus: "These measures, especially the infrastructure and welfare reform, have not even begun the legislative process. This is in turn helps explain why today's special election in Alabama is so important…[I]f the Alabama seat is won by the Democrats, the [Republicans' Senate] majority is halved. Given the broad views contained in the Republican Party, it is too narrow of a margin to be confident of the rest of the administration's agenda. And that is ahead of next year's midterm election."
Longer term, the calculus also changes. As is known, the Democrats had a good year in 2012 when the senators who must defend their seats next year were elected. Even a 52-48 majority seemed impossible to overcome. Now that an Alabama Senate seat has been gifted them, a 51-49 majority looks much easier to overcome. This is what has happened to their odds of controlling the Senate after the midterms in the last 24 hours, according to Predictit.
Meanwhile this is what has happened to the Republicans' chances of holding 50 seats (and being able to pass legislation only with the Vice-President's casting vote) or losing their majority altogether.
There are plenty of issues with prediction markets. They get things wrong. But these changes in the odds seem reasonable to me. US political uncertainty for the next 11 months (let alone the hectic weeks between now and the end of the year) has just grown much greater.
A Democratic-controlled Senate would make US politics even uglier and make it far less likely for anything to get done. In the tragic event that any current Supreme Court justice were to pass away in 2019 or 2020, we could assume with great confidence that their seat would stay unfilled until after the next presidential election.
Nothing else in this turbulent political year has been enough to inject any significant turbulence into markets. The good citizens of Alabama may just have done the trick. It looks as though "write-in" votes, with which voters named neither Mr Moore nor Mr Jones but someone not on the ballot, may have accounted for the difference in this race — and these were probably in most cases votes made on moral grounds by convinced Republicans who decided they could not vote for someone with Mr Moore's personal history.
This could create a political and even a financial mess, but it is hard not to cheer them for doing this. authersnote@ft.com than votes in the Senate, or movements in financial markets. When the former BBC journalist Martin Bell won an upset victory and became an MP in 1997, he recited these lines from the British poet GK Chesterton. They seem relevant now. Just substitute Alabama for England:
It may be we are meant to mark with our riot and our rest
God's scorn for all men governing. It may be beer is best.
But we are the people of England; and we have not spoken yet.
Smile at us, pay us, pass us. But do not quite forget.

© The Financial Times Limited 2017. All Rights Reserved.
Not to be redistributed, copied or modified in any way.