US-China tariff war will divert trade to EU, says UN
By Valentina Romei in London | February 04, 2019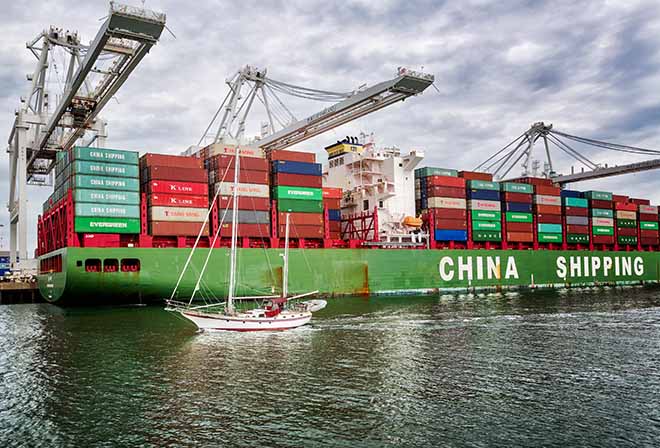 Europe would be the biggest winner of a full-blown US-China tariff war, by picking up the largest slice of the bilateral trade diverted from the two economic superpowers.
A report by the UN's trade and investment body, released on Monday, concluded that tariffs imposed by Washington and Beijing would do little to protect their domestic economies, because most of the trade would switch to other countries, particularly in the EU. 
It estimates that, of about $302bn of goods affected by the dispute, trade worth more than $250bn would be diverted elsewhere, including about $70bn to companies in the EU. Those in Mexico, Japan and Canada would also benefit.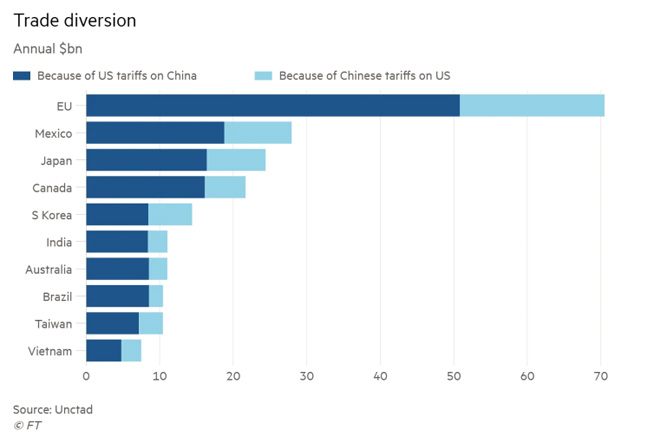 "This suggests that, while bilateral tariffs are not very effective in protecting domestic firms, they are very valid instruments to limit trade from the affected country," said the report from the UN Conference on Trade and Development, or Unctad.
Retaliatory measures between China and the US were first imposed at the start of last year when the pair set tariffs worth about $50bn of each other's goods. The confrontation escalated in September when the US imposed 10 per cent tariffs covering about $200bn on Chinese imports. China retaliated by slapping tariffs on imports from the US worth an additional $60bn.
The US tariffs were supposed to rise again to 25 per cent in January, before being frozen until March 1. Both the US and China's tariffs span a wide range of products, most of them concentrated in manufacturing.
The Unctad report concluded that the EU would increase its exports the most as a result of the broad disruption to the global supply chain, including by supplying goods and raw materials to producers directly targeted by the tariffs.
About $76bn of annual trade in electrical, office and other machinery was expected to be diverted to third countries, largely reflecting the US tariffs. Chinese tariffs would result in more than $37bn trade being diverted in cars, chemicals and commodities such as soyabeans.
One result of Chinese tariffs on soyabeans from the US, the world largest producer, has been that Brazil has replaced the US as the main supplier to China, according to the report.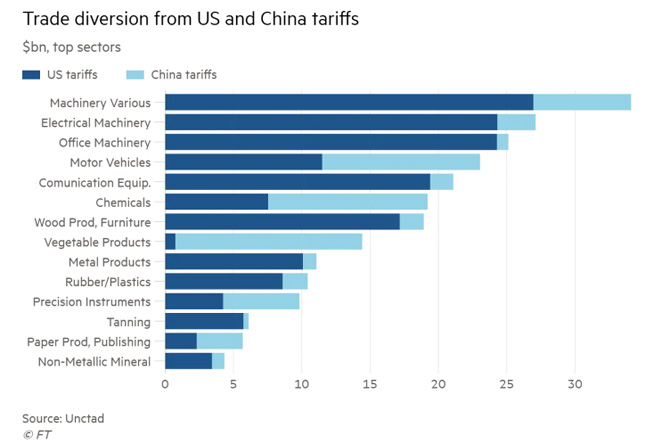 In relative terms, the amount of diverted trade would be even more important for Mexico. Unctad calculated that exports gains from diverted trade to Mexico to be about $27bn, corresponding to 6 per cent of the country's total exports. In the EU, that corresponds to about 1 per cent of exports.
Vietnam, Australia, Brazil and India are also expected to benefit from export gains, worth about 3.5 per cent or more of their total exports.
The report concluded that, if the tariffs were perceived to be permanent, then this could have a lasting effect on investment decisions and that these effects were likely to persist even if the tariffs were removed.

© The Financial Times Limited 2019. All Rights Reserved.
Not to be redistributed, copied or modified in any way.