Wall Street shake-up scatters U.S. tech behemoths
By Mamta Badkar and Nicole Bullock in New York | September 19, 2018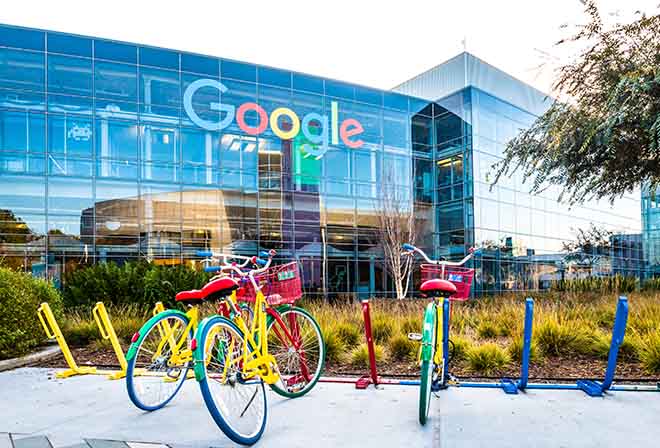 Tech investors are braced for what some have called a "de-Faanging" of the sector, a reference to the handful of major US tech companies that have led Wall Street to record highs in recent years.
Next week index provider S&P Dow Jones Indices will move Facebook and Alphabet from info tech into communication services, a revamped sector whose creation is the most striking change in a shake-up of the widely tracked classification system investors use to help navigate the world's biggest stock market.
When the dust has settled, seven tech stocks that represent roughly a fifth of the S&P 500 information technology sector will be reclassified as communication services, according to State Street Global Advisors.
Some 16 stocks, including Netflix, whose combined market cap currently accounts for about 22 per cent of the consumer discretionary sector, will also join the renamed sector that is currently home to just three companies, including Verizon and AT&T.
Given the explosive rise in passive investing over the past decade, the changes pose a challenge to investors who have used the sector system to gain exposure to the tech sector and the more defensive telecoms sector, as well as the active fund managers who use the sectors as benchmarks. In the short term some are expecting volatility as portfolios are rebalanced.
"There is no question we will see elevated volumes in most of these stocks," said Rob Nestor, the president of Direxion, an ETF provider, "whether that is enough to affect prices dramatically, it is hard to tell in advance."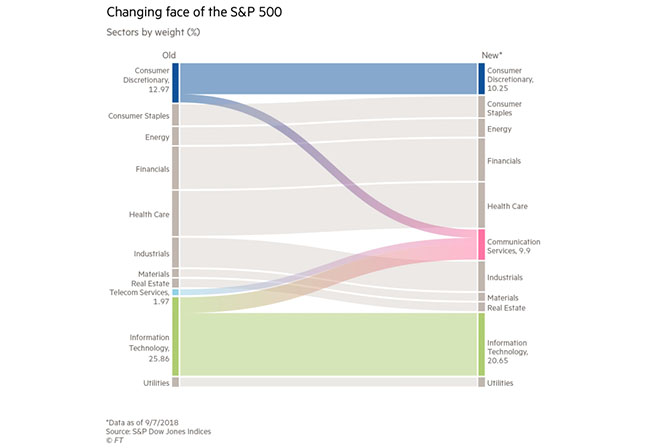 As a rough estimate, he expected the entire sector reclassification to drive about $20bn in trading volume.
The changes mean that the tech sector, which has swelled to account for about quarter of the total market value of the S&P 500 thanks, in part, to the meteoric rise of the Faangs, will shrink to about a fifth.
What is left in the info tech sector will have a greater weighting towards hardware companies, including Apple, as well as chipmakers and traditional tech stalwarts like Microsoft.
While the overhaul will scatter Facebook, Apple, Amazon, Netflix and Alphabet across more sectors, analysts say that in other ways it will sharpen the prominence of the tech behemoths.
Alphabet and Facebook's departure for communication services will see trillion-dollar Apple's sector weight within info tech rise to 22 per cent, from 17 per cent, according to analysts at UBS.
The weighting within info tech of Microsoft, which is closing in on a $1tn valuation, will rise to 16 per cent up from 13 per cent at present. While the exit of Netflix means that Jeff Bezos's ecommerce behemoth Amazon will account for almost a third of the consumer discretionary sector, up from the current 26 per cent.
"The new sectors will be more concentrated, but that is the nature of the market because you have this handful of super-cap names," said Nicholas Colas, cofounder of DataTrek.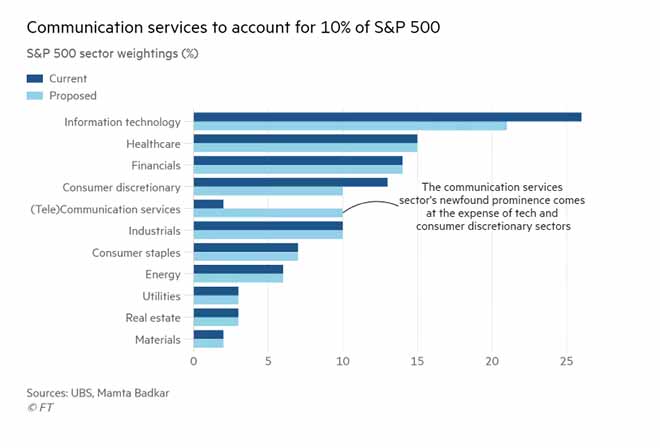 The revamp of what is currently called the telecommunications services sector will also force investors to rethink what has historically considered a defensive part of the market with a high dividend yield.
Given that Facebook and Alphabet will account for 16 per cent and 29 per cent, respectively, of the new communications service sector that perception will be obsolete. The dividend yield for the renamed sector will drop to just 1.4 per cent, according to UBS, compared with 5.5 per cent from the telecoms sector at present.
The proposed changes will also affect valuation. The telecoms sector trades at a low forward price-to-earnings ratio of 10.2 times, according to Jeremy Zirin, strategist at UBS, while he estimated the forward P/E of the communication services to be 18.6 times.
"Speaking to clients, the reason why they like it [the telecoms sector] is because of the more defensive characteristics and high dividend yield," said Pam Woo, head of US equities at BNP Paribas Asset Management. "So there will be fewer sectors to find that defensiveness."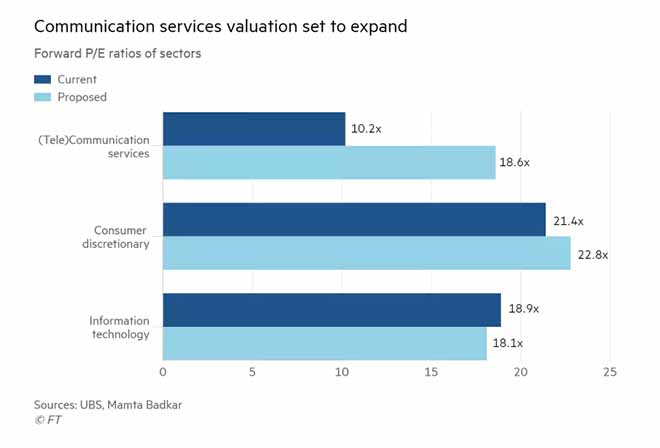 Some investors also said that grouping Facebook and Alphabet with highly regulated telecoms companies reflected expectations that the former would soon face heightened regulation, too. Facebook and Alphabet, along with Twitter, which is also joining the communications bucket, have been hit with concerns about privacy and security.
"It is kind of a clever cluster of the names with some real regulatory risk," Mr Colas said.
Indeed, some investors expressed reservations about the new sector's growth prospects.
"I would not call the new sector particularly attractive given that the maturation of the heretofore tech names has already shown up in their more middling earnings," said Max Gokhman, head of asset allocation for Pacific Life Fund Advisors, citing second-quarter earnings disappointments for both Netflix and Facebook. The latter's shares tumbled after warnings about future growth.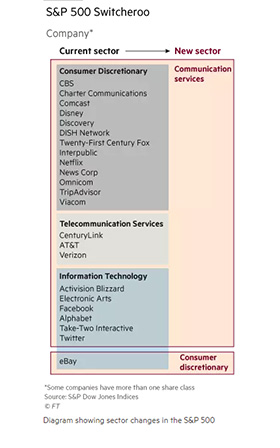 "The rush for consolidation in the more traditional media names, for example Comcast, Disney and AT&T, will probably lead to both overpaying due to bidding wars and, to finance said bids, higher leverage," he added. "Add to that stretched valuations and the increased regulatory risk . . . and it's hard to get excited about the sector."
While the reclassification has been well telegraphed by the index providers, volatility before the market close on Friday cannot be ruled out.
"Understanding the amount of rebalancing to take place is a bit like walking on the moon," said Matthew Bartolini, head of SPDR Americas research at State Street Global Advisors. "You can do all of the prep, planning, simulation and analysis but you won't know the exact experience until you are there."
Reclassifying telecoms will hit 26 stocks in three sectors

After the close of trading on September 21, index provider S&P Dow Jones Indices will transform the existing telecommunications sector with major implications for the technology and consumer discretionary groups. MSCI will make similar moves a week later and in November.
The new communication services sector will include AT&T, Verizon and CenturyLink; consumer discretionary names like Comcast, 21st Century Fox, Netflix and Walt Disney and tech giants, like Alphabet and Facebook.
As a result of the switch, the telecoms sector, which currently represents just 2 per cent of the S&P 500, will swell to 10 per cent.
All told, the upcoming communications services reorganisation will affect 26 stocks across the three sectors boasting a market value of about $2.8tn and representing about a tenth of the S&P 500, according to Matthew Bartolini at State Street Global Advisors.
"Jeff Bezos's ecommerce behemoth Amazon will grow from about 26 per cent to nearly a third".
The changes are expected to have a bigger impact on the market because of the growth in exchange traded funds and exchange traded products, which had some $5.23tn in assets under management at the end of August.
Many ETFs are "passive" and are designed to track indices. The Global Industry Classification Standard has a four-tiered taxonomy of 11 sectors, 24 industry groups, 68 industries and 157 sub-industries
Mr Bartolini said that SSGA would be rebalancing its Technology Select Sector SPDR (XLK), which has $23bn in assets and tracks the S&P 500 information technology sector, "on or around" Friday. That involves selling shares of Alphabet and Facebook, as they exit the index.
SSGA did not have a sector ETF for the S&P 500 telecoms sector given how small it was and housed those shares in its tech ETF, but those will be sold as well.
In March, Vanguard said it would institute custom benchmarks for its funds that track the MSCI sector indices that will change "to minimise trade and market impact costs".
It began rebalancing in line with the new sector weightings in May. Its telecom sector fund will become the communication services fund. Assets of Vanguard-MSCI index funds total $193bn globally.
At BlackRock, $6.6bn of the $60bn in assets invested in sector and industry-focused iShares ETFs follow the GICs methodology. The rest will not be directly affected because they follow indices provided by Dow Jones and Nasdaq.
The changes come amid an increasing overlap in services provided by telecoms, media and some internet companies.
They are also taking place to address concerns over the size of the telecoms sector, which dwindled to just three companies following a wave of consolidation and has been left vulnerable to major swings in any of its constituents.

© The Financial Times Limited 2018. All Rights Reserved.
Not to be redistributed, copied or modified in any way.