The need for weed: why Wall Street is getting hooked on cannabis
By Nicole Bullock, Financial Times | March 15, 2019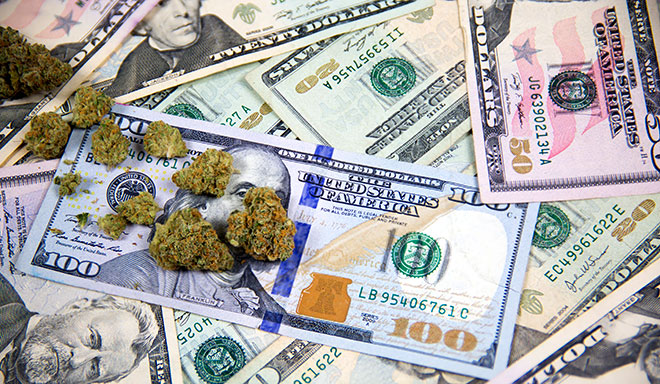 Wall Street is developing a bit of a drug habit.
Nelson Peltz, the veteran activist investor, signed on this week as a strategic adviser to Aurora, a Canadian cannabis producer, picking up a load of stock options in the process. News of the appointment sent Aurora's New York-listed shares up 14 per cent, bringing gains for the year to more than 80 per cent.
The hiring of Mr Peltz — best known these days for his big stakes in Procter & Gamble and General Electric, two stalwarts of corporate America — is a sign of how "pot stocks" are catching on, as legal barriers fall away and as consumers show more interest in cannabis-derived products. Less than a year after Canada broke the mould in allowing adult recreational usage of cannabis, hedge funds, individual investors and long-only mutual funds are piling in.
Anthony Scaramucci, who has returned to his SkyBridge investment firm after a short spell as communications director in the Trump administration, is planning to run cannabis sessions at his SALT conference in Las Vegas this year alongside other hot topics such as AI and stem cell therapy. The business is "mainstreaming", he said. "Over the next decade and a half [the] industry will experience the dotcom growth we had in mid- to late 1990s."
The challenge now for investors is how to see through the haze to sort winners from losers. 
Plenty of start-ups will founder, said Bruce Linton, chief executive at Canopy Growth, a Canadian cannabis producer. His company — stock ticker WEED, and based in an old Hershey chocolate factory in the small town of Smiths Falls, Ontario — has a market capitalisation of C$21bn (US$15.7bn), on sales of C$147m over the nine months to December.
"Google came out of [the dotcom boom], but so did a bunch of other companies that disappeared," said Mr Linton.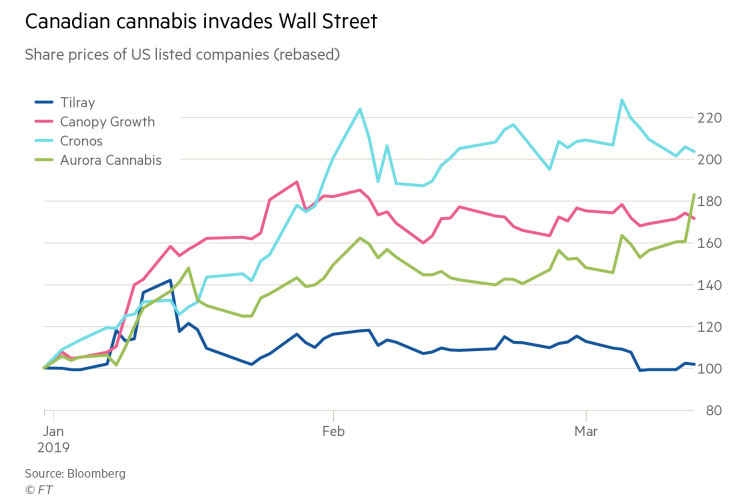 The big breakthrough for the industry was Canada's nationwide legalisation, effective last October, which made it the second country after Uruguay to give cannabis the all-clear. 

In 2018, some Canadian groups also started trading on the New York Stock Exchange, a unit of Intercontinental Exchange, and Nasdaq, which allow companies to list so long as their business is legal in the jurisdiction where they operate. Meantime, some US-based companies that are operating under state and not federal approval, have listed stock in Canada.
But it is not just legal changes — actual or expected — that are firing investors' interest. Insiders point to cannabis as having a multitude of untapped applications across several industries including pharmaceuticals, packaged foods and beverages as well as cosmetics and beauty.
Last year Altria, the tobacco company, took a stake in Canada's Cronos Group, and Corona beer maker Constellation Brands invested in Canopy. Vancouver-based Tilray, meanwhile, formed partnerships with AB InBev and pharmaceuticals group Novartis.
Many of the cannabinoids, or chemical compounds present in cannabis, are believed to have therapeutic effects. One that is getting a lot of attention is CBD, or cannabidiol, which can be used to treat anxiety, convulsions, depression and nausea as well as serving as a sleep aid or muscle relaxant, according to Curaleaf, a Massachusetts-based company that operates dispensaries in 12 states across the US.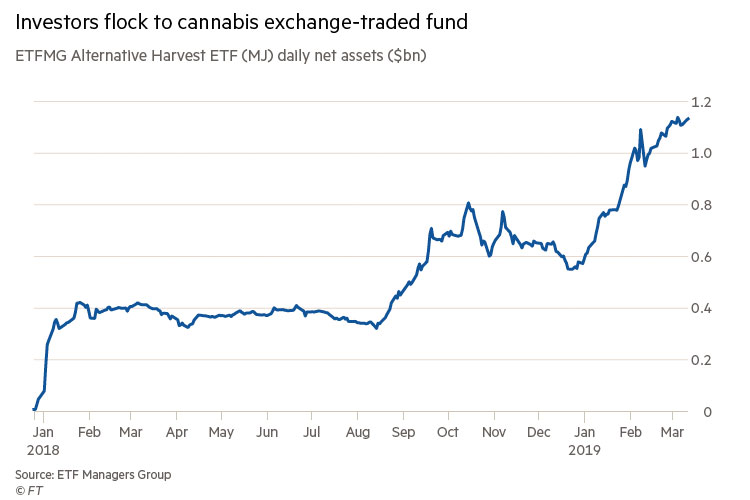 Already some US states have legalised cannabis for medical or recreational use. At the federal level, too, there is traction: the farm bill, passed late last year, opened a new front of opportunities by taking hemp off the list of controlled substances and making it permissible for US farmers to grow it for industrialised use. The bill defined industrial hemp as a variety of cannabis with a concentration of THC — the part of the plant that gets users high — of less than 0.3 per cent.
One wrinkle remains the position of the Food and Drug Administration, noted Gail Javitt of the law firm, Epstein Becker & Green in Washington, DC. The FDA has said that products making therapeutic claims around cannabis-derived products need its approval and that it remains unlawful to introduce food and dietary supplements containing CBD for interstate commerce.
Still, many are optimistic. Cowen, one of the few US-based investment banks doing cannabis research, says CBD can "conservatively" generate sales in the US of $16bn by 2025.
"CBD is less controversial than corn syrup now," Brendan Kennedy, chief executive of Nasdaq-listed Tilray, told the Financial Times last summer.
Sean Stiefel, a portfolio manager at hedge fund Navy Capital, which was an early investor in cannabis companies, said the US was becoming "far more interesting" than Canada because "it is a much, much bigger pie".
Analysts and investors see the legalisation of cannabis as a key issue in the 2020 US presidential election — one that has rare bipartisan support. 
Cam Battley, chief corporate officer at Edmonton-based Aurora, talks of a "sea change in attitude" towards the sector. 
"You don't get an opportunity every day to participate in the very early stages of the creation of a large global industry and that is what is happening now," he said.

© The Financial Times Limited 2019. All Rights Reserved.
Not to be redistributed, copied or modified in any way.