Weekly Market Pulse - Week ending December 10, 2021
Equities:
Equities rebounded strongly from the Omicron scare, with the S&P 500 Index ending the week at an all-time high. There are presently few indications that hospitals could become overwhelmed and early studies are showing that current vaccines have at least some effectiveness against the new variant, though a booster shot is being recommended. The U.S. Centers for Disease Control and Prevention said those vaccinated who contracted the virus only experienced mild symptoms. U.S. inflation on the other hand continued to accelerate to 6.8% year over year, the highest since 1982.
Fixed income:
Yields rose for the week as markets discounted Omicron worries. The U.S. Federal Reserve, European Central Bank, and Bank of England are set to meet the week of Dec. 13, meetings that will be highly anticipated.
Commodities:
Oil prices jumped for the week on diminishing Omicron fears and as the OPEC+ coalition stuck to its previously planned output hike despite pressure to increase supply on rising prices. OPEC+ also indicated flexibility in its output path given the uncertainty of Omicron.
Performance (price return)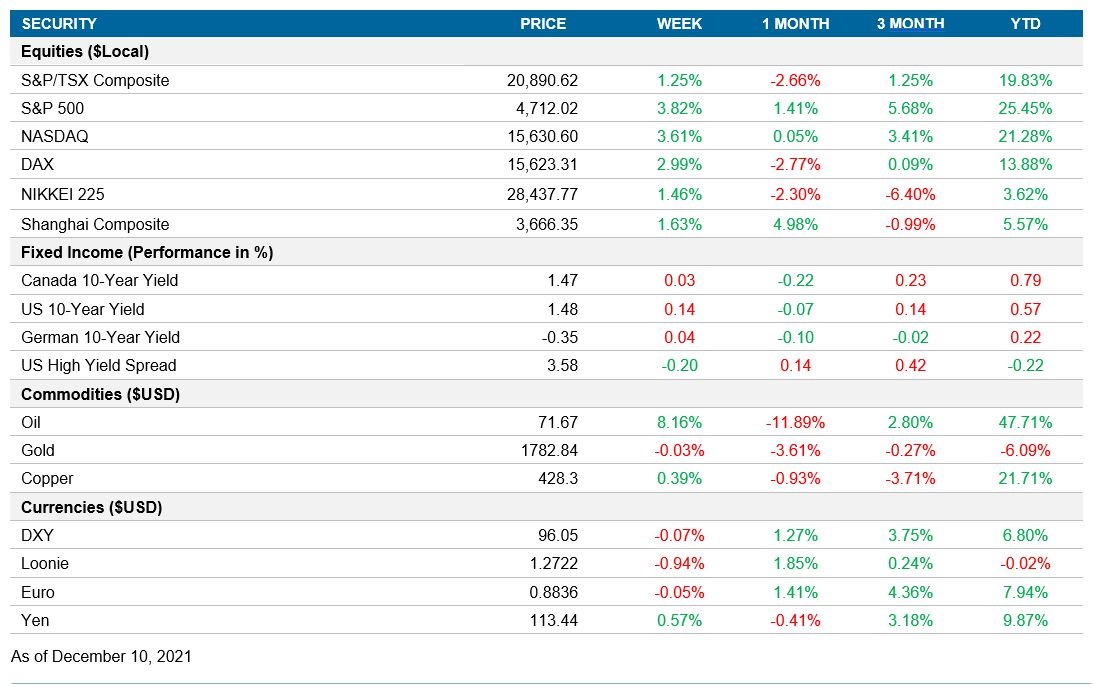 As of December 10, 2021
Macro developments
Canada – Bank of Canada sees economic momentum continuing into Q4; Capacity utilization declines
The Bank of Canada left policy unchanged but became more optimistic overall as economic momentum continues into the fourth quarter. The BoC noted broad-based job gains in recent months that "brought back employment essentially back to its pre-pandemic level." In regard to inflation, the central bank removed the word "temporary" from its description of inflationary forces, in its statement that "the Bank is closely watching inflation expectations and labour costs to ensure that the forces pushing up prices do not become embedded in ongoing inflation." Overall, "inflation has increased further in many countries, reflecting strong demand for goods amid ongoing supply disruptions," and although inflation will remain elevated in the near term, the central bank does expect inflation to ease back towards 2% in the second half of 2022.
Canadian industrial capacity utilization declined to 81.4% in the third quarter, from 82.0% in Q2, following the previous four consecutive quarterly increases. Construction capacity declined as residential construction recorded a large drop but remains at pre-COVID levels. Within manufacturing, transportation equipment capacity utilization fell to 62.0%, a drop of 6.6%, as semiconductor chip shortages continue to heavily impact the industry. For reference, transportation equipment capacity utilization was 83.0% pre-COVID in Q4 2019.
U.S. – CPI accelerates to highest since 1982; University of Michigan consumer sentiment increases
U.S. consumer price index inflation rose 0.8% seasonally adjusted in November, following the 0.9% increase in October. The increase was broad-based, led by goods rising +1.4% while service prices increased 0.4%. On a year-over-year basis CPI accelerated to 6.8%, the highest reading since 1982.
Consumer sentiment posted a small gain in December, as the University of Michigan Consumer Sentiment Index rose to 70.4 in the month, from 67.4. Interestingly, the survey results noted a large disparity between the monthly gain among households with incomes in the lowest third, compared to the middle and top third. The lowest third indicated renewed optimism of income increases for the year ahead. The survey also asked an interesting question, whether inflation or unemployment was the more serious problem, for which 76% said inflation while 21% said unemployment.
International – German industrial production increases; German ZEW sentiment declines; Chinese exports and CPI rise
German industrial production rose 2.8% in October, following the 0.5% decline in September. Manufacturing production rose 3.2%, led by a rebound in the production of vehicles (+12.6%). Elsewhere, energy production rose 0.9% and construction rose 1.2%.
The Germany ZEW Economic Sentiment Index fell to 29.9 in December, from 31.7 in November. The German economy is feeling the effects from a renewed wave and persistent supply bottlenecks.
Chinese exports rose 22.0% year over year in November, with strength in metals, including steel and aluminum, and in electronics.
Chinese CPI rose to 2.3% year over year in November, up from 1.5% in October. Prices rose 0.4% in the month. Food prices rose driven by rising vegetable prices. Pork prices rose for the month, but are over 30% lower compared to last year. Higher fuel prices and a low base also contributed to the year-over-year increase. Core CPI, excluding food and energy, fell to 1.2% year over year in November, from 1.3%.
Quick look ahead
Canada – Bank of Canada inflation mandate (December 13); Manufacturing sales and CPI (December 15)
The Bank of Canada will renew its agreement with the federal government on its inflation target. The agreement is renewed every five years. Currently, "the Bank of Canada aims to keep inflation at the 2 per cent midpoint of an inflation-control target range of 1 to 3 per cent." The central bank may explore other methods, such as the average inflation being used by the U.S. Federal Reserve, or the inflation target over the medium term being used by the European Central Bank. There are minimal changes expected, but any changes will be noteworthy as they could have implications in the upcoming rate hike cycle.
Manufacturing sales for October will be released, expected to post an increase of 4.1% according to consensus estimates on motor vehicle and energy products.
CPI is expected to come out at 0.2% for November, mainly on gasoline prices falling in the month. The year-over-year reading would be unchanged at 4.7%.
U.S. – Retail sales and Fed meeting (December 15); Industrial production and Markit PMI (December 16)
A rather heavy week of releases in the U.S., starting with retail sales data for November. Market consensus is for an increase of 0.8%, supported by higher vehicle sales and gasoline sales.
The Fed meeting will be the highlight for the week. Recent communications from Fed officials have favoured an accelerated pace of tapering, which would provide the Fed with the optionality of an earlier rate hike if they feel the need. The word "transitory" may also be dropped from the statement, given Chairman Jerome Powell's statement in his congressional testimony. A final Summary of Economic Projections the year will be released, in which we could see Fed participants move inflation expectations and the Fed funds rate projections higher.
Industrial production is expected to increase 0.7% in November, as the automobile sector continues to recover.
Lastly, we have the preliminary results from the Markit purchasing managers' index survey. Once again, it should reflect strength in the economy, though there is the risk of Omicron, which could weigh on sentiment and activity. As usual, supply chain disruptions, inflationary pressures, and labour shortages will be key indicators to watch.
International – Chinese retail sales and industrial production (December 14); Japanese PMI (December 15); Eurozone PMI, ECB meeting, Bank of England meeting (December 16); Bank of Japan meeting (December 17)
Chinese retail sales and industrial production will be released. The activity data are likely to point toward the economy stabilizing following some weak growth this year.
Furthermore, we have PMI updates from Japan and the eurozone. The main points to watch will be the impact of a renewed coronavirus wave in Europe. Japan, meanwhile, has not seen an upturn in cases, but Omicron could impact sentiment. Supply chain disruptions and price pressures will remain important to watch.
Finally, there are numerous central banks set to meet. The European Central Bank is likely to announce the end of its Pandemic Emergency Purchase Programme, which is set to end in March. However, new projections will be published, which could impact the decision especially given the renewed fourth wave and Omicron variant.
The Bank of England had turned increasingly hawkish in recent months given the high inflation prints. Data releases coming in stronger than expected would have likely increased the central bank's conviction of a hike coming soon.
The Bank of Japan is expected to keep policy unchanged. The BoJ may, however, opt to extend pandemic-related programs given the Omicron variant. The country is still in early recovery having recently lifted COVID-related restrictions, and inflation remains muted.