Weekly Market Pulse - Week ending January 14, 2022
Market Developments
Equities:
Equities, with the exception of Canadian stocks, fell for the second consecutive week. Weakness was driven in part by disappointing earnings from major U.S. banks, and a negative retail sales reading for December. The NASDAQ continued its recent weakness as investors continue to anticipate interest rate increases by the U.S. Federal Reserve in 2022. Canadian equities bucked the negative trend, displaying strong performance led by energy and financials stocks.
Fixed income:
Treasury yields rose for the week, despite a series of disappointing U.S. economic data, as investors continued to brace for a tighter monetary policy environment. Investor sentiment was further bolstered by the most recent U.S. CPI reading coming in at a nearly 40-year high of 7% year-over-year growth.
Commodities:
Oil prices rose significantly due to a combination of strong current demand and tight supply. The latter has been driven by OPEC+ continually falling short of targeted supply increases. Gold prices inched higher on account of weakening investor confidence, which was motivated by weak U.S. retail sales and consumer sentiment readings, and a weaker U.S. dollar.  
Performance (price return)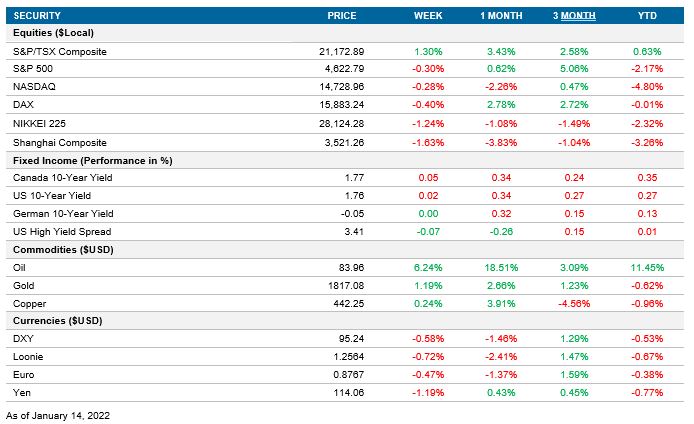 As of January 14, 2022
Macro developments
Canada
It was a quiet week in Canadian macroeconomic news, with no notable economic releases.
U.S. – Powell confirmation hearing focuses on inflation and employment; CPI rises to a near four-decade high; Retail sales disappoint, industrial production declines; Consumer sentiment drops
Fed Chair Jerome Powell appeared for his confirmation hearing for a second term as central bank chief, in front of the Senate Banking Committee. Core topics of the questioning included rising inflation and the health of the labour market, particularly for lower-income Americans. While acknowledging that raising rates would certainly slow economic growth, Powell stressed that continued high inflation could make it harder to restore the job market to full health ("maximum employment"). Fed officials have forecasted three increases in their benchmark short-term rate in 2022. Powell stressed that the Fed would raise interest rates faster than current forecasts, if needed, to stem surging prices.
The U.S. consumer price index increased 0.5% month over month in December. It rose 7.0% in 2021, registering a 39-year high in year-over-year growth. Core CPI, which excludes food and energy components, increased 0.6% month over month in December, or 5.5% year over year in 2021. The increase in CPI was led by higher prices for shelter, food, and used vehicles. Rents for the month increased at their fastest pace since 2007. Food prices were led higher by meats such as bacon. Used vehicle prices continued to climb on account of component shortages at automakers. Energy prices, however, which had previously been a strong driver of higher inflation, fell in December. The latest CPI measure bolsters market expectations of a Fed rate hike in March 2022.   
U.S. retail sales decreased 1.9% month over month in December, coming in well below consensus expectations of a 0.1% decline. 10 of the 13 retail categories showed a decline in receipts for the month. Concerns about inflation and the Omicron variant were believed to be key motivations behind the tepid sales. The latter has played a significant role in denting services such as travel and dining out. Of note, concerns about shipping delays may have prompted consumers to shop earlier than usual for the holiday season, and may partly explain the decline.
U.S. industrial production declined 0.1% month over month in December, coming in below consensus estimates of a 0.2% rise. The manufacturing subset within the measure declined 0.3%, below expectations of a 0.3% rise. A surge in COVID-19 cases is expected to have exacerbated manufacturers' struggles with materials and labour shortages. Motor vehicle production fell 1.3% for the month.
The University of Michigan consumer sentiment index declined to 68.8 in January, from 70.6 in December. Sentiment was hurt primarily by inflation and Omicron variant concerns. American consumers expect 4.9% inflation over the next year, the fastest pace since 2008. This sentiment on inflation comes on the back of the latest CPI measure hitting a near four-decade high. Sentiment was also hurt by surging COVID-19 cases, which have caused school and business closures while also affecting travel and return-to-office plans.  
International – China's CPI moderates; Eurozone industrial production increases; China's exports above estimates
China's CPI increased 1.5% year over year in December, below consensus estimates of a 1.7% rise and below the 2.3% reading in November. Food prices fell 1.2% in December, with pork prices dropping 37% and price gains on vegetables slowing sharply. Non-food prices moderated on the back of significant slowing in the pace of gains in fuel prices. Services demand was subdued due to sustained pressure from surging COVID-19 cases in different parts of the country. Demand for and pricing within major services components, such as housing, transportation, and recreation, eased from November.
Eurozone industrial production increased 2.3% month over month in November, above estimates of a 0.3% rise, and a bounceback from the 1.3% decline in October. Areas of strength included increased production of intermediate goods (0.9%), energy (1.2%), capital goods (1.5%), and non-durable consumer goods (3.2%). Durable consumer goods production, however, declined 0.2%.  
Chinese exports rose 20.9% year over year, above consensus estimates of a 20.0% rise, though below the 22.0% increase in November. Exports for production-related goods remained strong, with shipments for steel rising 85% and aluminum rising 67%. Exports of consumption goods also showed strong growth, such as for toys (23.6%), clothing (14.5%), and shoes (29.3%). Moving forward, a key factor to watch for in exports growth will be the health of external demand in the face of rising COVID-19 infections worldwide, and amid a subdued domestic demand environment for the same reason. 
Quick look ahead
Canada – Manufacturing sales (January 17); CPI (January 19); Retail sales (January 21)
Manufacturing sales in November is expected to post an increase of 3.0% month over month, according to consensus estimates. The rise is expected largely on the back of higher sales in the primary metal, transportation equipment and petroleum and coal products industries. The measure rose 4.3% in October.
CPI is expected to decline 0.1% month over month in November. The year-over-year reading would be 4.8%. An area to watch will be the effect of continued supply chain issues. In the previous month, prices rose in all eight major components, with the strongest pressure coming from gasoline prices. The effect from gasoline is expected to have eased in December. Other key areas to watch that have driven CPI higher in recent months include household maintenance, furniture, and food (particularly meat prices).
Lastly, retail sales are expected to have risen 1.2% in November based on the preliminary estimate from StatsCan.
U.S. – Empire manufacturing (January 18)
The Empire State Manufacturing Survey will be the first reading into manufacturing activity for January. As usual, supply chain and pricing indicators will be closely watched.
International – China Q4 GDP, retail sales and industrial output (January 17); Japan core machine Orders (January 17); Bank of Japan meeting (January 18); Germany ZEW Survey (January 18); UK CPI (January 19)
China's Q4 2021 GDP is estimated to drop to 3.3% growth year over year, down from 4.9% growth in Q3 2021. The Q4 2021 measure would be the slowest growth since Q2 2020 when the effects of COVID-19 first hit the economy.
Chinese retail sales are estimated to rise 3.8% year over year, and industrial output is estimated to grow 3.7% year over year, in December. Market observers will watch both measures in light of several COVID-19 flareups and lockdown measures as China pursues a zero COVID policy.
Japanese core machine orders for November will be released, with expectation of a 1.2% month-over-month, and a 6.6% year-over-year, increase.
No changes are expected when the Bank of Japan meets to set its policy balance rate.
Germany's ZEW survey, which captures opinions of professionals, is an important gauge of sentiment and economic expectations. Survey expectations are for an improvement from 29.9 in December to 32.0 in January.
U.K. CPI is estimated to rise 0.3% month over month, and 5.2% year over year, in December. The annual increase is relatively steady compared to November. A rise in food costs is expected to be offset by a fall in the prices of apparel and recreational services, compared to a year earlier.