Weekly Market Pulse - Week ending January 7, 2022
Market Developments
Equities:
Equities fell from their "Santa Claus" rally highs, surprised by the Federal Open Market Committee's minutes. Fed members continue to see tapering concluding by mid-March given the faster taper schedule, but introduced uncertainty as they noted the importance of "flexibility" to raise rates earlier and introduced the notion of decreasing the Fed's balance sheet starting some time after the first hike. Growth stocks in particular declined as yields rose strongly in response.
Fixed income:
Yields rose strongly during the first week, as the U.S. Federal Reserve introduced a more hawkish stance than markets had anticipated. Fed members showed concerns of rising inflation as the labour market tightens toward maximum employment, despite the potential of the Omicron variant hampering growth.
Commodities:
Oil prices rose even as OPEC+ confirmed it would provide more supply per its scheduled increase. U.S. inventories posted a large decline and there were concerns of supply constraints amid Omicron and cold weather. Copper prices declined on uncertainty in growth given the more aggressive Fed. Gold prices fell in response to rising yields.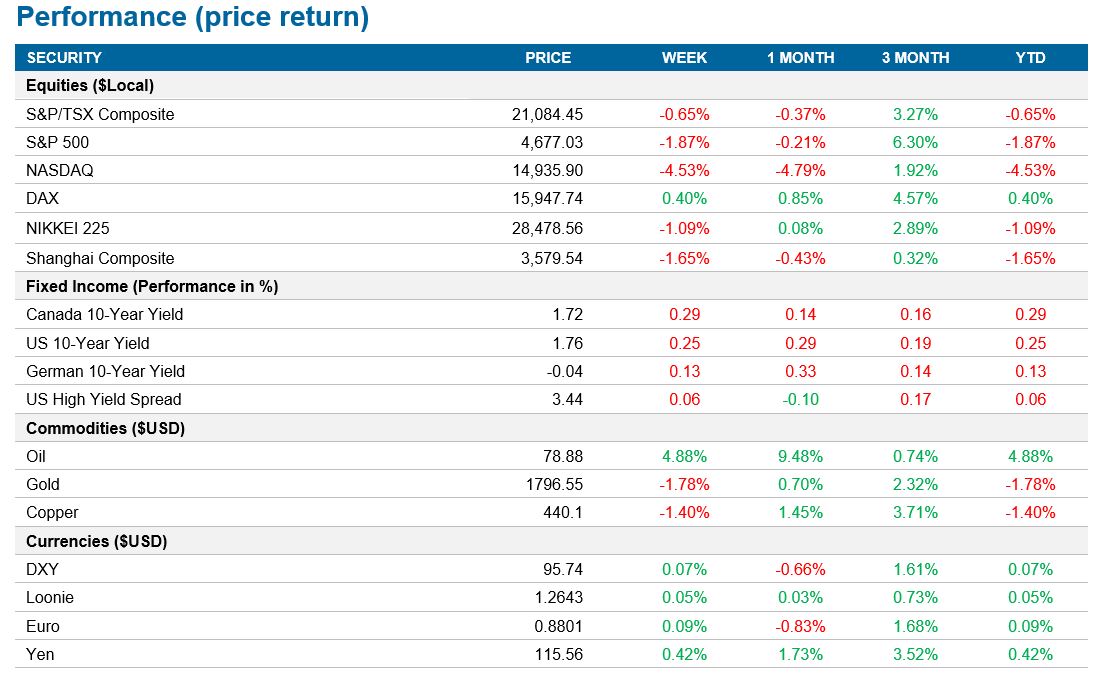 As of January 7, 2022
Macro developments
Canada – Manufacturing PMI holds strong; Employment rises
The IHS Markit Canada Manufacturing Purchasing Managers' Index fell to 56.5 in December, from 57.2 in November, continuing to indicate robust growth. Firms reported sustained increases in output, new orders, and employment. However, goods producers continue to report raw material shortages, delivery delays, and staffing issues presenting challenges in fulfilling demand. Cost burdens rose on higher input prices.
Employment rose by 55K jobs in December. Full-time employment rose 123K during the month, offset by part-time employment which declined 68K. Employment was led by goods producers, notably construction and manufacturing. On the services side, educational services employment rose, while finance and insurance employment declined. The unemployment rate declined by 0.1 percentage points to 5.9%.
U.S. – FOMC minutes indicate Fed flexibility for an earlier hike; Nonfarm payrolls rise; Manufacturing orders increase
The Federal Open Market Committee minutes confirmed that Fed participants continued to view mid-March as the appropriate end date for the central bank's asset purchase program, as the Fed judges that the economy is approaching maximum employment at the current pace of recovery. However, markets were taken by surprise by two factors: hikes could come earlier and the Fed is looking toward decreasing its balance sheet. Fed members had worried that the Omicron variant could further exacerbate inflation as it prolonged supply constraints, noting "downside risks to economic activity and upside risks to inflation." The Fed stressed the importance of "flexibility" in implementing appropriate policy adjustments, saying it may be warranted to raise rates earlier given the economic outlook. New wording with respect to the balance sheet runoff also showed that the Fed would look to start its balance sheet decrease shortly after the first rate increase, and that "the appropriate pace of balance sheet runoff would likely be faster than it was during the previous normalization episode."
Total nonfarm payrolls rose by 199K jobs in December, following the 249K increase in November. Goods-producing jobs rose 54K, led by manufacturing and construction. Services jobs meanwhile rose 157K, led by trade and transportation, professional services, and hospitality. Overall, the unemployment rate declined 0.3% to 3.9%.
Manufacturing goods new orders rose 1.6% in November, following the 1.2% increase in October. The increase was driven by a 6.5% increase in transportation equipment.
International – China PMI rises; Eurozone inflation rises; Germany manufacturing orders rebound
The Caixin China General Composite PMI rose to 53.0 in December, from 51.2 in November. The Manufacturing PMI rose to 50.9 from 49.9, while the Services PMI rose to 53.1, from 52.1. Firms reported solid activity for the month on higher activity and new work but noted muted demand internationally. Supplier performance continues to be weak, though the report notes weaker inflationary pressure with the slowest pace of input costs in 19 months.
The eurozone's consumer price index is estimated to have risen 0.4% in December, or 5.0% year over year. The year over year reading is driven by energy prices (+26.0). Core CPI, excluding energy and food, was unchanged at 2.6% year over year.
Germany manufacturing orders rebounded 3.7% in November, following a 5.8% decline in the previous month, as new orders rose 7.0% in motor vehicles. The growth was attributed to foreign orders, which rose 8.0%, compared to domestic orders, which declined 2.5%.
Quick look ahead
Canada
A quiet week is ahead for Canada, with no major data releases.
U.S. – Senate Federal Reserve confirmation nomination hearing (January 11); CPI (January 12); Retail sales, industrial production, and consumer sentiment (January 14)
Fed Chairman Jerome Powell and Fed Governor Lael Brainard will appear before the Senate Banking Committee for a hearing on Powell's second-term renomination as Chairman and Brainard's nomination as vice chair. The hearing may see the Fed telegraph its view on the current employment situation, and therefore signal how aggressive the Fed could look to move on policy.
CPI is expected to have risen a further 0.4% in December, boosting the year-over-year reading to 7.0%. Inflation is set to increase even as energy could apply downward pressure for the first time in over a year.
Retail sales are expected to be relatively unchanged for December, as the rapid spread of Omicron likely curbed spending.
Industrial production likely posted a small gain of 0.3% in December. Demand for goods should have held up relatively well compared to services amid the new wave.
The University of Michigan Consumer Sentiment Index could have deteriorated for January. December saw consumers believe economic conditions worsened, and the rising COVID case count could further weigh on sentiment.
International – China CPI (January 11); Eurozone industrial production (January 12); China exports (January 14)
Chinese CPI is expected to slow to 1.5% year over year in December, from 2.3% in November. Base effects will likely have contributed to the slowing growth. Food prices will once again drag down inflation, as pork prices continue to decline and vegetable prices slow following a surge in November.
Eurozone industrial production is forecasted to have fallen 0.1% in November. Preliminary data from Germany and France came in weak and given ongoing supply constraints the rest of region is unlikely to see significant expansions.
China will also release trade data, with exports expected to rise 20.0% year over year for December.