Weekly Market Pulse - Week ending June 4, 2021
Market developments
Equities:
Equity markets ended the week higher, but with China and Japan dragging. To stabilize the yuan, the People's Bank of China increased its foreign currency reserve requirements for commercial lenders from 5% to 7%, leading to some equity weakness. Encouraging employment numbers helped equity indices rise and renewed interest in "meme stocks," such as AMC Entertainment and GameStop, saw such shares rise during the week.
Fixed income:
Yields moved lower despite fairly strong employment data as markets expect the U.S. Federal Reserve to keep monetary policy easy. The U.S. Treasury 10-year yield fell four basis points to 1.56%. The Government of Canada 10-year yield fell four basis points to 1.46%.
Commodities:
Oil gained on optimism stemming from the OPEC+ coalition forecasting a tightening market as the organization proceeds with a planned output hike in July. U.S. stockpiles also saw another large drawdown. Copper fell, reversing the prior week's gains as industrial metals pulled back.
Performance (price return)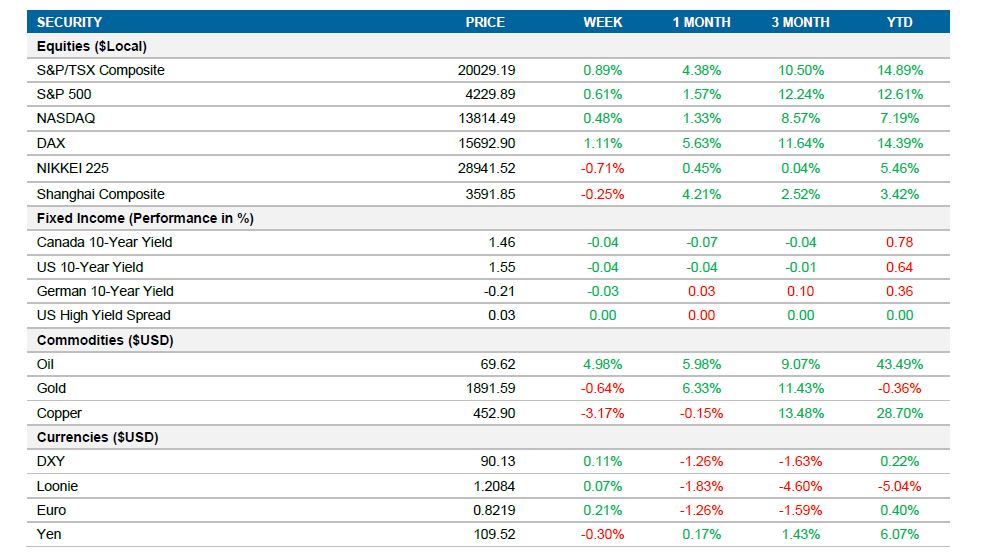 As of June 4, 2021
Macro developments
Canada – GDP rises; Employment falls for a second month due to lockdowns
Canadian employment fell by approximately 68,000 jobs in May, greater than the 25,000 expected drop, due to ongoing lockdowns and health restrictions throughout the month. The unemployment rate increased from 8.1% to 8.2%, but hours worked remained flat. Interestingly, manufacturing employment fell 35,000 despite recent strength in manufacturing surveys. The Canadian labour market still needs to make up 571,000 jobs to get back to pre-pandemic highs.
Real GDP rose 1.1% in March, following a 0.4% increase in February. Both goods- and services-producing industries rose 1.1%. Accommodation and food service surged 5.0%, retail trade rose 3.7%, and construction increased 2.2%. Overall, GDP rose 1.4% in the quarter, or 5.6% annualized. Economic activity remains 1% below pre-pandemic February 2020 levels. StatsCan estimates that growth contracted 0.8% in April as provinces reimplement public health restrictions, with notable declines in retail trade and accommodation and food services.
U.S. – Fed sees economy picking up speed; Nonfarm payrolls rise less than expected
Employment in the U.S. rose by approximately 559,000 jobs in May, lower than the expected 675,000 jobs gain. However, this was an improvement over April's disappointing addition of just 266,000 jobs. Sectors most affected by the pandemic saw the largest job gains as the U.S. reopens, with leisure & hospitality adding 292,000 jobs and the public and private education sector adding 144,000 jobs. Total U.S. employment is 7.6 million jobs below the pre-pandemic peak, and at the current pace of job gains it would still take over a year to make up those lost jobs. It may take some time for the U.S. labour market to reach the "substantial further progress" the Federal Reserve states it wants to see before removing monetary accommodation. Additionally, new factory goods orders fell -0.6% in April, more than the expected -0.2% loss.
The Fed Beige Book noted the economy expanded at a faster rate as the U.S. is beginning to see the effects of increased vaccination rates and easing restrictions. Discretionary consumer spending rose, augmenting ongoing strength in other areas. The report also noted persisting impacts from supply chain disruptions and delivery delays. Employment grew steadily, with strong growth in the hardest hit sectors including food services, hospitality, and retail. Firms reported difficulty hiring new workers, especially low-wage hourly workers, truck drivers, and skilled tradespeople. Labour demand is expected to remain strong but supply-constrained. Price pressures heightened, with increases in raw material prices, freight, and packaging.
International – South Korea exports surges; Eurozone CPI rises; China PMI declines
South Korean exports rose 45.6% year-over-year in May. A low base once again boosted the reading. Auto parts exports surged 182.3% year over year, petroleum increased 164.1%, and petrochemicals grew 94.9%. Compared to May 2019, exports rose 11.0%.
Eurozone CPI rose 0.3% in May, following the 0.6% rise in April. Energy prices drove the gain, rising 0.7%, while goods and services prices grew 0.2%. In year-over-year terms, CPI rose 2.0%. Excluding energy, prices rose just 0.9% over the year.
The Caixin China General Composite PMI fell to 53.8 in May, from 54.7 in April. The Manufacturing PMI was relatively unchanged at 51.0 from 51.1, while the Services PMI fell to 55.1 from 56.3. New orders continued to rise. Manufacturers saw continued acceleration in export demand, while service providers saw foreign demand decline. Production and employment rose, though at a softer pace. Manufacturers increased buying activities given the sustained demand, but poor vendor performance and low stock saw lead times deteriorate. Backlogs rose as a result and cost burdens continue to rapidly rise. Firms remain optimistic, though there are lingering concerns over rising costs and pandemic-related uncertainty.
Quick look ahead
Canada – Bank of Canada (June 9); Capacity utilization (June 11)
The Bank of Canada is set to meet the week of June 7. Once again, the focus will be on any comments toward the central bank's path of tapering quantitative easing. Markets will also watch for any comments on the Canadian dollar, which has strengthened along with surging commodity prices.
Following the central bank's announcement, Canada's Q1 capacity utilization numbers will also be released. This reading should reflect the strength seen in manufacturers during the quarter. The market consensus is for an increase from 79.2% to 80.5%.
U.S. – CPI (June 10); University of Michigan Consumer Sentiment (June 11)
May inflation in the U.S. will be the focus next week as markets expect CPI to hit 4.7% year over year, and the month over-month reading is expected to have increased 0.4%. The Federal Reserve believes inflation is transitory and these data will give insight into that view.
The updated June iteration of the University of Michigan Consumer Sentiment report will be released. The previous May report saw sentiment decline on rising inflation expectations.
International – China exports (June 7); China CPI, Germany industrial production and ZEW survey (June 8); ECB (June 10)
Chinese trade volumes are expected to pick up with exports expected to rise 32.1% year over year and imports rising 55.0% year over year. Base effects are a main driver of the high year-over-year numbers due to last year's low readings.
Imports are expected to rise more than exports due to higher commodity prices. Chinese CPI is also expected to rise from 0.9% to 1.6% year-over-year with higher prices of non-food items driving the gains.
German industrial production is expected to rise 0.6% in April, down from the 2.5% jump in March. Automobile production is still down roughly 20% from pre-pandemic levels, holding back a more substantial bounceback in German industrial production. The German ZEW survey for June will give a glimpse into finance professionals' opinions of the economy. The gap between the current situation and future expectations readings should narrow as Germany eases restrictions and vaccine distribution increases.
The ECB is expected to continue its current pace of asset purchases, with President Christine Lagarde having previously said that it would be premature to discuss phasing out crisis tools. Markets will look for any change in this sentiment, as Federal Reserve members have publicly stated they would like to start having discussions on tapering plans.