Weekly Market Pulse - Week ending September 25, 2020
Market developments
Equities:
Stocks continued to experience weakness this week on concerns of further delays to the passage of the U.S. stimulus bill and COVID-19 infection rates increasing across Western Europe. The S&P 500 fell 0.63% while the technology heavy NASDAQ Composite rose 1.11%, and the S&P/TSX fell 0.82%
Fixed income:
Despite the fall in equities the bond market was again relatively tame with moves in bond yields not helping to fully offset equity loses. U.S. bonds continue to trade in a tight range with the U.S. Treasury 10-year yield falling 4 basis points ending the week at 0.65%, wiping out last week's 3 basis point rise. The Government of Canada 10-year yield also fell 4 basis points ending the week at 0.54%.
Commodities:
Commodities had a rough week due to the rising U.S. dollar which rose 1.76%. Oil fell 2.60% to US$40.04 a barrel. Copper fell 4.50% and gold dropped 4.58%.
Performance (price return)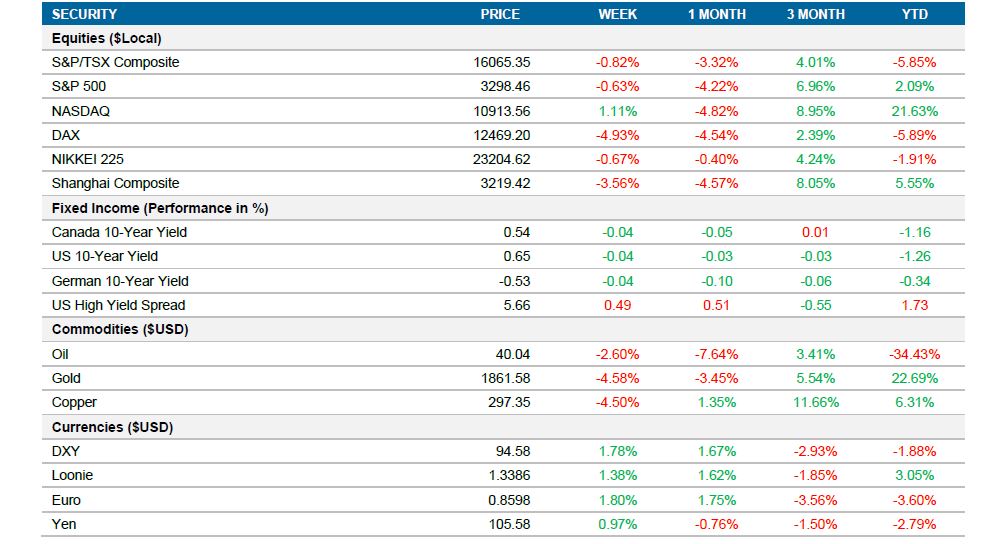 As of September 25, 2020
Macro developments
Canada – Government lays out fiscal plan to deal with the health and economic fallout of COVID-19
Wednesday's throne speech outlined the government's legislative agenda with the most important message being that now is not the time for austerity, and that government will do whatever it takes to support households and businesses through the pandemic. The government will extend the Canada Emergency Wage Subsidy (CEWS) until mid-2021 and extend the Canada Emergency Business Account (CEBA), which provides interest-free, partially forgivable loans to troubled businesses. Employment insurance will be extended to cover contract and gig economy workers, and legislation will raise the benefits paid under the new EI programs to the level paid out by the CERB.
Additionally, the government intends to create one million jobs through the largest investment in Canadian history in education and training to secure a green, inclusive, and equitable recovery. The corporate tax rate for clean technology companies will be cut in half and there will continue be a price on pollution with a revenue neutral carbon tax. The  government plans to release a fall economic update which will provide a fiscal plan and outlook.
U.S. – Death of Supreme Court Justice complicates stimulus bill; September PMI surveys mixed and business investment strong
Last week the political environment in the U.S. was further complicated as Supreme Court Justice Ruth Bader Ginsburg died, resulting in a shift to focus on appointing her replacement. The prospect of a pre-election stimulus package has been reduced as senators will now be focused on the confirmation hearings for a new Supreme Court Justice. The house Democrats introduced a new bill for US$2.4 trillion in stimulus, far more than Republicans are willing to approve.
August existing homes sales came in as expected, rising 2.4% month-over-month after a massive 24.7% rise in July. The Markit PMI composite for September edged down from 54.6 to 54.4 as the services index offset a rise in the manufacturing index. The Markit services PMI fell from 55.0 to 54.6 as the revival in service activity may be slowing down, however the survey is still in expansionary territory (above 50). The Markit manufacturing PMI rose from 53.1 in August to 53.5 in September, the highest level since December 2018.
Lastly, durable goods showed a small increase of 0.4% month-over-month versus expectations of a 1.5% rise, held down by net orders for commercial aircraft. The underlying details show that business equipment investment has recovered as core capital goods orders saw a much stronger 1.8% month-over-month rise.
International – September industry surveys show weakness in services and higher manufacturing expectations as COVID-19 restrictions return
In Europe many countries including France, Austria, Spain, and the U.K. have imposed the first significant tightening of restrictions since the lockdowns began. The slowdown can be seen in the latest PMI measures across Europe with the eurozone services PMI being the most affected, dropping to 47.6 in September from 50.5 in August (below 50 means the service sector is contracting). The manufacturing PMI for the eurozone continued to increase, rising to 53.7 from 51.7. The German IFO survey increased to 93.4 in September from 92.6 in August, however the IFO services index edged down. ECB President Christine Lagarde also warned against withdrawing stimulus too early, which risks delaying the economic rebound.
In Japan, the July All Industry Activity Index which measures the production of all goods and services excluding agriculture, forestry and fisheries rose 1.3% in line with expectations. The Tertiary industry index (domestic service sector accounting for 73.5% of all industry) fell 0.5% month-over-month against a 9% rise in June. The manufacturing industry index rose 8.8% month-over-month versus a 1.9% rise in June. On a forward-looking basis the Jibun Bank Japan PMI Services survey rose from 45.0 in August to 45.6 in September, still in contractionary territory.
Quick look ahead
Canada – Canada July GDP (September 30) and Markit Manufacturing PMI (October 1)
This week we get Canadian GDP which is expected to increase 2.8% month-over-month in July, slower than the 6.5% rise in June. On Thursday, the Markit Manufacturing PMI for September will give a better idea of the outlook in the manufacturing sector. Manufacturing surveys rose in both the U.S. and Europe last week.
U.S. – First U.S. presidential debate (September 29); ISM Manufacturing, Personal Income and Personal Spending (October 1); Non-farm payrolls (October 2)
This week we get the first U.S presidential debate on Tuesday where President Donald Trump and Democratic opponent Joe Biden will meet face-to-face for 90 minutes at Case Western University in Cleveland.
For economic data, the ISM manufacturing index is released Thursday with expectations of an increase similar to the Markit manufacturing PMI last week. Personal spending and income data are also released Thursday, and with the end of the $600 weekly Federal unemployment payments in August, both income and saving data will be closely monitored. Lastly, Friday non-farm payrolls for September are released with expectations of an 850,000 increase, lower than the 1,371,000 increase in August which was supported by the hiring of 240,000 additional Census workers.
International – European inflation (September 29 - October 2); China PMI (September 29); Japan Tankan Survey (October 1)
Attention will remain on the rising infection rates in Europe as COVID-19 restrictions return to slow the spread of the virus. Many European countries report inflation data this week with recent ultra-low readings largely explained by the temporary cut in Germany's value-added tax rate and depressed prices for travel-related services.
China reports both the private Caixin Manufacturing survey and the official government PMI on Tuesday, with both surveys expected to be flat to down. Lastly, the Bank of Japan's third quarter Tankan outlook should show firms turned less pessimistic on business conditions.