Weekly Market Pulse - Week ending April 21, 2023
Market developments
Equities: U.S. stocks ended the week slightly lower as investors evaluated mixed earnings reports and U.S. business activity data, while waiting for next week's earnings from big tech to assess the health of corporate America. The recent purchasing managers' index data unexpectedly climbed this month to almost a one-year high, propelled by stronger services and manufacturing that could reignite inflationary pressures. Resilient U.S. earnings, including HCA Healthcare and Procter & Gamble, have helped equities maintain their year-to-date gains, with a string of mega-tech companies' earnings, including Alphabet, Meta Platforms, and Amazon, due next week.
Fixed income: The U.S. Treasury 2yr yields rose to around 4.2%, while the 10yr yields rose to 3.57%. Fed Bank of Philadelphia President Patrick Harker said the US central bank is getting near the end of its tightening campaign, while his Cleveland counterpart Loretta Mester favored getting rates above 5% due to high inflation. Economic conditions may prompt the Fed to tighten policy more than current market expectations or ease monetary policy if conditions deteriorate, which could result in market volatility.
Commodities: Oil futures ended higher on Friday but posted a weekly loss for the first time in five weeks due to demand concerns stemming from worries about the economic outlook. The price of WTI and Brent posted their lowest closes of the month on Thursday as analysts raised concerns about the deteriorating economic backdrop and hawkish Federal Reserve, which weighed on consumer demand. The downward trend was further exacerbated by reports that Russian crude shipments continue despite sanctions and embargoes and China's "deep, lingering, persistent" skepticism over its growth potential. Despite OPEC+ allies announcing cuts of around 1.15 million barrels a day, analysts suggest that the market is still amply supplied, and more production cuts will be needed to stabilize prices in the medium term.
Performance (price return)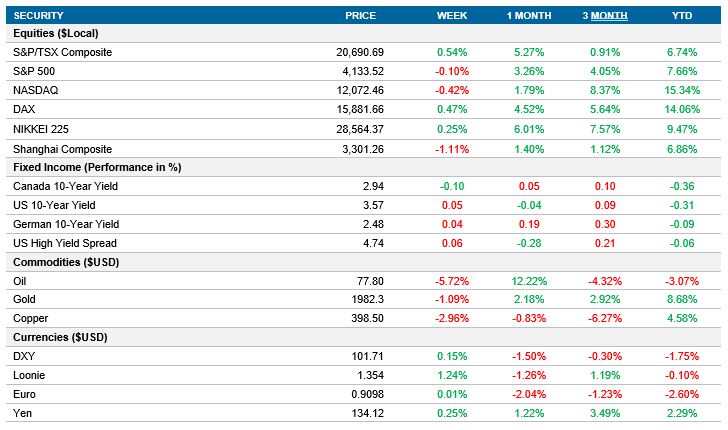 As of April 21, 2023
Macro developments
Canada – Canadian Inflation Rate Falls to Lowest in Nearly Two Years, Canadian Retail Sales Drop in March
The annual inflation rate in Canada fell to 4.3% in March 2023, the lowest since August 2021, due to significant base-year effects for energy costs. Transportation, food, and shelter costs also experienced deceleration. Consumer prices edged 0.5% higher monthly, with encouraging signs in core inflation. Despite gasoline prices edging up, base effects caused energy inflation to sink to -6.9%. The average three-month annualized gain for CPI-trim and CPI-median eased to a 16-month low of 3.4%, which should slow further in the next couple of months, giving the Bank of Canada confidence that headline inflation will slow toward the target range.
Preliminary estimates indicate that retail sales in Canada dropped by 1.4% month-over-month in March 2023, with sales in 4 out of 11 sectors decreasing, led by a 5% drop in turnover at gasoline stations. Sales also fell for food and beverage retailers (-0.2%) and general merchandise retailers (-1.6%). However, sales rose for motor vehicles and part dealers for the seventh consecutive month (0.8%). Retail sales grew by 4.3% on a yearly basis, which is the lowest growth rate since March 2022.
U.S. – U.S. Manufacturing PMI shows expansion in factory activity
The preliminary S&P Global U.S. Manufacturing PMI for April 2023 increased to 50.4, beating forecasts of 49, and indicating the first expansion in factory activity in six months. Production, new sales, and job creation increased, while operating and selling prices also rose. Optimism in the outlook for output rose to a three-month high, but concerns remained regarding inflation and a shift away from goods to services.
International – UK inflation eases to 10.1% in March 2023, but remains above target, UK Retail Sales Drop 0.9% in March 2023, Eurozone Manufacturing Sector Contracts in April 2023, China's March 2023 Inflation Rate Falls to 0.7%
The UK consumer price inflation rate was 10.1% YoY in March 2023, down from 10.4% in February but above market expectations of 9.8%. The cost of food and non-alcoholic beverages, recreation and culture, and miscellaneous goods and services have increased, while inflation slowed for transport, restaurants, and hotels. The core inflation rate, which excludes volatile items such as energy and food, was unchanged at 6.2% in March, close to the September 2022 record of 6.5%.
Retail sales in the United Kingdom decreased by 0.9% in March 2023 from a month earlier, below market expectations of a 0.5% fall. Non-food stores were down by 1.3%, with department stores and clothing stores sales declining by 3.2% and 1.7%, respectively, due to poor weather conditions throughout most of March. Food store sales fell by 0.7% and online trade decreased by 0.8%, while receipts at fuel stations rose by 0.2%.
Eurozone Manufacturing PMI fell to 45.5 in April 2023 from 47.3 in March, the biggest contraction in the sector since May 2020. New orders fell, backlogs of orders went down, and employment growth slowed. Input costs fell while supplier delivery times improved for a second month. Business optimism fell slightly.
China's annual inflation rate unexpectedly fell to 0.7% in March 2023, the lowest since September 2021. Both food and non-food costs eased due to an uneven economic recovery after the removal of zero-COVID policy. Monthly consumer prices also fell by 0.3% for the second consecutive month.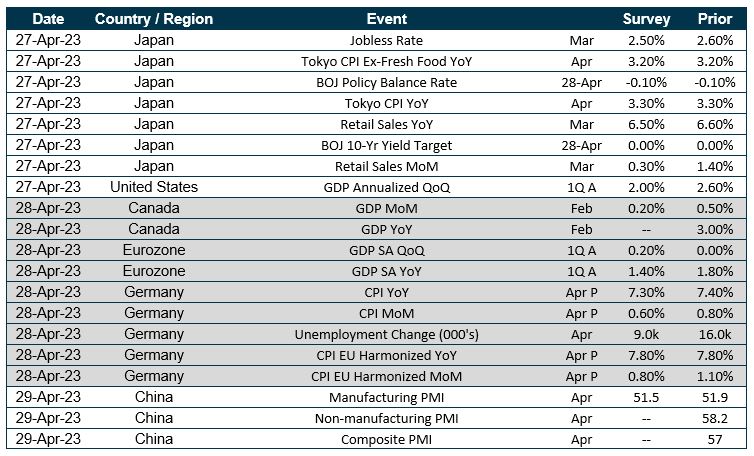 As of April 21, 2023