Weekly Market Pulse - Week ending July 14, 2023
Market developments
Equities: Earnings season kicked off with positive quarterly earnings from JP Morgan, Wells Fargo, and Citigroup, who all benefited from higher interest rates, while Pepsi and Delta Airlines also exceeded lowered expectations as consumers demonstrate a willingness to spend despite higher prices. Megacap stocks also performed well, with Nvidia reaching a record high this week and UnitedHealth Group saw a surge in stock price as quarterly profits alleviated concerns about escalating medical costs. With inflation moving lower and a strong start to earnings season, the S&P 500 and Nasdaq closed the week up 2.4% and 3.3% respectively.
Fixed income: At the end of a week marked by optimism that the Fed would be closer to ending its interest rate hikes, a report showed consumer sentiment soared to an almost two-year high, while short-term inflation expectations rose. Bonds reacted immediately, with the front-end of the U.S. curve bearing the brunt of the selling. However, with CPI data coming in lower than expected earlier in the week, U.S. 10yr yields ended the week ~25bps lower at 3.82%, while 2yr yields fell around 20bps to 4.76%.
Commodities: Oil prices fell on Friday but closed the week up over 2% as prices remain near 10-week highs due to a weakening USD and expectations of reduced interest rate increases by the Federal Reserve. Tight supplies from Saudi Arabia's production cuts and disruptions in Libyan output have supported the market. China's strong crude oil demand and strategic stock building have also contributed. 
Performance (price return)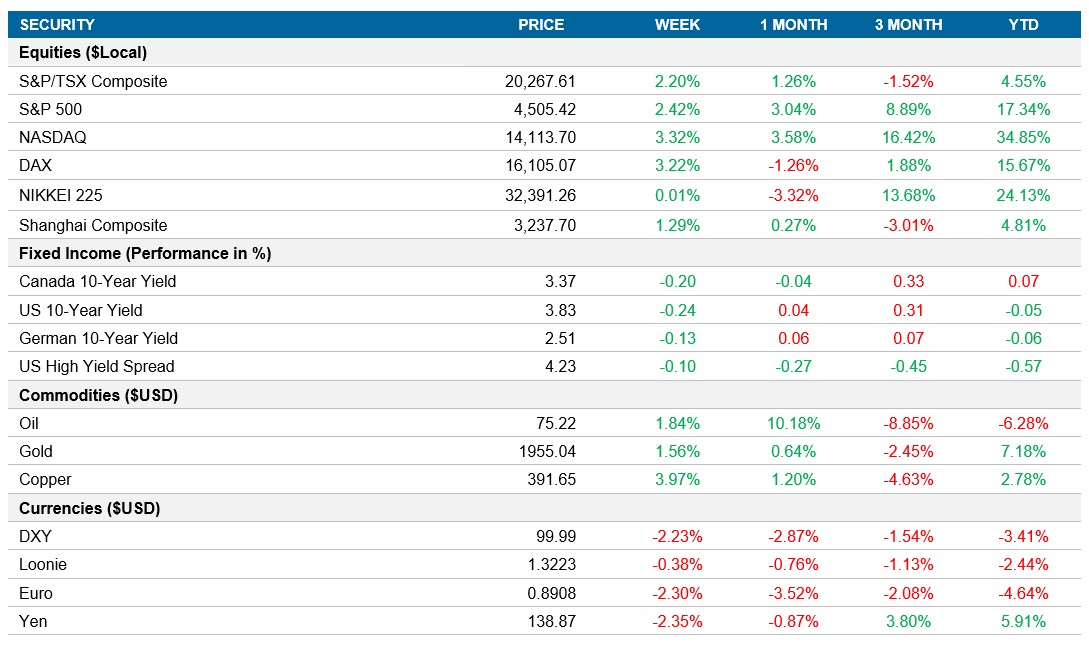 As of July 14, 2023
Macro developments
Canada – Bank of Canada Raises Interest Rate to 5%
Bank of Canada raised its overnight rate to 5% in July 2023, as expected. The decision was driven by strong consumption, tight labour markets, and persistent inflationary pressures. The central bank revised its inflation forecast, expecting inflation to hover around 3% next year before easing to the 2% target by mid-2025. The bank remains committed to restoring price stability for Canadians and will monitor core inflation and CPI outlook closely.
U.S. – U.S. Inflation Slows to 3% in June
U.S. inflation rate slowed to 3% in June, the lowest since March 2021, influenced by a high base effect from the previous year. Energy costs slumped significantly, along with slower inflation for food, shelter, and various goods and services. The core inflation rate also decreased to 4.8%, reaching its lowest level since October 2021.
International – UK Economy Contracts 0.1% in May, China's consumer prices remained flat in June 2023
UK economy contracted by 0.1% in May 2023, influenced by strikes and an additional bank holiday. Production, construction, and services were affected, resulting in no growth over the three months leading up to May. The GDP is currently estimated to be 0.2% above pre-Covid levels.
China's consumer prices unexpectedly flattened in June, missing market expectations and marking the lowest reading since February 2021. Non-food prices declined, particularly in transportation and education, while food prices rose the most in three months. Core consumer prices also saw a slowdown.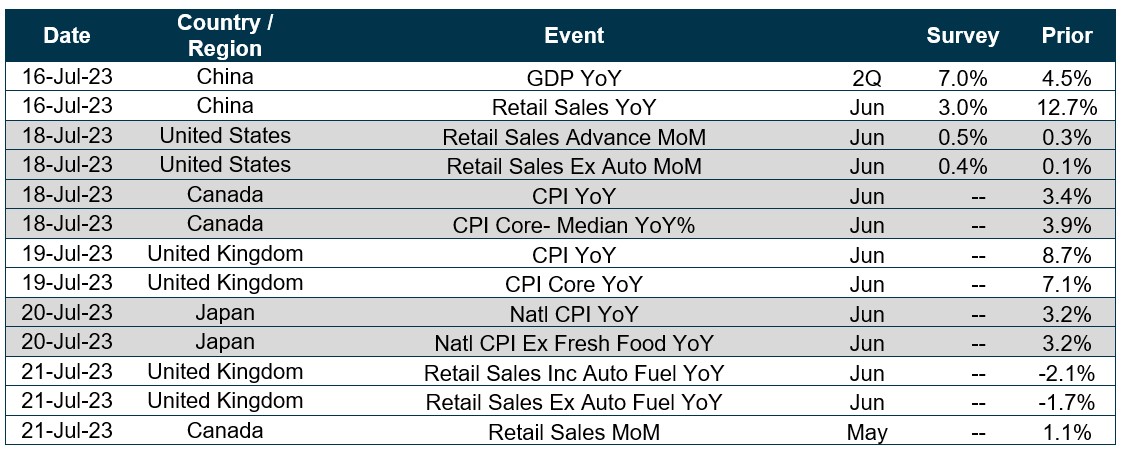 As of July 14, 2023