Weekly Market Pulse - Week ending September 22, 2023
Market developments
Equities: The S&P 500 Index faces its worst week in six months as global investors grapple with the possibility of sustained high interest rates to combat inflation. The index slipped -2.9% for the week despite technology stocks partially recovering from recent losses. The Nasdaq saw its largest drop since late August, down -3.6% for the week, while the TSX dropped more than -4%. Investor anxiety over Fed policies leading to a potential recession led to a significant sell-off in stocks, marked by the fastest pace since December.  Global equity funds experienced large outflows this week, with U.S. stock funds witnessing significant withdrawals.
Fixed income: The U.S 10yr yield briefly exceeded 4.5% for the first time since 2007 before dropping and closing slightly above 4.4%. In Canada inflation surprised to the upside and led to the Canadian 10yr increasing 17bps, closing over 3.9%. Central banks worldwide have cautioned against expectations for early rate cuts, and the Fed hinted at further rate hikes later this year.
Commodities: Crude oil experienced a volatile week, with prices pulling back from yearly highs and closing just over $90. This was due to a combination of factors, including the Federal Reserve's signal of further rate hikes and Russia's temporary embargo on gasoline and diesel exports.
Auto Workers Strike: The United Auto Workers union expanded its strike, affecting General Motors and Stellantis parts-distribution centers across 20 states. Ford was exempted from additional strikes due to progress made in negotiations. The strike may eventually impact car production, leading to potential shortages and rising prices. The union is seeking wage increases of approximately 36% over four years, citing high CEO pay and recent corporate profits. However, automakers argue that they need to invest in the transition to electric vehicles and cannot meet all the union's demands. As the strike expands to parts distribution centers, consumers may face difficulties in getting their vehicles repaired, potentially causing price increases if panic buying ensues. The strike has already led to production losses and economic losses for automakers.
Performance (price return)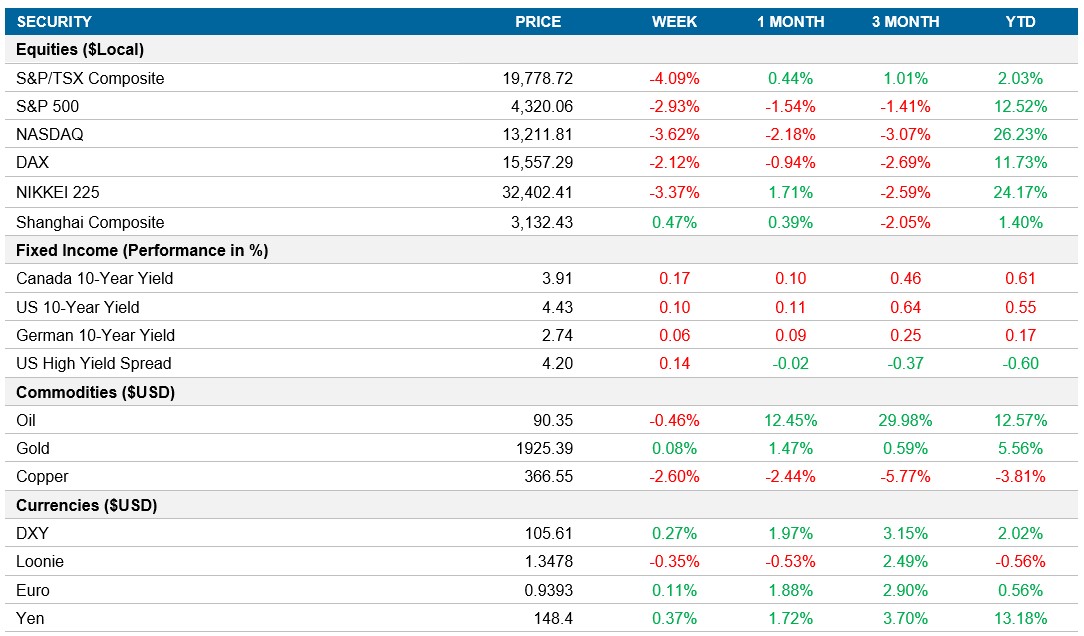 As of September 22, 2023
Macro developments
Canada – Canadian Inflation Accelerates and Retail Sales Expected to Contract
Canada's annual inflation rate rose to 4% in August 2023, driven by higher transportation costs and increased rent prices due to rising interest rates. This surpasses market expectations and suggests the potential for more monetary tightening by the Bank of Canada.
Retail sales in Canada are expected to contract by 0.3% in August 2023, with notable increases in food and general merchandise sales but declines in motor vehicles and gasoline station sales. Port strikes in British Columbia affected around 17% of retailers. On a yearly basis, retail sales grew by 2%.
U.S. – The Fed Leaves Rates Unchanged and U.S. Services PMI Declines
The Federal Reserve kept its target federal funds rate unchanged at 5.25%-5.5% in September 2023 but signaled the possibility of another hike later in the year after stating that rates may stay higher for longer. Projections showed expected GDP growth and PCE inflation adjustments, with a lower unemployment rate in the coming years.
The S&P Global U.S. Composite PMI for September 2023 indicated stagnation in the private sector, with a decline in service sector growth and ongoing manufacturing contraction. Input costs rose sharply, while business confidence dipped to a nine-month low.
International – U.K. Inflation Eases, Bank of England Holds Rates, U.K. Composite PMI Drops, Eurozone PMI Slightly Increased, Japan Inflation Fell Slightly and Japan Kept Key Rates Unchanged
Consumer price inflation in the U.K. eased to 6.7% in August 2023, driven by lower food inflation and accommodation costs. Core inflation also decreased to 6.2%. Transport prices saw a milder decline, and monthly CPI increased by 0.3%.
The Bank of England maintained its policy interest rate at 5.25%, pausing its series of rate hikes. Policymakers cited expectations of declining CPI inflation and a commitment to tightening policy further if necessary.
The S&P Global/CIPS UK Composite PMI dropped to 46.8 in September 2023, indicating a rapid reduction in private sector output due to continued manufacturing contraction and declining service sector activity. Business confidence hit a nine-month low.
The HCOB Eurozone Composite PMI in September 2023 showed a marginal increase from the previous month but still indicated a significant decline in business activity, particularly in manufacturing. Input price inflation rose, and business sentiment dipped to a low.
Japan's annual inflation rate fell slightly to 3.2% in August 2023. Prices continued to rise in various categories, except for fuel, light, and water charges, which decreased significantly. Core inflation remained above the Bank of Japan's target.
The Bank of Japan kept its key short-term interest rate at -0.1% and 10-year bond yields at around 0% in its September meeting. It aims to achieve a sustainable 2% price stability target and hinted at the potential end of negative interest rates.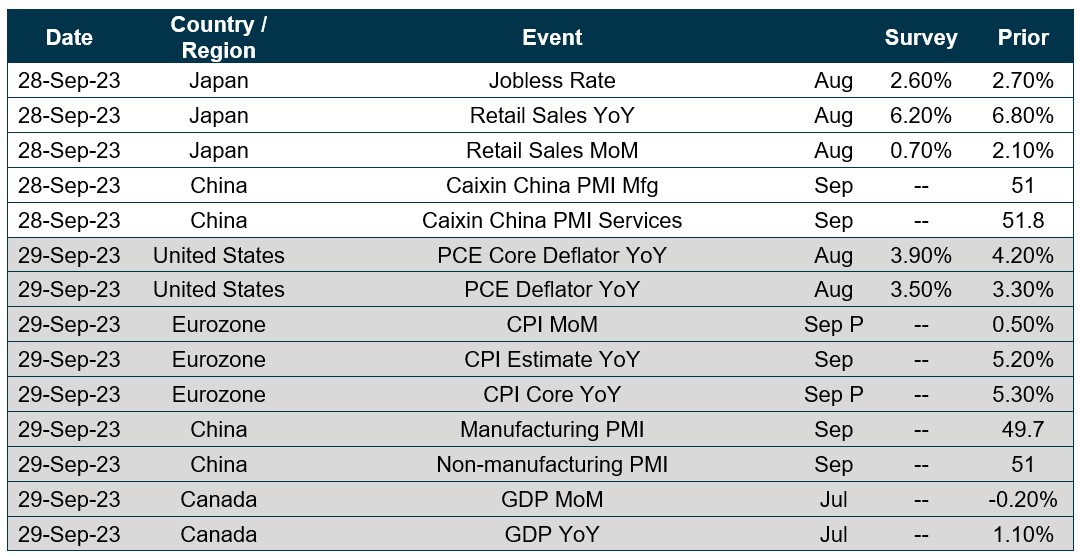 As of September 22, 2023