How can Qtrade help you stay safe online?
Did you know mistyping a URL in your web browser can leave you vulnerable to cybercriminals? Malicious websites with URLs exploiting common typos are part of a scam called typosquatting.
That's one of several ways crafty cybercriminals attempt to trick you. Phishing, Trojan horse and ransomware are other malicious techniques that led a global cybersecurity firm to estimate cybercrime could cost the world about US$6 trillion annually by 20211.
Cybercriminals rely on users' lack of knowledge, and they're trying to come up with new ways to better mask their attacks and trick people."

— Qtrade
How does Qtrade protect you?

As cyberthreats get more sophisticated, so does cybersecurity. Qtrade's team of security analysts constantly deploys cutting-edge features to safeguard your confidentiality and protect you from cybercrime.
Our clients' protection is always a top priority. From data encryption, login and transaction alerts to two-factor authentication, we're committed to ensuring our clients enjoy a safe and secure online investing experience.
By activating two-factor authentication (2FA) for your Qtrade account, you add an extra layer of security that helps prevent anyone else from accessing your account even if they have your password. Once you set it up, you can enable the trusted devices that you typically use to access your account. Any login from another device will trigger an alert and require your approval to proceed, giving you better protection against cybercriminals.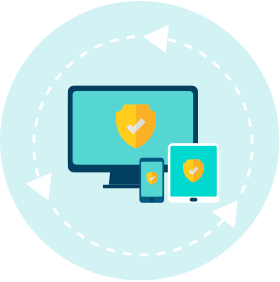 To enable two-factor authentication, log in to your account and go to My Accounts > Service Centre > Two Factor Authentication.
Qtrade implements other cybersecurity measures to further maximize the security of your online activities and privacy. Among those security controls are timed log-offs, powerful firewall protection, 256-bit encryption support as well as constant surveillance of the security and access control systems.

Your knowledge and vigilance when browsing the internet will also reinforce your line of defence against cyberattacks. Sometimes the solution to averting a cyberthreat is as easy as making a phone call.
If something looks odd or sounds fishy, pick up the phone and call customer support. There are extremely rare cases when Qtrade will call customers and ask for their information. If that happens, take the time to double check with us before you go any further.
If you detect any errors or discrepancies or suspect unauthorized activity in your Qtrade  account, please contact us immediately at 1.877.787.2330.
Check out our Security Guarantee for more information on Qtrade's Internet Security Guarantee and how we safeguard your information.
Quick tips from our security experts: Six easy steps you can take to stay safe online
Enable login, transaction and location alerts as well as 2FA for your accounts
Use a long passphrase instead of a short password

It's relatively easy to create a long and easy to remember passphrase. Think of an activity that you like to do, for example, 'I like to walk in the park'. Then add a special character after each word and capitalize some letters.

Make sure your browser supports 256-bit encryption
Don't use the same password for multiple accounts
Always double check that you correctly spelled a website address in your browser before hitting 'Enter'
Remember to immediately change your password and call customer support whenever you suspect your account has been compromised
---
Resources:
1 2019 Cybersecurity Almanac. Cisco and Cybersecurity Ventures. February 20, 2019. https://www.prnewswire.com/news-releases/2019-cybersecurity-almanac-published-by-cisco-and-cybersecurity-ventures-300798816.html