Opec is stuck in a production-cutting cycle it cannot get out of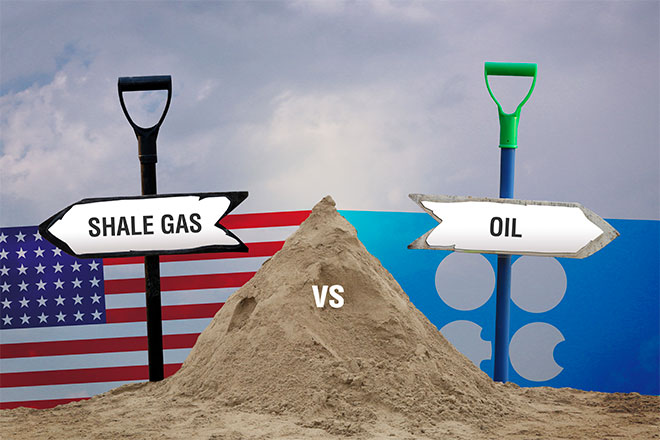 Saudi Arabia's energy minister delivered only one message that mattered at the meeting of Opec and its allies this week: together we believe we can outlast the US shale industry.
Khalid al-Falih, fresh from striking an agreement that will see the cartel extend price-supporting production cuts for another nine months, assured reporters that one day shale would go the same way as every other oil basin in history. It will "peak, plateau and then decline", Mr Falih said.
"Until it does I think it's prudent . . . to keep adjusting to it," he added.
The problem for Opec is it may face a very long wait.
Five years after oil prices last traded above $100 a barrel, the cartel is stuck in a cycle it cannot get out of. The group has succeeded in propping up the oil price near $60 a barrel, but only through endless rounds of production cuts that have seen its share of the global oil market sink to the lowest in almost three decades.
In the meantime, the US shale industry has expanded at a rate that once again threatens to overwhelm the group's efforts, swamping the global oil market.
Further down the road also lies the prospect that demand for oil could very soon start to fade, complicating Opec's long-term plans even if the shale industry does start to tail off.
"There's no limit on the horizon for shale growth at the price Saudi Arabia wants," said Derek Brower, director at RS Energy Group, a research firm. "Opec is going to keep inadvertently subsiding shale."
The cartel's lack of good options was apparent in Vienna this week, as its 14 members sat down with Russia and other producers from outside the group to try to map a way forward.
Since 2016, Opec has been operating tactically en masse, doing what it can to support the oil price, but with little long-term strategy aside from hope and patience. This week Opec even moved to create a permanent framework for co-operation with Russia.
Saudi Arabia and global energy agencies have long warned that a slowdown in investments into traditional oil projects since the 2014 crash in the oil price could create a major shortage in supply.
Instead, spending on more flexible US shale developments has filled the gap and is expected to account for two-thirds of the total increase in global production capacity out to 2024.
"Shale has defied expectations," said Helima Croft, global head of commodity strategy at RBC Capital Markets in New York. "[Saudi Arabia's] strategy is to do whatever they can to keep prices as high as possible . . . At best they're going to try manage it to $60-$80 [a barrel]."
The next 12 months may pose challenges for even this short-term goal. More US oil is expected to come on to the market as new pipelines connecting shale fields to export hubs open up. The world economy has also stuttered in the face of a threat from the US-China trade war, and any slowdown in output is likely to drag on oil demand.
US President Donald Trump, who was uncharacteristically quiet on energy in the run-up to this week's meeting, is likely to refocus on the oil market as his 2020 re-election bid approaches.
"The pressure on Saudi Arabia will be enormous next year to keep the taps open for president Trump," said Ms Croft.
That could leave Saudi Arabia reliant on further supply disruptions to support the oil price. Already the kingdom has benefited from US sanctions largely pushing Iran and Venezuela's exports out of the market.
There is a risk that those barrels will one day return, even if an immediate truce between Washington and Tehran seems a remote possibility.
Meanwhile, the "second wave" of the US shale revolution is coming just as oil demand growth is set to ease in the mid-2020s, in particular as China slows down, the IEA has warned.
Amrita Sen at Energy Aspects said: "Saudi Arabia and Opec are doing everything they can to signal to the market that their co-operation with Russia and others is for the longer term. They can't afford to let inventories get out of hand."

© The Financial Times Limited 2019. All Rights Reserved.
Not to be redistributed, copied or modified in any way.
Nota : Les articles du Financial Times ne sont pas disponibles en français pour l'instant.