Oil industry snubs EU effort to defy Trump sanctions on Iran
By Michael Peel in Brussels, David Sheppard in London and David Keohane in Paris | octobre 04, 2018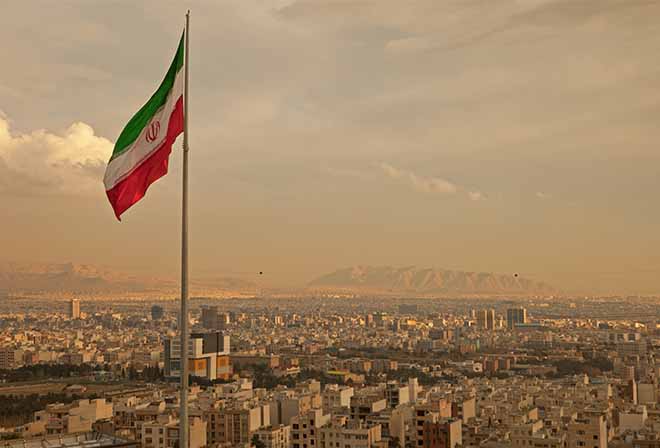 Big European oil companies are spurning the EU's attempt to shield Iranian crude from US sanctions because of fears the effort would leave businesses exposed to harsh penalties from the Trump administration.
The EU has announced plans to create a special payments channel for crude from Iran, but oil executives and lawyers said the move was largely symbolic because there were no guarantees it would protect big multinationals from US retribution.
Patrick Pouyanné, chief executive of Total, said this week the French oil company would not join EU efforts to bypass US sanctions on Iran. "We cannot afford to take the risk to be banned from using the US financial system," he told a conference in Russia.
The corporate resistance underlines the struggle faced by EU governments that are trying to keep a landmark Iran nuclear deal alive in the face of US sanctions, which are due to be reimposed on oil exports and Iran's central bank in November.
The biggest European buyers of Iranian oil have included Total, Italy's Eni and Saras, CEPSA and Repsol of Spain, and Greece's Hellenic Petroleum. But the US has vowed to punish any company that defies its Iran sanctions.
Many big businesses have pulled back from Iran even as their governments seek to maintain commercial ties, which were vital in persuading Tehran to agree to curbs on its nuclear programme under the 2015 atomic accord.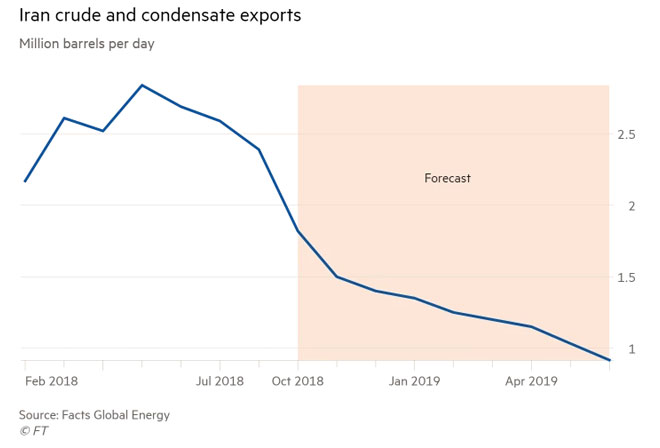 An Eni spokesperson said: "We have no presence in [Iran] any more and our trading contracts will naturally expire in November. We will entirely comply with all the sanctions and rules decided by the international community."
CEPSA, a Spanish refiner that said Iranian oil made up 13 per cent of its purchases in 2017 and the first half of 2018, warned in a share prospectus this week of the risks that sanctions posed to its business. In mid-October a CEPSA refinery in Spain is due to receive 1m barrels from an Iranian tanker named Monte Udala, a shipment that a company spokesman stressed would be its last from Iran.
"All the companies are going to think of their shareholders first, regardless of what the EU does," one oil industry executive said. "No one is going to run the risk of falling foul of US sanctions."
Data from Kpler, a tanker tracking company, show that Iranian oil shipments to Europe have fallen. They dropped to 422,000 barrels a day in September, down from 843,000 b/d a year ago and the lowest since early 2016. 
The remaining signatories to the nuclear deal last week formally unveiled a Europe-led plan to create a special purpose vehicle to maintain commercial ties with Iran, including for oil exports. The nuclear accord was signed by China, Russia, France, Germany and the UK, as well as Iran and the US.
Federica Mogherini, the EU foreign policy chief, said the proposed new payment channel would "facilitate legitimate financial transactions with Iran", to allow companies in Europe and perhaps outside to continue to trade there. 
Mohammad Javad Zarif, Iran's foreign minister, told reporters last week that he was hopeful agreement could be reached to allow Tehran to "sell our oil and get the proceeds".
Tehran is adamant that its oil exports will not be shut off and hopes it will be able to sell crude to small and medium-sized businesses in Europe that have scant ties to the US.
But John Bolton, national security adviser, last week mocked the EU as "strong on rhetoric and weak on follow-through", noting that the mooted special purpose vehicle did not exist and had no official target date for its creation. "We do not intend to allow our sanctions to be evaded by Europe or anybody else," he added. 
A survey of 10 oil trading executives by the Financial Times did not uncover any willing to trade Iranian crude and risk retaliation from Washington. The threat of sanctions has helped drive a rally in oil prices, pushing Brent crude to $86 a barrel this week, the highest level in four years.
"The companies that are global players do care about their US footprint — and they probably care about that an awful lot more than a bit of Iran business," said Roger Matthews, a senior lawyer and sanctions specialist at Dechert. "For the bigger players it's difficult to see how this [payments channel] is going to make an awful lot of difference."
Brett Hillis, partner and sanctions expert at Reed Smith, an international law firm, said the "extraordinary level of concern" among big businesses about being "caught in the Iranian net" made it hard to see any of them participating in the proposed oil payment system.
Some European diplomats have acknowledged privately for months that their plans were a partly symbolic attempt to signal to Iran their continuing commitment to the nuclear deal.
"Companies make their own decisions," said one EU government minister of the European countermeasures. "In practice, it is unlikely that large groups will want to take any risk, but it is up to them to choose."
Additional reporting by Najmeh Bozorgmehr in Tehran, Anjli Raval in London and Tobias Buck in Berlin

© The Financial Times Limited 2018. All Rights Reserved.
Not to be redistributed, copied or modified in any way.
Nota : Les articles du Financial Times ne sont pas disponibles en français pour l'instant.