Traders nervously eye China's strategic oil imports
By David Sheppard and Anjli Raval in London and Xinning Liu in Beijing, Financial Times | août 18, 2017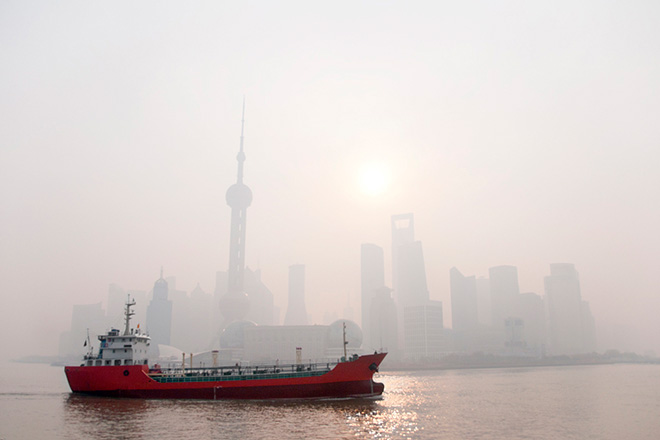 Ten days ago the world's largest active oil tanker, the TI Europe, pulled into the Chinese port of Ningbo to deliver its cargo of more than 3m barrels of Middle Eastern crude.
The vessel, which is as long as the Empire State building is tall, is a bona fide megatanker capable of delivering more oil in a single shipment than any other vessel on earth, and had been called into service to help meet China's seemingly insatiable demand for oil imports in 2017.
The TI Europe voyage, one of only a handful of deliveries it has made in the past three years, highlights how a surge in crude oil imports into China this year has helped prop up an oil market that has been weighed down by a glut since early 2014.
Prices at about $50 a barrel are less than half their average between 2010 and 2014, but strong Chinese buying has helped them recover from below $30 early last year.
The oil industry, however, is worried that one of the few bright spots in the global crude market may not last, as China's oil imports do more than feed its fast-growing network of refineries.
Much of the oil has, it believes, been earmarked for storage tanks and the country's Strategic Petroleum Reserve (SPR), which Beijing has been growing to cushion the world's second-biggest economy from future energy shocks.
That stockbuilding, analysts and traders warn, may soon slow or even come to an end, which could free up hundreds of thousands of barrels of crude into a market ill-prepared to absorb it.
"At a minimum this market needs China to keep buying to stop the wheels from falling off," said Michael Tran, director of global energy strategy at RBC Capital Markets, who estimates Chinese imports have grown at almost double their normal annual rate this year, rising by 1m barrels a day on 2016.
"If they go back to half that amount of growth this market would be in a very different place."
It is a concern that illustrates just how important China's clout has become to the global oil market. Its consumption has surged fourfold to 12.4m b/d since 1990 and it now imports about 8m barrels a day, or at least as much crude as the US, the only country to still consume more oil than China.
To ensure China can meet its rising thirst for crude, which is vital to keep its economy growing, Beijing embarked on an ambitious plan to build a SPR a decade ago. The move mirrors the US, which has maintained the world's largest SPR since the Arab oil embargoes of the 1970s, packing 680m barrels of crude into giant salt caverns on the Gulf Coast.
China's SPR has always been shrouded in relative secrecy, however, making it a wild card for oil traders struggling to measure supply versus demand.
Sengyick Tee, senior director of SIA Energy Oil Research and Consulting in Beijing, said the state-run nature of China's largest oil companies blurred the lines. As well as official tank farms dedicated to the SPR project, Beijing had also been experimenting with using third-party storage facilities that would normally hold commercial oil inventories — dubbed the Commercial Petroleum Reserve — while looking to construct more government-owned storage.
"With national tank farms already mostly filled up, we only have the third-party run storage left," Mr Tee said, adding that part of the import surge in 2017 was down to falling domestic production due to lower prices. "As local production cuts stabilise and given the shortage of storage room for strategic reserves, there won't be strong import demand going forward."
FGE Energy forecasts that in the second half of this year, the increase in imports will slow to about 700,000 b/d year-on-year from 1m b/d in the first half. Next year, while rising demand in the country will absorb more barrels, they see imports only increasing by 100,000 b/d — a level they believe may still be enough to effectively top out storage capacity.
Cuneyt Kazokoglu at FGE said that at this slower pace China's storage capacity could be filled by the end of next year. If it keeps growing imports at the same pace as 2017 then "spare storage capacity will be exhausted by July of 2018," he said.
All acknowledge that assessing China's future imports with certainty is an almost impossible task.
With oil prices still relatively low, many expect China will find ways to keep buying up barrels, fearing crude could return to higher levels in the future. So-called "teapot" refineries, independent plants that were only granted import licences in the past two years, are also keen to keep buying as the amount they bring in one quarter influences how large a quota Beijing will award next time.
The country's day-to-day demand will also keep rising over time.
Opec, the oil cartel that has been cutting output to try prop up prices, will be nervously watching tankers sailing to China, hoping the volume remains high.
"The market needs this to keep going to keep the market rebalancing on track," Mr Tran at RBC said.

© The Financial Times Limited 2017. All Rights Reserved.
Not to be redistributed, copied or modified in any way.
Nota : Les articles du Financial Times ne sont pas disponibles en français pour l'instant.