Authers' Note: Neutron Jack
By John Authers, Financial Times | juin 12, 2017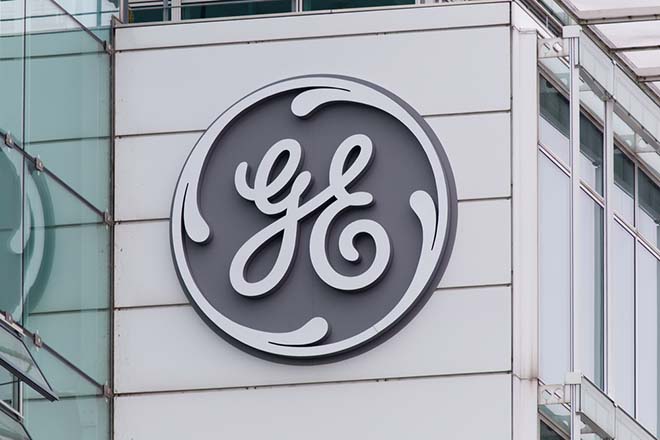 Jeff Immelt, we learnt today, is stepping down as chief executive of GE, more than 16 years after he was appointed in November 2000. Judged in terms of share price, his tenure has not been a great success.
GE has been the weakest performing stock among the Dow components since his appointment was announced. In price terms, it is down very slightly over the period, severely lagging behind the S&P 500. This chart is from Yahoo Finance: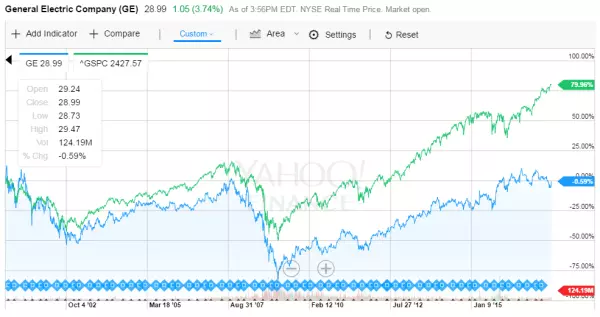 GE's stock is up since the date when he actually took over the job, a week before the 9/11 terrorist attacks, but the gap with the rest of the market is just as wide.
But is this the fairest way to judge him? If we look at the previous decade for GE as well, all under the guidance of the legendary "Neutron" Jack Welch, a different picture emerges: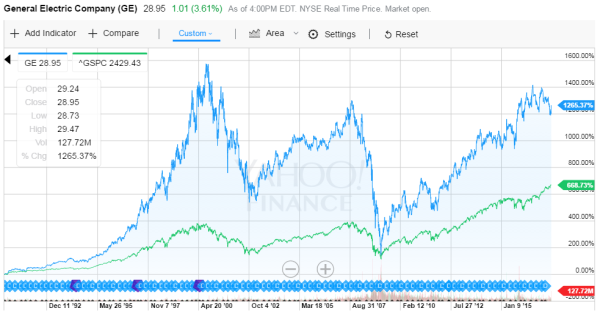 Mr Welch announced his successor, after a prolonged and public contest between Mr Immelt and two others who would go on to be CEOs of large public companies — James McNerney and Robert Nardelli — only a few weeks after an all-time high for GE stock, after a run that looks utterly unsustainable in retrospect.
Part of GE's strength was its sheer reliability. To borrow a phrase much used recently, Mr Welch was perceived to provide "strong and stable leadership", with earnings per share, and dividends, growing reliably year after year. This chart is from GE's report for 2000, the last of his tenure: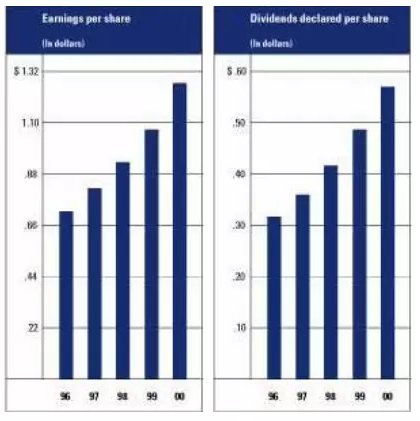 This was real money. But such reliability only happens if a company is being managed carefully with an eye to the short-term future. Careful use of all the leeway that GAAP accounting permits is also helpful.
GE was also in exactly the right line of businesses at the time, as Mr Welch had led a move into financial services. This naturally explains its great performance under Mr Welch and its apparently poor performance under his successor.
If we compare GE's performance with that of Citigroup, another conglomerate once loved by the markets, we can see that the emphasis on financial services was not a helpful inheritance for Mr Immelt. One key decision of his, enabling GE to outperform Citi by far, was to get out of financial services: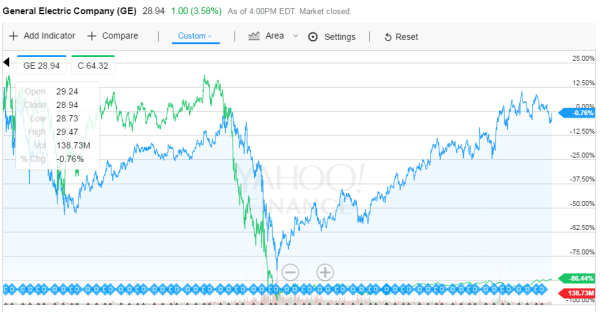 GE's performance compared to the market as a whole also looks good since the crisis.
The Immelt tenure will be analysed for years to come, no doubt. But much of GE's disappointing performance can be accounted for in terms of the excessive adulation for his predecessor. Peter Atwater of Financial Insyghts drew my attention to this: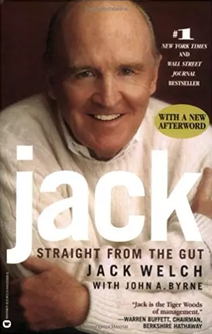 According to Peter, executive books are among the best indicators of extremes in mood. Once a CEO publishes a book with their face on the cover, the chances are that perceptions of his or her company have peaked.
It is a contrarian indicator. This applies to greats in other fields of endeavour. Note, with delicious irony, that Warren Buffett refers to Mr Welch on the cover as "the Tiger Woods of management" — an endorsement that might be taken to have a rather different meaning today.
There are no such books on Mr Immelt, as far as I am aware, which suggests that GE shares may not now be such a bad buy.
Peter points out that the same indicator might have pointed to trouble ahead for Whole Foods ("Conscious Capitalism: Liberating the Heroic Spirit of Business", co-written by Whole Foods' co-CEO, appeared in late 2013).
Meanwhile, Peter suggests that the same indicator would suggest caution towards the current darlings (even if they have had a bad couple of days), such as Amazon (whose CEO Jeff Bezos was praised by Mr Buffett at the latest Berkshire Hathaway meeting). And the phenomenal success of the recent books by Sheryl Sandberg, Facebook's COO, also do not augur well.

© The Financial Times Limited 2017. All Rights Reserved.
Not to be redistributed, copied or modified in any way.
Nota : Les articles du Financial Times ne sont pas disponibles en français pour l'instant.