Vancouver sets out stall to welcome more Silicon Valley migrants
By Leslie Hook in San Francisco, Financial Times | février 20, 2017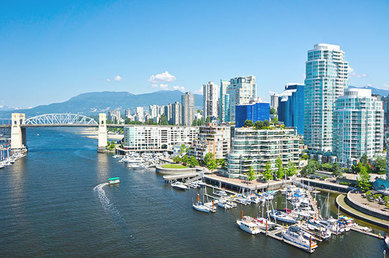 The quaint cobblestone streets of the historic Gastown district of Vancouver belie its status as a fast-growing technology hub.
Drawing on links with nearby Seattle, and San Francisco further south, a tech boom in Canada's third-largest city has pulled in tens of thousands of skilled workers and start-up entrepreneurs in recent years, sparking a fierce fight for the limited supply of office space.
Now the commercial centre of Canada's most westerly province of British Columbia is braced for a fresh influx of talent - this one driven by the shifting immigration policies of the Trump administration in Washington.
A month since Donald Trump entered the White House, the US tech sector is still trying to figure out how to adapt to the sweeping immigration reform promised by the new president.
The controversial order targeting arrivals from a group of Muslim-majority nations was unanimously rejected by the industry, with Apple, Microsoft, Google and Facebook signing a letter expressing their concern. The sector now fears Mr Trump could push ahead with further legislation, including tearing up the H1B visa programme they rely upon to hire skilled foreign workers.
This has led many in Silicon Valley and beyond to consider their options - including looking further afield to more liberal Canada.
Gregor Robertson, Vancouver mayor, says inquiries from US tech companies have risen sharply in recent months, putting further pressures on office spaces in areas such as Gastown.
"We're bracing for that to now grow even faster, to see more people come north," says Mr Robertson, who expects tech sector job growth in the city to accelerate from 6 per cent to 10 per cent in the next few years. The industry currently employs 75,000 people in Vancouver.
"It's really a reaction to the level of uncertainty," says Mike Tippett, a Vancouver-based entrepreneur. He believes a Canadian presence can be part of a "continuity strategy" for ambitious young US software groups. "They want a back-up plan that can be kicked into gear very quickly," he adds.
Sensing the opportunity even before Mr Trump took office, Mr Tippett and co-founder Scot Rafer set up True North to provide advice and support for tech groups looking at Canada. "People are trying to decide whether or not to fully act … before anything disastrous," alters the US business climate, says Mr Rafer.
Canada's relatively open immigration policies makes it easier for skilled overseas workers to gain a work visa than in the US. Canadian lawyers note a rise in calls from US-based workers - which began even when Mr Trump's presidential bid was an outside bet.
"The inquiries that started after Super Tuesday last March have now turned into full scale applications," says David Aujla, an immigration lawyer in Vancouver, who says 80 per cent of his calls are from Americans and US-based workers. "It's a good time to be an immigration lawyer in Canada," he says. "I've never seen a phenomenon like this."
Stephen Ufford, founder of Trulioo, a Vancouver-based ID verification group, says about 80 per cent of his staff are not Canadian.
Many of the world's largest tech groups already operate in Vancouver, which regularly tops lists of the world's most liveable cities and has the mildest climate in Canada. Amazon is looking to add to its 700 staff in Vancouver, while Microsoft opened an office in the city last year for 750 employees. Cisco Systems, Samsung and SAP also operate there.
Cost is also an important consideration. A skilled tech worker in British Columbia earns about c$1,600 a week, compared with C$3,400 in California, according to BC Stats, a government agency. Data from Colliers show average office rental prices in Vancouver were $28.66 in the fourth quarter of 2016, less than half the cost of office space in San Francisco.
The tech industry and a booming construction sector have made Vancouver the fastest growing area of Canada's economy, with GDP growth averaging 3.5 per cent in the past five years. "Resource economies historically were important, but tech now has more jobs than forestry, oil and gas, and mining combined," says Mr Roberston.
In terms of funding, Vancouver's share of venture capital funding for start-ups dipped last year, in line with the fall in VC funding in Silicon Valley, according to a report from CB Insights and PwC. However entrepreneurs say venture investors are more willing than ever to travel to Canada to access start-ups from outside the Valley's "bubble".
"On any given week you will see venture capitalists from Sand Hill Road [Menlo Park's VC hub] on the plane to Vancouver," says Bill Tam, chief executive of the BC Tech Association.
Younger companies have also made the city their home. Slack, the group messaging service, maintains dual headquarters in Silicon Valley and Vancouver, while Zenefits, an HR software start-up, is opening in Vancouver and laying off hundreds of workers in the San Francisco Bay Area.
Another part of the draw is that Canada offers financial incentives including rebate programs for research and development. Josh Buckley, a British entrepreneur who last year relocated his start-up, Mino Monsters, from the US to Montreal, says these incentives and the lower cost of talent played a big role.
"I realised were at a competitive disadvantage paying what ends up being $200,000 a head in San Francisco … so we just realised we had to make a switch," he explains. He calculated that when exchange rates, office space, salaries, healthcare, and government incentives were taking into consideration, the cost of operating in Canada is about tenth that of San Francisco.
Mr Buckley retains a strong affinity with California, having relocated to the US aged 18 to participate in the prestigious Y Combinator start-up accelerator. For this reason he worries about the effect Mr Trump's immigration reforms will have on the US tech industry.
"I didn't have any credentials, I didn't have a degree," he says of his move. "The way immigration policy is trending, I don't know if those opportunities would exist going forward."

© The Financial Times Limited 2017. All Rights Reserved.
Not to be redistributed, copied or modified in any way.
Nota : Les articles du Financial Times ne sont pas disponibles en français pour l'instant.