Weekly Market Pulse - Week ending January 6, 2023
Market developments
Equities: The S&P 500 finished positive this after multiple consecutive weeks of losses but remains in the tight trading range that we've experienced since mid December. The S&P 500 closed above 2% and the Nasdaq over 2.5% on Friday as traders expect a slower than expected wage growth will help the Fed in its fight against inflation.
Fixed income: Yields moved lower on Friday as the 10yr closed the week at 3.56% (.31% lower than a week ago) as investors processed the mixed labour and wage inflation data. Even with the lower-than-expected wage inflation, the job market remains tight, and the market is estimating that the Fed rates can peak ~5% this year.
Commodities: Oil ended the week on a slightly positive note on Friday but finished down ~8% at 78.68 as concerns about China's COVID wave and continued uncertainty are the global economic outlook weigh on oil prices. Oil continues to get hit from multiple angles as warm weather and plummeting natural gas prices is also limiting the expectations of a gas-to-oil switch that was expected through the winter.
Performance (price return)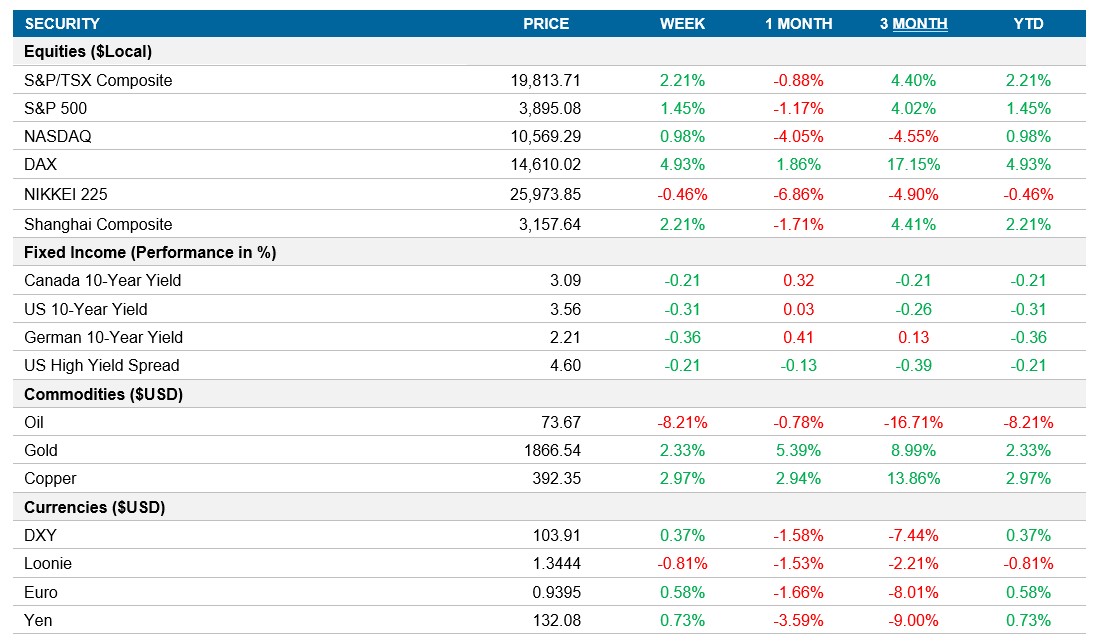 As of January 6, 2023
Macro developments
Canada – Unemployment rate falls to five-month low
Unemployment rate in Canada dropped to 5% in December, decreasing from 5.1% the month before and the lowest since the 4.9% we saw in June and July. These results show the Canadian labour market remains tight and signals that the Bank of Canada may not be able to ease monetary policy and end rate hikes soon.
U.S. – ISM Purchasing Managers Index falls to 48.4, unemployment rate drops to 3.5% and wage inflation slows to 4.6%
ISM Manufacturing PMI fell to 48.4 in December, below analysts estimates of 48.5 and the second consecutive month of contraction in activity. Excluding the decline, we saw during the beginning of COVID in April 2020, this is the lowest reading since February 2016.
U.S. unemployment dropped to 3.5% in December, coming in lower than the 3.7%. The December job report comes on the back of a sharp decline in weekly jobless claims that came in at 204,000 (versus the market expectations of 225,000), which all point to strong labour market that may keep interest rates higher for longer. The U.S. also added 223,000 jobs in December, beating market estimates of 200,000, while average wage inflation YoY dropped the 4.6%, well below the 5% expectations.
International – Eurozone Manufacturing PMI at 47.8 and Eurozone inflation falls to 9.2%
Eurozone Manufacturing PMI came in at 47.8 in December, above the 47.1 score we saw in November as inflationary pressures eased and supply chains continue to stabilize. Business confidence improved for the second month in a row, despite the ongoing concerns about inflation, high energy costs, and the risk of a recession.
Eurozone inflation fell to 9.2% in December, marking the lower reading in four months and below the forecasts of 9.5%. Energy prices rose at a slower rate where food, alcohol and non-energy industrial goods and services accelerated. These are potential early signs that inflation may have peaked, however it remains well ahead of the ECB target of 2%.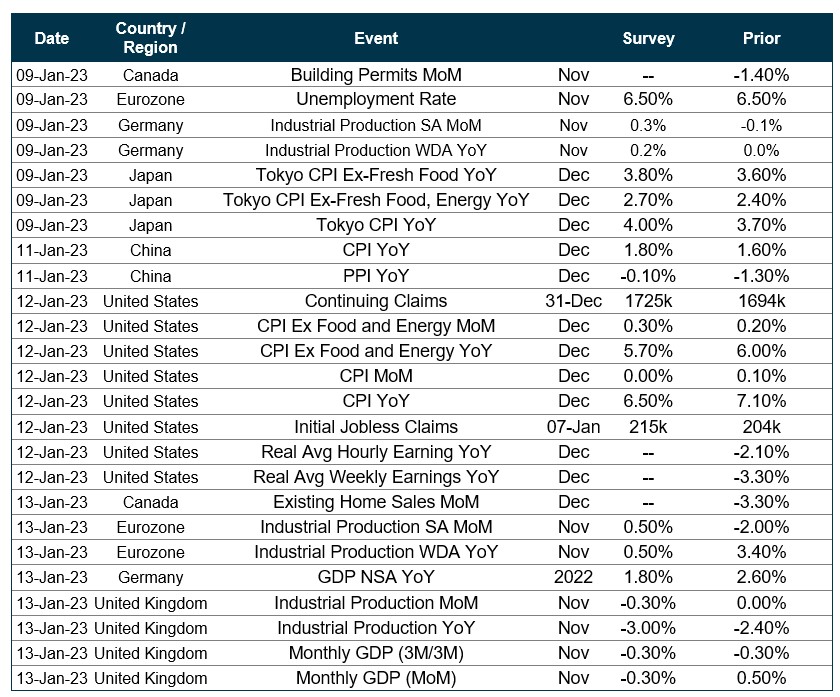 As of January 6, 2023