Qtrade Direct Investing provides the Best Online Brokerage Service Experience in Canada according to Surviscor
Surviscor Online Brokerage Service Level Experience Rankings
TORONTO, ONTARIO, January 23, 2023 — Qtrade Direct Investing provides the best customer service experience amongst Canadian Online Brokerage firms as measured by the 2023 Surviscor Online Brokerage Service Level Experience review. Canaccord Genuity Direct finished in 2nd and Questrade, the best firm in the prior two years, rounded out the top three.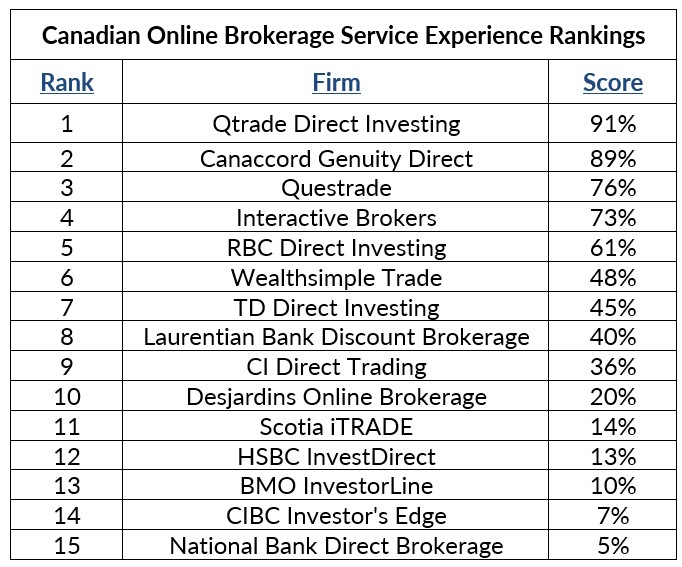 2023 Surviscor Service Rankings for online brokerages
"Good news continued throughout 2022 as most firm response times improved for the second consecutive year after many years of neglect that was blamed on increased trading volumes. The glaring concern is the trend within the big bank owned firms as four of the six fall outside the top 10, a trend that is also mirrored in our digital banking reviews," said Glenn LaCoste, President of Surviscor Group. "Congratulations to Qtrade Direct Investing for its continued service response excellence and its breadth of service interaction choices for all types of digital investors," added Mr. LaCoste.
"What makes a great online brokerage firm for investors is not only a great online trading experience but also being supported by a great service team. At Qtrade, we're always listening to our customers, surveying them regularly on our service and rapidly making updates and enhancements through our commitment to continuous improvement. A strong customer-focused culture is embedded into our DNA," said Christine Zalzal, Senior Vice President, Head of Online Brokerage and Digital Wealth. "As more Canadians explore the world of self-directed investing, we're continuing to invest in our people and our platform to help build their confidence to build their wealth."    
The review, now in its 18th year, analyzes digital service interaction methods and availability at each firm, including both desktop and mobile platforms, and reviewed 147 individual interactions with each firm between January and December 2022 to complete the analysis. The review highlights can be found in Surviscor's Between The Lines blog at https://www.surviscor.com/blog/reviews/canadas-best-and-worst-online-brokerage-customer-service-level-experiences.
For further information on the Surviscor Canadian Consumer Banking Service Level Experience scorCard, visit Surviscor | Online Brokerage Service Level Experience Rankings.
About Surviscor Inc.
Surviscor is a North American leader in the analysis and ranking of Canadian digital customer experiences provided by service firms. Surviscor's popular digital brokerage and banking reviews are powered by its proprietary scorCard methodology, identifying the BEST and WORST digital customer experiences. All studies and analyses serve as industry benchmarks for consumers and industry participants by identifying digital offerings considered to be leading-edge as compared to the industry standard.
About Qtrade
Qtrade offers self-directed investors a choice of platforms to achieve their financial goals. Qtrade Direct Investing is among Canada's top-ranked online trading platforms, having secured more than 24 first-place wins over the past 16 years in industry evaluations of online brokerages. It is currently rated the number one online broker by The Globe and Mail.
With more than 20 years' experience, Qtrade operates direct to consumer and through over 200 strategic partnerships with some of Canada's largest financial services institutions. Qtrade believes that Canadian do-it-yourself investors should have confidence in their financial decisions, confidence in the tools we provide to help them make those decisions and confidence in the support we offer.
Online brokerage services are offered through Qtrade Direct Investing, a division of Credential Qtrade Securities Inc. Qtrade and Qtrade Direct Investing are trade names and trademarks of Aviso Wealth.