Don't fix a ship in a hurricane
By Kara Lilly, CFA, Investment Strategist, Mawer | August 27, 2015

We have curated articles and videos from select third parties including research agencies, media and product providers. As an independent online brokerage Qtrade Direct Investinng does not provide advice and this information is not a personal recommendation to trade.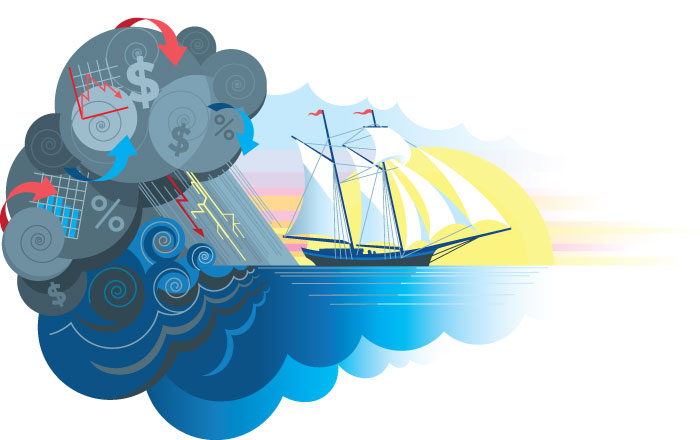 The sea can be fickle. At times she is calm and serene; at others, wild and wicked. So as a preventive measure, seasoned sailors make the repairs and fortifications necessary to withstand whatever the sea throws at them before setting sail. For when a hurricane hits, it is already too late. And experienced sailors know that the middle of a storm is not the appropriate time to fix a ship.
A portfolio is to the investor as a ship is to the sailor. It carries the investor from the present to the future, navigating a path that is always uncertain and often volatile. And like a good ship, it must be built to be resilient from the start. When markets get temperamental, it is often too late to start making big changes. Your portfolio must already be appropriately positioned.
This important lesson is especially prudent to remember now. Investors have become increasingly concerned about the global outlook for growth, in particular due to developments in China and Europe. They fret over the possibility of anemic economic output or even deflation. And these concerns seem to be weighing on markets. Volatility has increased. A storm seems to be brewing.
But while volatility has increased, now is not the time to panic. A hurricane has not yet manifested — and even if it does, investors can still ride out the storm. Equity investors who are fearful of what is happening in financial markets ought to remind themselves that when they purchase a stock, they do not merely own a financial asset — they own a piece of a real business that provides goods and services to the economy. The majority of well-run businesses with solid competitive advantages survive difficult times. Volatility of a stock price is not the same as volatility in a business. Moreover, if your portfolio is built to be resilient from the beginning, then it should be able to manage through periods of instability.
At Mawer Investment Management, we fortify the ship long before we let it sail from the harbour. We invest in wealth-creating businesses that are run by excellent people at what we believe is a discount to their intrinsic values — businesses that endure. And by systematically creating resilient portfolios through broad diversification and a long-term approach, we increase the probability that our clients can persevere through whatever rocky weather unfolds. In this way, we avoid making imprudent decisions when the weather turns foul. It may seem boring, but our clients can sleep better through the thunder.

Mawer and Art of Boring ™ are registered trademarks of Mawer. Mawer makes no representations or warranties regarding the advisability of investing in any product or service offered by Qtrade Direct Investing. Mawer has no obligation or liability in connection with the operation, marketing, trading or sale of any product or service offered by Qtrade Direct Investing.
Third party content and research is not prepared or approved by Qtrade Direct Investing. Qtrade Direct Investing makes no representation or warranty, express or implied, in respect of any third party content and takes no responsibility for any errors or omissions which may be contained therein and accepts no liability whatsoever for any loss arising from any use of or reliance on these reports or their content.