How to choose an ETF
Exchange-Traded Funds (ETFs) are extremely popular with many types of investors, both in Canada and the U.S. In recent years, ETFs sales have outpaced mutual fund sales in Canada, making them one of the fastest-growing investment vehicles.
There are now hundreds of ETFs listed on Canadian exchanges, and substantially more listed on U.S. exchanges. How can you choose the one(s) are right for you?
In this article, we'll review a few places where you can start looking for broad investment themes and some of the key tools and resources to help you identify, track and evaluate specific ETFs.
Where to look for broad investment themes
ETFs come in all shapes and sizes. Some are designed to follow the performance of specific stock or bond indices, while others are invested according to an industry, such as information technology, or a theme, such as green energy. The first thing to do when choosing an ETF is to look at broader investment themes to narrow your search.
Economics and politics: Economic and political trends can have a powerful influence on a company's or industry's performance. Every country's economy moves through different cycles, from expansion and growth to contraction and recession. Some companies do better at different stages of that cycle. At the same time, major opportunities or challenges for companies can result from government decisions around taxation, interest rates, privatization, minimum wage laws, and so on.
Demographics, social themes and trends: From aging populations to the rise of Millennials, large demographic shifts can create new markets or new demand for goods and services. Big-picture themes, such as the environment, social justice and gender equality, can also present opportunities for investment.
News and industry trends: Financial results, mergers and product launches — these kinds of announcements can drive stock and bond prices within an industry in the short term and sometimes over the longer term as well. 
Do your due diligence
Once you've identified some themes and trends you want to explore, you'll need to look at the individual ETFs to find the ones that are best suited to your goals and risk tolerance. Do some research into the investing goals/theme of the ETFs and review their reports to evaluate the underlying holdings, fees charged, management details.
Qtrade's comprehensive ETF centre
Qtrade Direct Investing provides many useful tools and resources to help you find and evaluate ETFs, starting with the comprehensive ETF Centre, which allows you to see summaries of top- and bottom-performing ETFs, as well as most active ETFs, listed on both Canadian and U.S. exchanges. The Centre also lets you click on ETF codes to drill down to details at the individual level.
The ETF Centre includes an "ETF Quick Screen" where you can filter your ETF search by sponsor (issuer), asset class, type, fees, returns, dividends and market capitalization.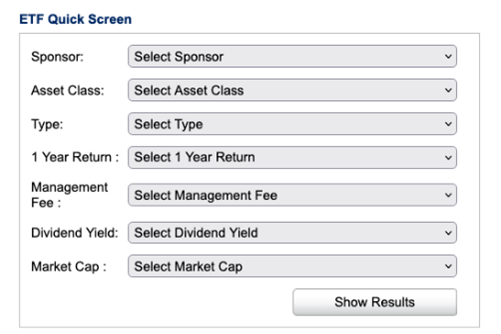 At the bottom of the ETF Centre page, there are also tabs to view ETF Money Flows by sponsor and by asset class. These charts show you which ETF sponsor/issuer is seeing in and out flows, the number of ETFs each sponsor offers, and click to drill down to a list of individual ETFs issued by each sponsor.
To get more details on an individual ETF, you can simply type its name or symbol into the search bar at the top of the ETF Centre page. You'll be able to view a full "Profile" of that ETF, its description, quote, returns, top holdings, etc. as well as a link to Buy or Sell that ETF. Other tabs display interactive performance "Charts", "News" and, importantly, link to "Research", where you can explore the ETF's detailed report.
To get started in the ETF Centre, log in to your Qtrade account, and go to Quotes & Market Info > ETFs
Other tools and resources to identify specific ETFs
ETF Screener allows you to filter ETFs according to their asset allocation, currency, investing theme, commodities, etc. You can also build a custom list of ETFs available according to your own criteria. You can screen Canadian dollar ETFs or U.S. dollar ETFs. If you click on the name of the ETF that interests you, it opens up the most detailed information available, including price, performance and Morningstar Analyst ratings and commentary. Everything you should need to make your investment decision. To access this tool, log in to your Qtrade account, and go to Investment Tools > ETF Screener.
Morningstar Library provides a treasure trove of articles on investing. You can search by ETF, theme, assets, etc. to get current insights.
ETF Research lists the latest articles on ETF-related topics and provides quick links to the ETF Screener and Biggest Gains and Losers lists. Find it by logging in to your Qtrade account, and go to Research > ETF Research.
The Morning Briefing from Down Jones gives you the day's top headlines and insights, so you can scan the latest company, market, business and economic news.
Over 100 commission-free ETFs at Qtrade
Like mutual funds, ETFs charge a management expense ratio (MER) to cover ongoing operating expenses, advisory services, administration and recordkeeping – and they will differ by ETF based on complexity and structure.
Because ETFs are listed and traded on a stock exchange, typically there are trading commissions associated with the buying and selling of an ETF. However, Qtrade gives you access to over 100 commission-free ETFs. Just click on the Canadian-listed or U.S.-listed tabs to find out which ones are available commission-free.
Monitoring ETFs
Many of the same tools that allow you to monitor companies and individual stocks you're considering, also allow you to monitor ETFs. These include:
Real time quotes that allow you to follow performance against various market indices.
Watchlists that allow you to create a portfolio of stocks/ETFs you would like to monitor.
You can also set alerts to be notified when market events or stock/ETF price changes occur.
Researching, choosing and monitoring your investments takes time. The more investments you own, the more homework you'll have to do to monitor their performance and to remain aware of developments that can impact their value.
However, if you're not comfortable choosing your own ETFs, Qtrade Direct Investing offers Portfolio Creator™. You just answer a series of questions about your preferred mix of stocks and bonds, as well as the types of risks you wish to avoid and Portfolio Creator™ will generate a robust ETF portfolio that's back-tested to maximize your risk-adjusted return.
Alternatively, if you prefer to leave the investing and monitoring to others, Qtrade's automated investing service, Qtrade Guided Portfolios*, will design a portfolio matched to your financial goals and automatically rebalance it when needed.
*Qtrade Guided Portfolios is a trade name of Credential Qtrade Securities Inc.
The information contained in this article was obtained from sources believed to be reliable; however, we cannot guarantee that it is accurate or complete. This material is for informational and educational purposes and it is not intended to provide specific advice including, without limitation, investment, financial, tax or similar matters.