Investor support at Qtrade
You want to invest for your future, but at some point, you may need a little help. Qtrade Direct Investing has several ways to support you on your investing journey.
Invest with confidence. And get the support you need to write your own future.
Help Centre
Got questions? We've got answers – 24 hours a day, 7 days a week. Head to Qtrade's Help Centre and type your question in the search field. For more interactive help, click on the Support button in the bottom right of the page and ask your question via an online chat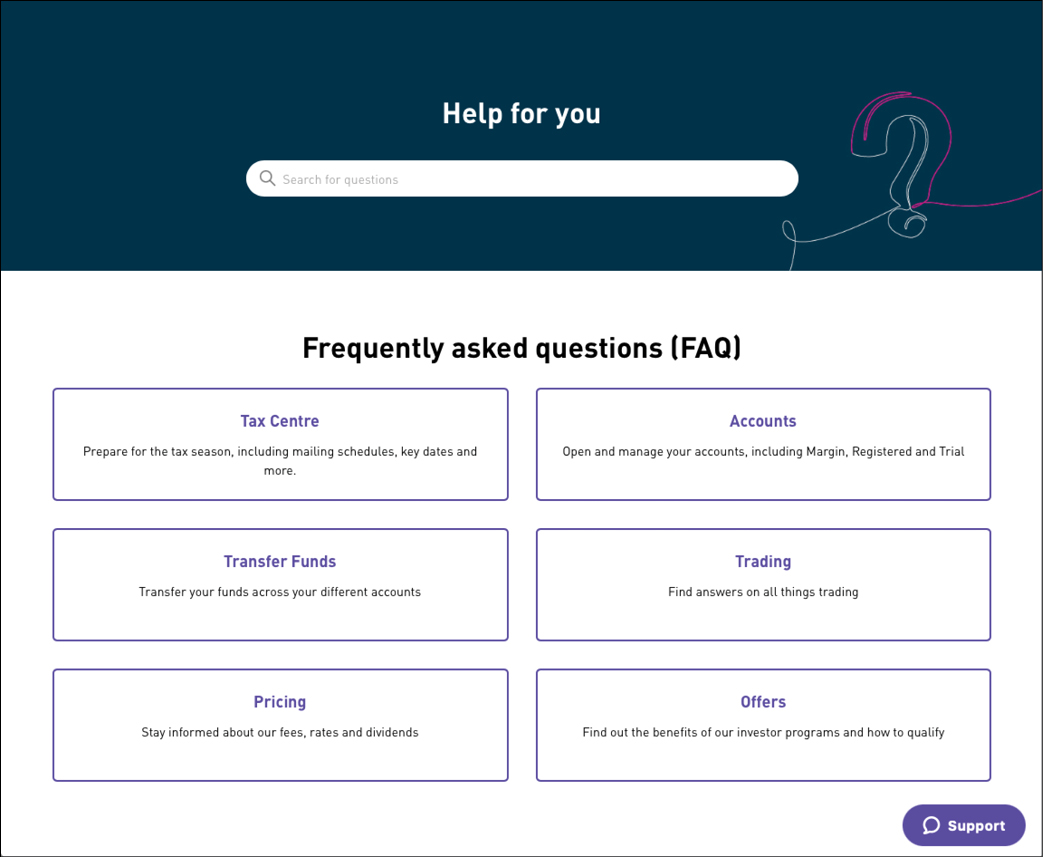 Want to receive trading tips, service updates and offers by email?
Sign up today
Educational resources
If you're looking for more information on a topic, chances are that we've got an article or guide to fit the bill.
Read one of our comprehensive Investor Guides on investing subjects from RESPs and RRIFs, to stock and margin trading.
A wealth of articles – for new, intermediate, and experienced investors – will help you get up to speed on a wide variety of investing topics.
Get investing information, ideas, and insights sent directly to your inbox. Sign up here.
Get in touch
Qtrade Direct Investing is an online trading platform, but at some point, you may want help that isn't online. Get help from Canada's best support team – Qtrade has ranked #1 online broker for client service 8 times in the past 6 years.
CALL                     
Toll free               1.877.787.2330
Local                    604.605.4199
Call us Monday to Friday 8:30 am to 8:00 pm ET
EMAIL                   DirectInvesting@qtrade.ca
MAIL                    
Qtrade Direct Investing
700 - 1111 West Georgia Street
Vancouver, BC V6E 4T6
Message Centre
For investors who have a Qtrade Direct Investing account, secure and confidential messages can be sent to our Service Centre through the online Message Centre. Log in to your Qtrade account and click on New Messages in the bar at the top of your dashboard. Or click on Contact Us (top right of your screen) when you're logged in to navigate to the Message Centre.