Volatility matters: Why you should watch the VIX
Investors always want to know which way markets are headed. While there is no perfect way to predict it, one popular gauge is the Chicago Board Options Exchange (CBOE) Volatility Index, also known as the VIX, which tracks implied market volatility in real time.
Gauging fear
In general, a VIX reading below 20 suggests a perceived low-risk environment, while a reading above 20 is indicative of a period of higher volatility.
The VIX is sometimes referred to as a "fear index," since it spikes during market turmoil or periods of extreme uncertainty. For instance, the VIX spiked in the fall of 2008, around the height of the global financial crisis, climbing above 80 towards the end of that year. It stayed below 13.5 from mid-September 2006 until the end of February 2007, when markets were performing well.
Contrarian investors — who look for market opportunities by going against conventional thinking—consider a low reading on the VIX to be a bearish signal, indicating market complacency that may spell bad news ahead, while a high VIX reading is believed by some to be a bullish signal. Given the VIX has been trading mostly below 20 since early 2016, some contrarian investors believe the markets are due for a correction in the near term.1
That said, research shows stock markets, on average, tend to perform better following low VIX readings compared to high ones.2
How is the VIX calculated?
The VIX uses a mathematical formula that measures how much the market thinks the S&P 500 Index option (SPX) will fluctuate over the next 12 months, using an analysis of the difference between current SPX put and calls option prices.1
Options prices are based on a number of factors, including investors' expectations of market volatility between the current date and the expiration date.
How the VIX is traded
The VIX is, by nature, volatile; therefore, trading it is speculative. As such, self-directed investors should do their own research and ensure they're comfortable with the risks of losing some or all of their initial investment.
For those who are comfortable with the risks associated with these kinds of investments, while you can't buy the VIX in the same way you can buy a stock or bond, you can invest in instruments that respond to its fluctuations, such as the CBOE's VIX futures and options. These contracts have an expiration date, unlike stocks on the S&P 500. With stocks, you have ownership in a company, while options are contracts that give you the right to buy or sell a stock at a certain price on or before a certain date.
According to the CBOE, VIX options and futures enable investors to trade volatility independent of the direction or the level of stock prices. "Whether an investor's outlook on the market is bullish, bearish or somewhere in between — VIX options and futures can provide the ability to diversify a portfolio or hedge, mitigate or capitalize on broad market volatility."3
There are also about two-dozen volatility exchange-traded products (ETPs) for the VIX, including both exchange-traded funds (ETFs) and exchange-traded notes (ETNs). ETFs are investments that hold assets, such as stocks, bonds or commodities, while ETNs are unsecured debt notes. ETNs, like bonds, can be bought and sold or held to maturity.4
Volatility ETPs tend to move in the opposite direction of the S&P 500. In other words, when the S&P 500 falls, volatility ETPs will rise.5 For example, the VIX averaged 10.5 in June, or about half of its historical average of 20, while the S&P 500 hit another record on June 19.6
Something to consider with exchange-traded products is that they can suffer from a negative roll yield when the CBOE VIX futures curve is in "contango." What this means is that as the underlying series of VIX future contracts come up for expiration, a new series of future contracts are introduced that are more expensive, leading to an ongoing spread cost (between the two contracts), and tracking poorly against the performance of the intended VIX over the long term.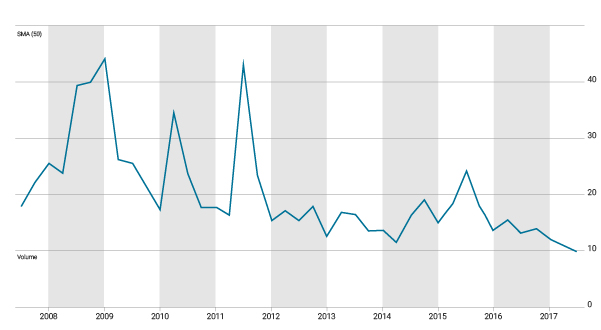 The CBOE Volatility Index (VIX), simple moving average, for the 10 years ending July 19, 2017.
Source: marketwatch.com
Don't let the VIX vex you
While the VIX is widely used as a measure of how the market is feeling, it doesn't necessarily represent market risk — especially long-term risk.
For instance, the VIX hit its lowest level in almost a decade in May 2017 and remains low despite geopolitical concerns in Europe and North Korea, and mixed fiscal and economic signals coming from the Trump administration in the United States.7
Still, interested investors continue to follow the VIX for evidence of what might happen next on the markets, including whether it's the quiet before another storm.