Weekly Market Pulse - Week ending January 13, 2023
Market developments
Equities: The U.S market continued to show strength and closed up 2.7% for the week as inflation data came in below expectations on Friday causing the major banks to rebound after starting the morning negative. Markets opened down ~1% as some major banks reported Q4 earnings and commented on the uncertainty regarding their 2023 outlook. Today kicked off the Q4 earnings season which will give investors a glimpse into how inflation has weighed on profit margins.
Fixed income: Yields moved slightly lower this week, as the 10yr closed at 3.5% following the release of the CPI data on Thursday that showed inflation up 6.5% YoY which was in line with expectations. Fed officials and economists commented at the end of the week that they support a smaller rate hike next meeting, and they wouldn't be surprised if the Fed starts talking about pausing in the near future. With all the economic data and mixed comments, the market still expects the Fed funds rate to peak at ~4.9% this year (unchanged from the beginning of the week).
Commodities: Oil ended the week up over 8%, boosted by optimism over demand from China as they begin lifting COVID-19 restrictions. Trading volumes has climbed on the thought of record-breaking Chinese oil demand along expectations that the Fed will only raise rates by 25bps in February. 
Performance (price return)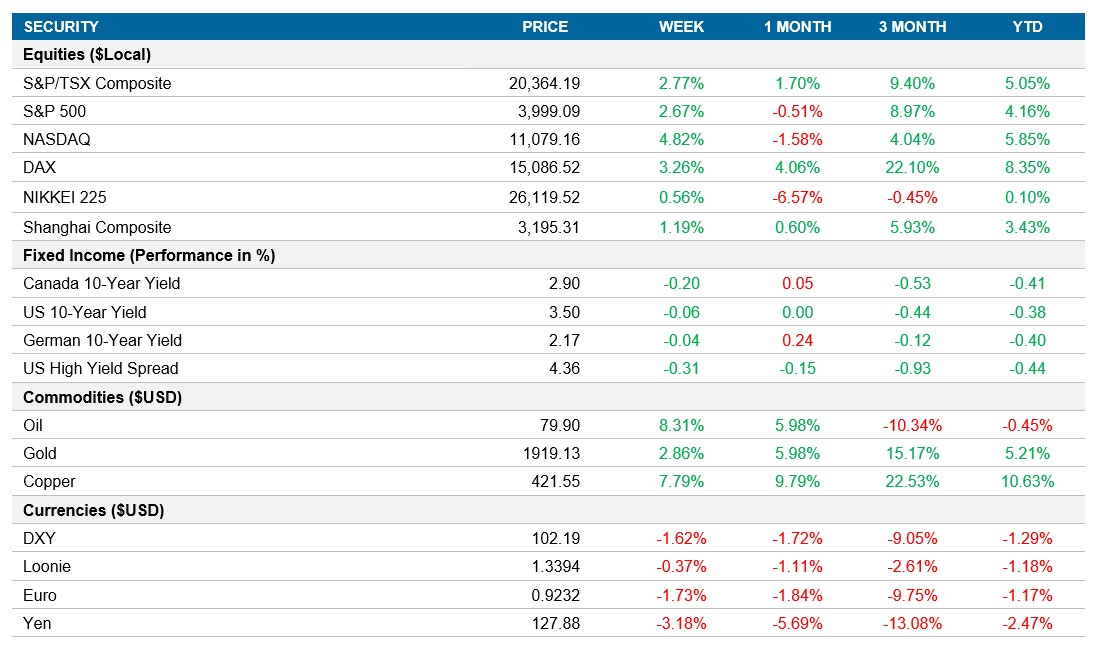 As of January 13, 2023
Macro developments
Canada – No Notable Releases
No Notable releases during the week.
U.S. – Inflation falls to 6.5% YoY and Jobless Claims came in below expectations at 205K
U.S. CPI was in line with market expectations at 6.5% YoY, falling from 7.1% last month while Core CPI came in at 5.7% (also inline with market expectations). This was the lowest inflation reading since October 2021 as energy costs increased at a lower rate than the previous month (7.3% vs 13.1%). We continued to see a slow down in food prices and used vehicles, however shelter remains a pain point and increased ahead of expectations.
Americans filing new claims for unemployment fell to 205K, down 1K from a month ago and below market expectations of 215K. This indicates that the labour market remains tight despite the Fed's tightening last year.
International – Eurozone Unemployment stays at 6.5%, China CPI comes in at 1.8%, Japan Core CPI increased by 4.0% and the U.K MoM GDP growth was ahead of expectations
Eurozone unemployment rate came in at 6.5% in November, unchanged from a month ago. Within the Eurozone, the highest rates were seen in Spain, Italy, and France which came in at 12.4%, 7.8% and 7% respectively. Germany (3%) and the Netherlands (3.6%) had the lowest rates.
China inflation rose to 1.8% last month, ticking above the previous month's reading of 1.6% . This print showed a 4.8% increase in food prices, even as COVID inflections spike and demand slowed. Inflation excluding food and energy rose 0.7% in December, slightly above the 0.6% seen in November. For the full year of 2022 inflation was 2%, below the government target of 3%.
Japan Core CPI rose by 4% in December, the fastest pace in forty years and above the market expectation of 3.8%. This is the seventh straight month that Tokyo's core inflation rate came in above Bank of Japan's target of 2%
The U.K economy grew 0.1% in November easing from the 0.5% in the previous period and ahead of market expectation of a -0.2% decline. Food and beverage services were a positive contributor, up 0.4% as they benefit from the FIFA world cup.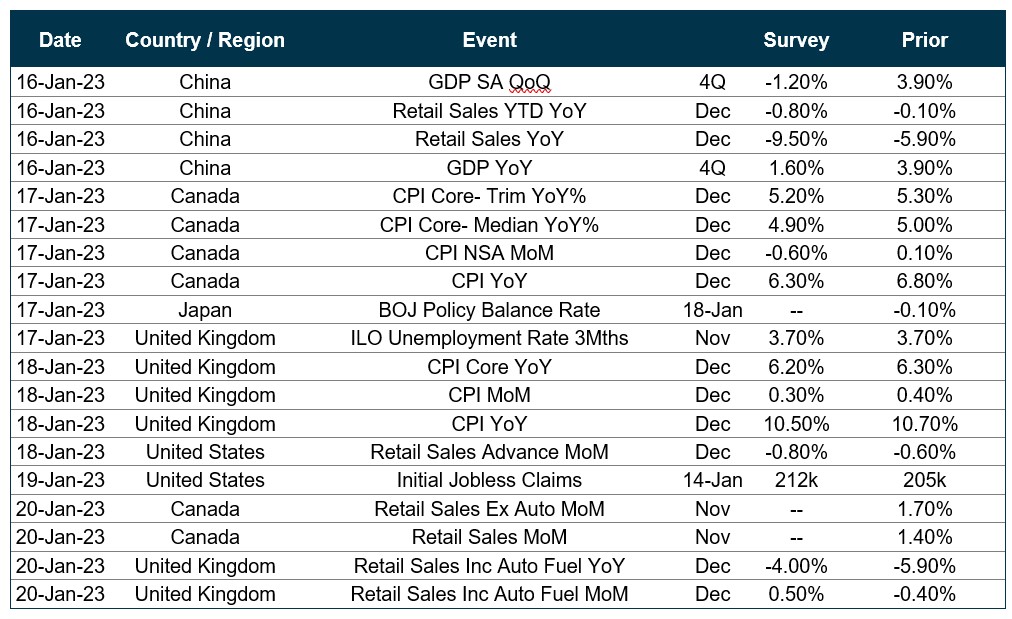 As of January 13, 2023