Weekly Market Pulse - Week ending June 16, 2023
Market developments
Equities: Stock traders faced a balancing act between the fear of missing out and concerns about an overbought market. The S&P 500 halted its daily winning streak on Friday but still saw its best week since March, closing over 2.5% higher. Tech stocks had mixed performance on Friday with chip makers weighed down by Micron Technologies, but the Nasdaq still managed to close up 3.25% for the week. Wall Street had an interesting moment with a massive options expiration event worth trillions of dollars, impacting trading and causing the market's volatility to climb along with the S&P 500 throughout the week before fading on Friday.
Fixed income: Shorter duration U.S. government yields climbed this week, while the longer duration yields remained relatively flat. The Fed held interest rates at 5.0% and 5.25% this week, while making it clear that further rate hikes will likely be necessary and pointed to a 5.6% peak rate. In Europe, the ECB raised interest by 25bps this week, while signaling that more tightening will be necessary as inflation remains elevated.
Commodities: Crude oil prices rose on Friday and ended the week up 2.4% due to optimism about higher refinery demand and expectations of economic stimulus in China. Russia's Energy Minister also expressed optimism, predicting a return of crude prices to around $80 per barrel. West Texas Intermediate Crude oil futures closed at $71.78 a barrel, while Brent crude futures climbed to $76.70 a barrel. Factors such as Europe's diesel premium surge and increased crude imports in China contributed to the positive outlook for oil.
Performance (price return)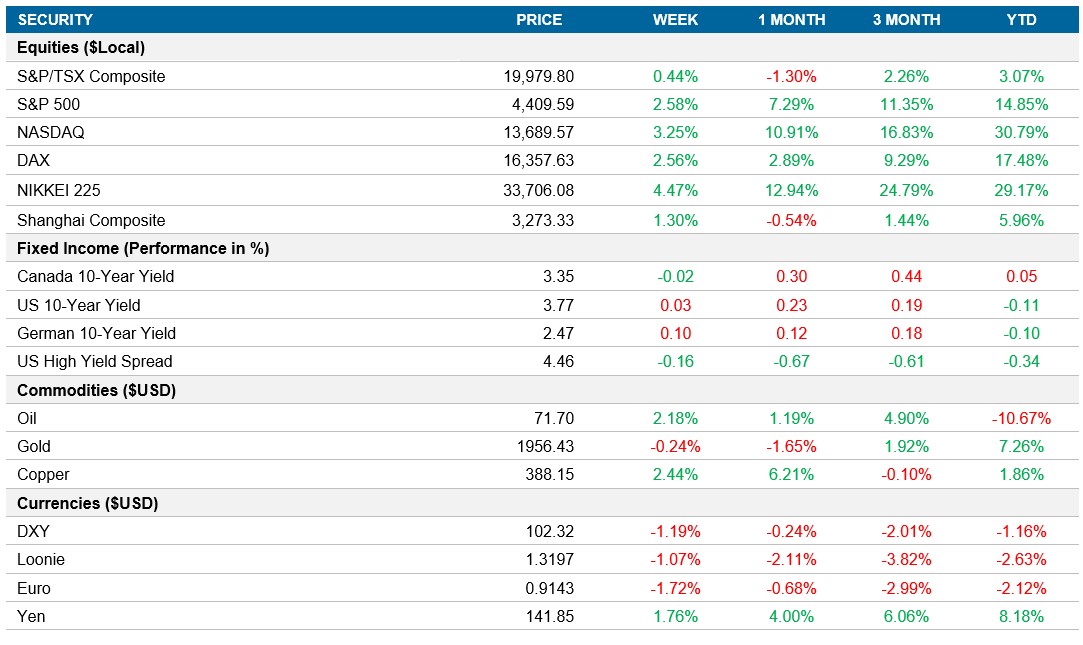 As of June 16, 2023
Macro developments
Canada – No Notable Events
No notable events this week
U.S. – U.S. Inflation Falls to 4.0%, Retail Sales Unexpectedly Increase in May
U.S. consumer price inflation fell to 4.0% in May 2023, the lowest since March 2021, due to lower energy prices. The core rate, excluding food and energy, also slowed to 5.3%. This supports the argument for the Federal Reserve to pause monetary tightening. Monthly consumer prices increased by 0.1% in May after a 0.4% rise in April.
U.S. retail sales unexpectedly increased by 0.3% in May 2023, surpassing expectations of a 0.1% decline. This indicates that consumer spending remains strong despite higher inflation and interest rates. Sales of building materials, vehicles, and various other categories saw notable growth, while sales at gasoline stations and miscellaneous store retailers declined. Core retail sales, excluding certain categories, rose by 0.2%.
International – China Retail Sales Falls Short of Expectations
China's retail sales grew by 12.7% in May 2023 compared to the previous year, but the pace of growth slowed from the record-setting 18.4% increase in April. The result fell short of market expectations, mainly due to a sharp moderation in sales of oil products, office supplies, and building materials. However, there was accelerated growth in sales of clothing, tobacco, alcohol, furniture, personal care, cosmetics, gold, silver, and automobiles. Sales of communications equipment also rebounded strongly. Overall, retail trade in China saw a 9.3% increase in the first five months of the year.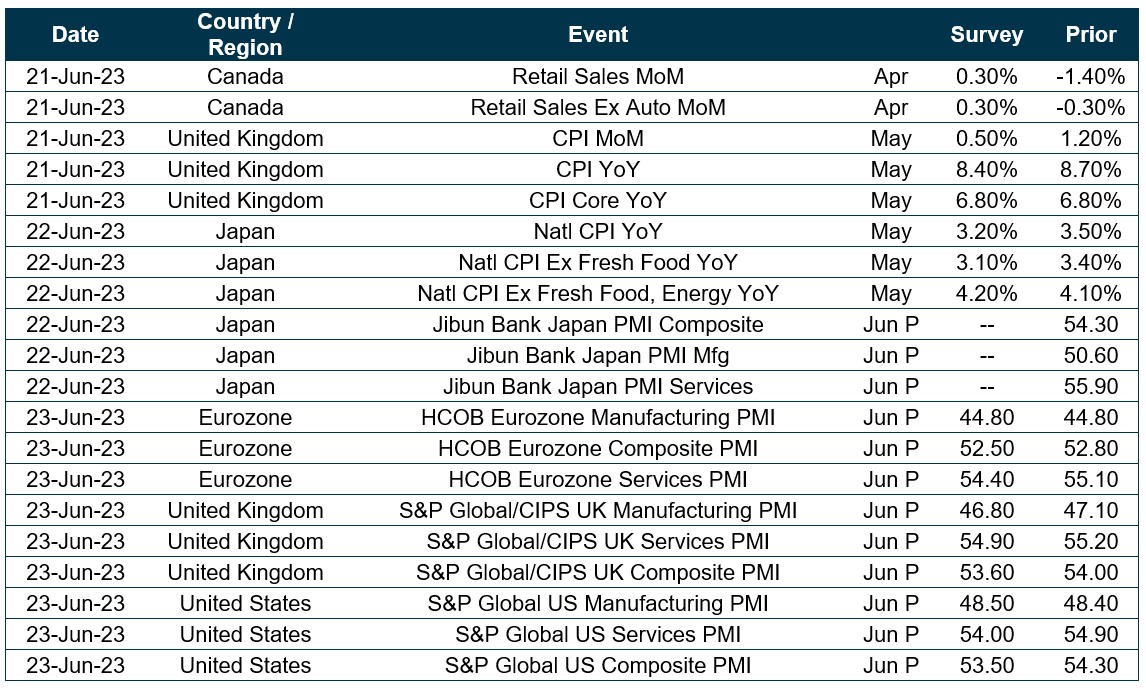 As of June 16, 2023