Weekly Market Pulse - Week ending June 2, 2023
Market developments
Equities: U.S. equities had a strong week, with the S&P 500 Index rising 1.8%. The solid jobs report underscored the strength of the economy, despite increasing probabilities of a new interest rate hike. Additionally, the Nasdaq 100 Index gained momentum, climbing 2.0% for the week. The rebound was further supported by the passage of the debt-ceiling increase. The tech sector played a prominent role in the market gains, pushing the S&P 500 to its highest levels since August 2022.
Fixed income: The bonds market experienced fluctuations during the week. Mixed economic reports and anticipated month-end flows influenced price action. Treasuries rallied later in the week, driven by lower-than-expected labour costs and manufacturing data. However, a sharp sell-off occurred following the strong May jobs report, leading to extended losses and a flattening of the Treasuries curve as investors anticipated a rate pause in June and a potential rate increase in July.
Commodities: Oil also experienced a volatile week, initially declining due to concerns over China's economic recovery but later rebounding alongside equity markets. Attention shifted to the upcoming OPEC+ meeting, where output levels would be discussed. Despite recent price declines, there was speculation that OPEC+ would maintain current output levels. Overall, oil ended the week down 0.95%.
Performance (price return)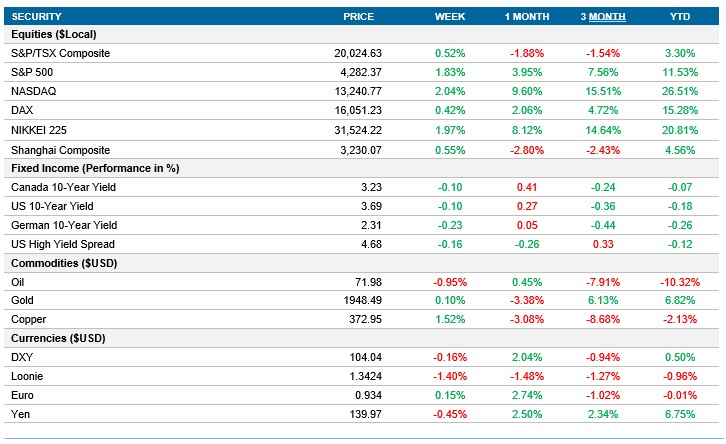 As of June 2, 2023
Macro developments
Canada – Better-Than-Expected GDP Boosts Likelihood of Bank of Canada Raising Interest Rates
The larger-than-expected 3.1% rise in first-quarter GDP and strong preliminary estimate in April indicate a robust economic performance. This positive outcome was fueled by stronger consumption growth, primarily driven by increased spending on vehicles. The exceeding GDP and inflation expectations raise the possibility of further rate hikes, even though gross domestic income remains weak.
U.S. – Surprising Job Openings Growth in Resilient Labor Market, Employment Report Reveals Diverging Trends
The April JOLTS survey reveals unexpected growth in job openings, indicating a resilient labor market despite aggressive Fed tightening. The job openings rate increased to 6.1%, while the ratio of job openings to unemployed reached a three-month high. However, other indicators suggest a slowdown in the labor market easing process. Hires remained unchanged, total separations fell, and the quits rate dropped to its lowest level since February 2021.
The recent employment report showed a significant increase in non-farm payroll employment, but there were also negative aspects. The household survey measure of employment dropped, leading to a rise in the unemployment rate to a seven-month high. Average weekly hours worked also decreased to a three-year low. However, the gains in non-farm payrolls were revised up, and various sectors experienced job growth.
International – Eurozone MCore Inflation Hits Four-Month Low, Germany Enters Recession as Q1 GDP Contracts, China Manufacturing PMI
Eurozone core inflation in May dropped to a four-month low, driven by lower services inflation. The decline was below the consensus forecast. Both headline and core inflation are expected to continue decreasing, but the tight labour market suggests that core inflation will decrease slowly and may take a while to reach the 2% target. Despite this, there is still an expectation of interest rate hikes in June and possibly July.
Germany has entered a technical recession as its Q1 GDP contracted by 0.3% quarter-on-quarter. This downward revision indicates a poor economic outlook for both Germany and the Eurozone as a whole. Weakness in household real incomes has negatively affected demand, resulting in a 1.2% decrease in household consumption.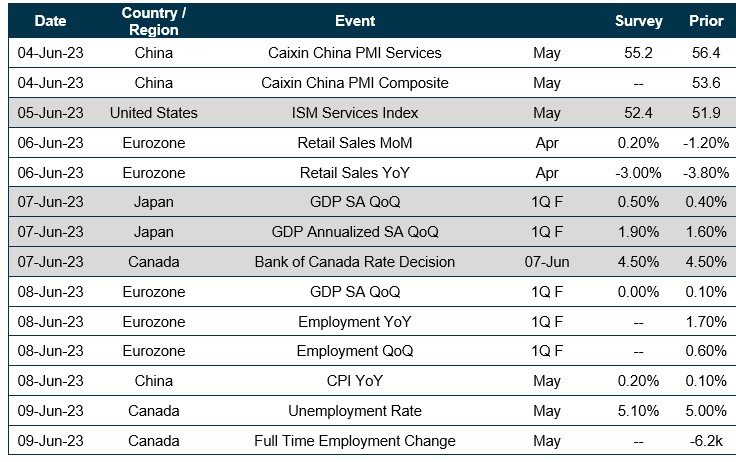 As of June 2, 2023