Weekly Market Pulse - Week ending September 15, 2023
Market developments
Equities: The U.S. stock market saw increased volatility and a decline in response to a $4 trillion options event, alongside concerns about a strike impacting Detroit automakers. Big tech companies like Nvidia led the losses, with the S&P 500 erasing gains for the week and the Nasdaq 100 dropping nearly 2% on Friday. Chipmakers were affected by news that Taiwan Semiconductor Manufacturing Co. requested delays in high-end equipment shipments. The VIX volatility index climbed, and the S&P 500 and Nasdaq Index closed -0.16% and -0.39% respectively for the week.
Fixed income: Investors are showing a preference for longer-term bonds, anticipating that the Federal Reserve is nearing the end of its interest-rate hiking cycle. Yields on longer-dated debt are attractive, even if the Fed continues to raise rates. The scarcity of long-duration offerings has created a premium on such bonds. This trend has led to strong demand for longer-maturity bonds, particularly from insurance and pension investors. Government 10yr yields in both Canada and the U.S. ended the week slightly higher.
Commodities: Oil prices increased for the third consecutive week due to production cuts by Saudi Arabia and Russia, tightening the global oil market. Oil settled near $91 a barrel, the highest since November. The International Energy Agency and OPEC warned of a market deficit through the end of the year, driving prices up by about 4% for the week. 
Performance (price return)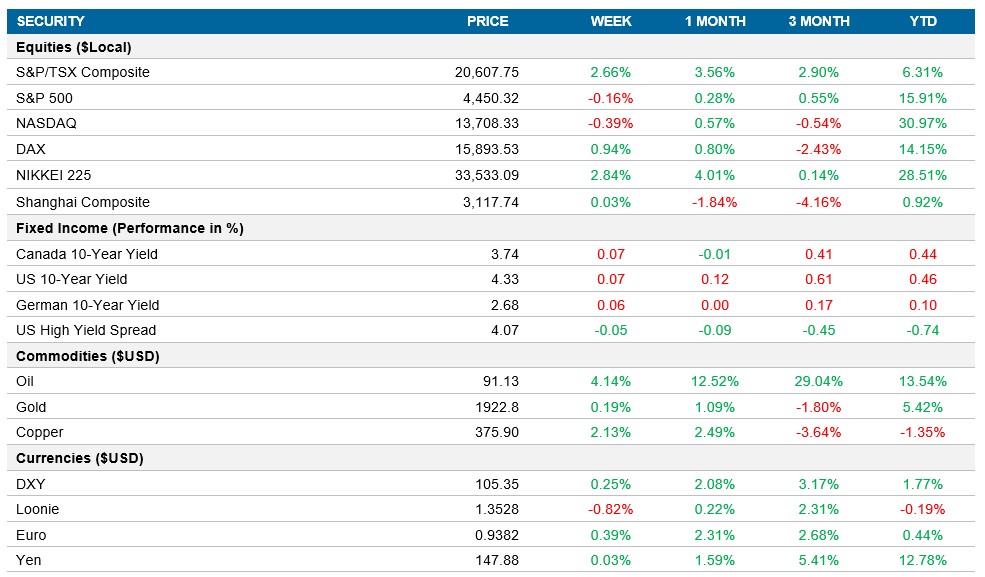 As of September 15, 2023
Macro developments
Canada – No Notable Releases
No notable releases this week.
U.S. – U.S. Inflation Accelerates in August, U.S. Retail Sales Rise in August
The U.S. experienced a second consecutive monthly increase in inflation, rising to 3.7% in August from 3.2% in July. This was driven by rising oil prices and base effects from the previous year. Notably, energy costs fell less in July 2023 compared to the previous year, and transportation services costs increased, while inflation slowed for electricity, food, shelter, new vehicles, and apparel. Core inflation, excluding food and energy, reached 4.3%.
Retail sales in the U.S. grew by 0.6% in August, surpassing expectations and indicating strong consumer spending despite high prices. Sales at gasoline stations had the largest increase due to soaring gasoline prices, while various other sectors, including clothing, electronics, and food, also saw sales growth. Excluding certain categories, retail sales edged up by 0.1%.
International – ECB Raises Interest Rates but Signals Possible End, U.K. Unemployment Rate Rises, U.K. Economy Contracts in July, China's Retail Sales Accelerate in August
The European Central Bank (ECB) increased interest rates for the 10th consecutive time, reaching a 22-year high of 4.5% for main refinancing operations and 4% for the deposit facility rate. The ECB expressed concerns about persistent high inflation, with forecasts of 5.6% in 2023 and 3.2% in 2024. GDP growth projections were lowered significantly, indicating economic challenges ahead.
The U.K.'s unemployment rate climbed to 4.3% in May to July 2023, the highest level since 2021. This suggests the labor market may be cooling due to the Bank of England's tightening monetary policy. The number of unemployed individuals increased, and employment levels declined, particularly among full-time self-employed workers. Wage growth, excluding bonuses, reached 7.8%, the highest since 2001.
The British economy contracted by 0.5% in July 2023, the largest decline of the year. The services sector, impacted by strikes in the healthcare industry, and the production sector both contributed to the contraction. Retail trade and manufacturing were notable areas of decline. Over the three months to July, GDP increased by 0.2%.
China experienced a significant increase in retail sales, rising by 4.6% year-on-year in August. This growth was driven by various sectors, including clothing, furniture, communications equipment, cosmetics, and automobiles. However, sales continued to fall for certain categories such as home appliances and office supplies. For the first eight months of the year, retail trade increased by 7.0%.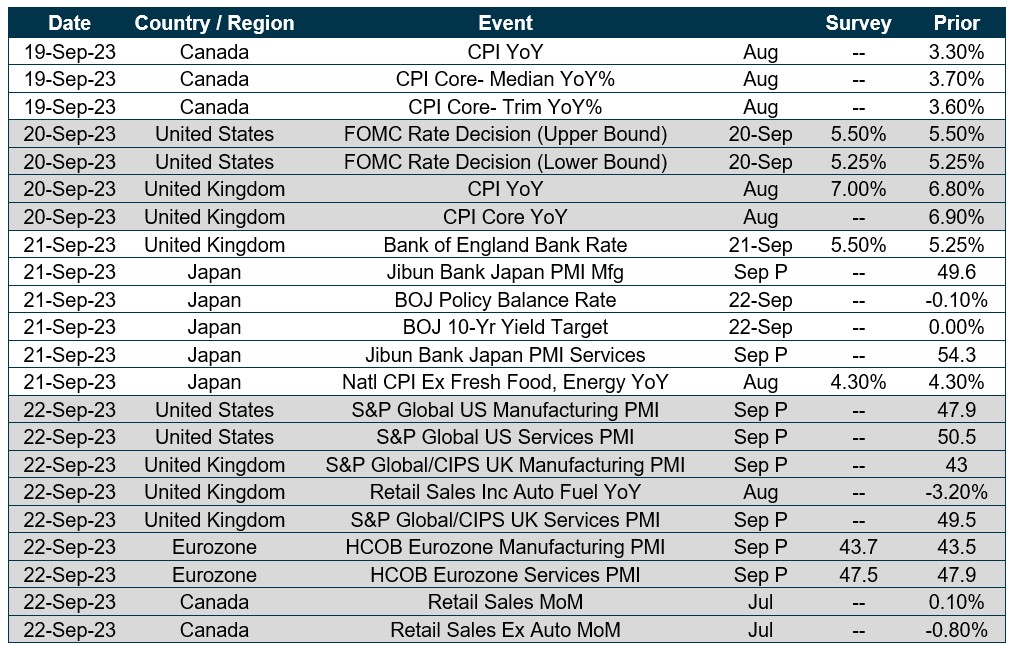 As of September 15, 2023