Weekly Market Pulse - Week ending February 10, 2023
Market developments
Equities: The U.S. market fell over 1% this week, led by a sell-off in the Technology sector, as a handful of Fed speakers re-emphasized the potential for interest rates to move higher and stay higher for longer. Q4 earnings continue to surprise to the upside, even as 2023 earnings estimates move lower and signal little-to-no growth this year. The most notable earnings release was Disney, who saw their stock price jump as they announced a massive cost cutting initiative and layoffs under the leadership of Iger, who returned as CEO in November. All eyes will be on the CPI print next week as we wait and see if the Fed's tightening cycle has helped bring inflation down.
Fixed income: This marked the worst week for the Treasury market in 2023, with investors realizing that the Fed may have to keep rates higher for longer. Trades in the derivatives market are predicting a 6% peak Fed rate, which is ~85bps higher than current market expectations. The Canadian 10yr also closed almost 25bps higher this week based on data signaling the labour market remains tight.
Commodities: Oil climbed over 8% this week and finished strong on Friday after Russia announced a move against the price caps, with a plan to reduce output by 500,000 barrels per day in March. The announcement signals that Russia would rather give up volume than reduce their price. The week started strong on continued hopes of China demand would boost the commodity. 
Performance (price return)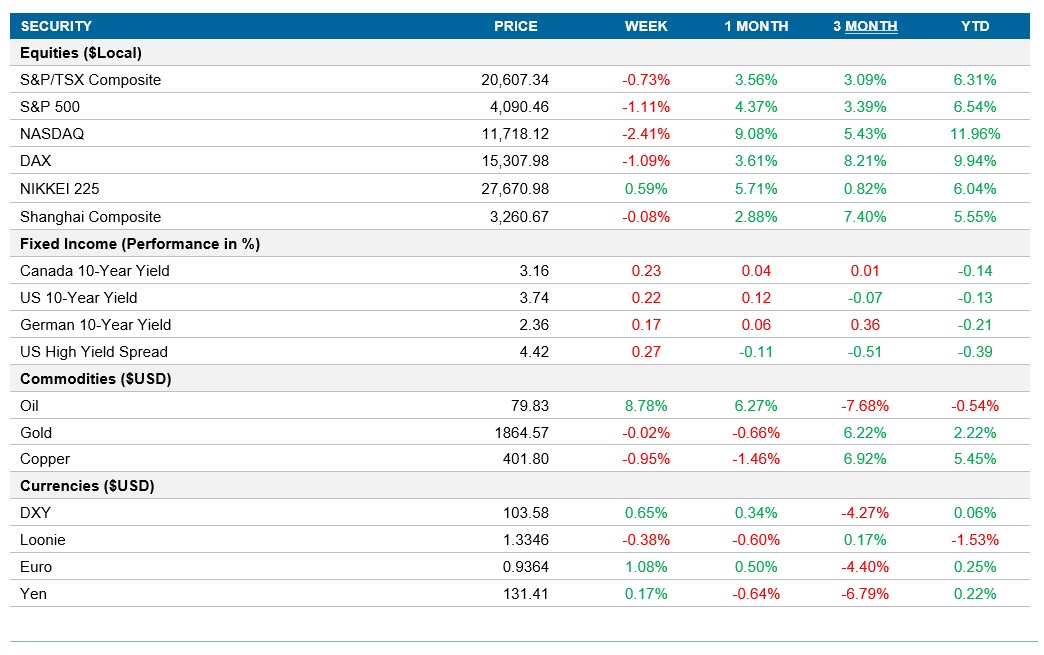 As of February 10, 2023
Macro developments
Canada – Canadian economy added 150K jobs and the Unemployment Rate stayed at 5%
The Canadian economy added 150K jobs in January, the most in over a year and over ten times the market expectations of 15K. The gains were primarily driven by the 25 to 54 age group and split evenly between men and women. The unemployment rate was unchanged compared to last month at 5% and a touch higher than the 4.9% record we saw in the summer but below the market forecasts of 5.1%
U.S. – The Fed raised interest rates by 25bps, ISM Manufacturing slows as Services jump, Non-Farm Payrolls adds 517K Jobs, average hourly earnings slow to 4.4% YoY and unemployment rate comes in at 3.4%
U.S. initial jobless claims rose to 196K in the week ending February 4th, beating market expectations of 190K. This figure continues to signal that the labour market remains tight which could lead to continued inflation pressure in the U.S.
International – Eurozone GDP expanded by 0.1%, CPI slowed to 8.5% and both the ECB and Bank of England raise interest rates by 50bps, China PMI increase sharply and Japan retail sales beat expectations
Eurozone retail sales in the Eurozone declined -2.7% MoM in December, marking the biggest decline since April 2021 and well below the rise we saw in November. These results point to rising prices and interest rates putting pressure on consumers. The decline was led by food, drinks, and tobacco, followed by a decline in non-food products.
German inflation came in at 8.7% YoY, below market expectations of 8.9% and slightly higher than the 8.6% a month ago. Inflation increased by 1% MoM, reversing the -0.8% MoM decrease we saw in December.
The U.K. economy GDP came in at 0% in the fourth quarter of 2022, after a -0.2% contraction in last quarter. The recent print was in-line with market expectations. The level of quarterly GDP is currently 0.8% below its pre-COVID level.
China's annual CPI rate rose to 2.1% in January, up from the 1.8% in December and a touch below market forecasts of 2.2%. This marked the highest reading in 3 months driven by a jump in food prices and a gain in non-food prices on the back of the Lunar New Year and the removal of Covid restrictions. Core CPI followed the 0.7% December increase with an increase of 1% YoY in January.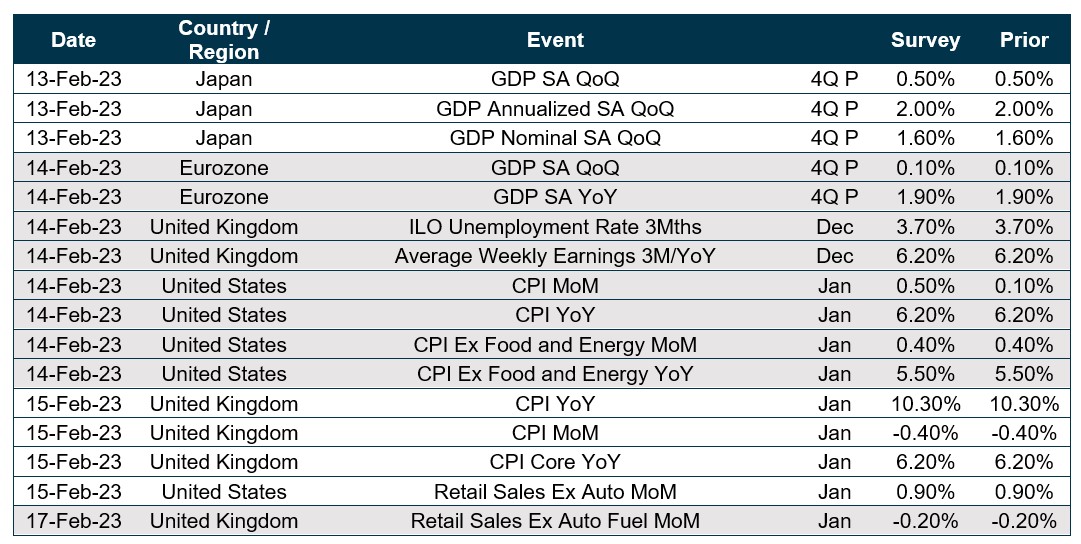 As of February 10, 2023