Weekly Market Pulse - Week ending May 5, 2023
Market developments
Equities: After a four-day loss, the US equity market rebounded on Friday following the release of April job data that showed the economy added more jobs than expected and unemployment rate fell back to a multi-decade low. Despite Friday's gains the S&P 500 has started May with a decline as investors worry about rising recession risks and the regional banking crisis.
Fixed income: The behavior of the bond market has been volatile in recent days. The Fed delivered an expected 25bp rate hike this week, but also altered its forward guidance, leading to a higher close for Treasuries. However, concerns in the banking sector resulted in traders ramping up expectations of Fed rate cuts later this year.
Commodities: Despite also rising on Friday, the energy market, specifically the oil market, has experienced a continued decline over the past few weeks due to concerns over softening demand and global growth slowing. Saudi Arabia's decision to cut its official selling price of crude for Asian customers has further exacerbated the decline.
Performance (price return)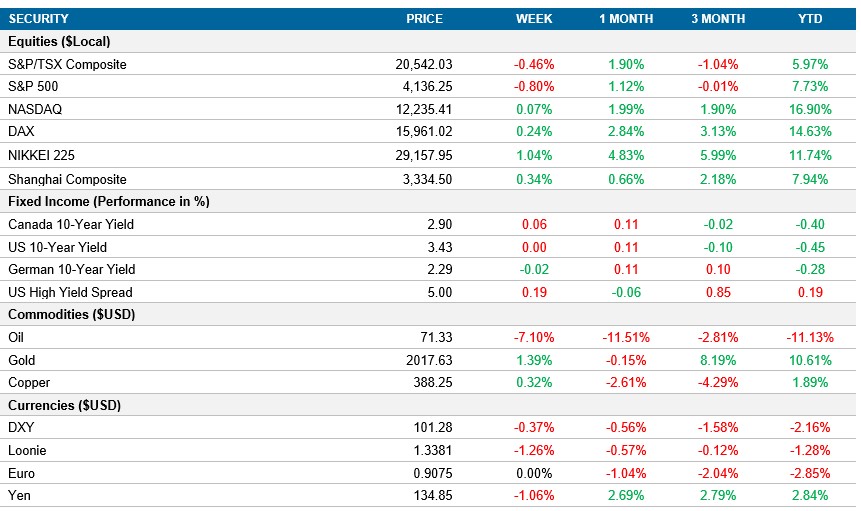 As of May 5, 2023
Macro developments
Canada – Slight Expansion in Manufacturing Sector, Mixed Signals in Canadian Labour Market
In March 2023, the S&P Global Manufacturing PMI increased to 50.2, indicating a slight expansion in the manufacturing sector after reaching a three-year low of 48.6 the previous month. The growth was primarily due to higher output from Canadian factories, with increased staffing levels and capacity. However, there was a decline in new orders due to inflation and high borrowing costs, forcing firms to depend on clearing backlogs to support growth.
Labour market conditions in Canada showed a stronger-than-expected increase of 41,400 jobs in April, but the rise was driven entirely by part-time employment, while full-time employment declined by 6,200. Despite continued strong immigration leading to a rise in the labour force, the unemployment rate remained unchanged at 5%.
U.S. – U.S. Manufacturing Sector Contracts for Sixth Consecutive Month, U.S. Services Sector Shows Fourth Consecutive Month of Growth, US nonfarm payrolls rise in April
The ISM Manufacturing PMI in the United States rose to 47.1 in April, slightly above market expectations, but still indicating a sixth consecutive month of contraction in the manufacturing sector due to higher borrowing costs and tight credit. While the contraction rates softened for output and new orders, employment levels stabilized after two periods of decline. There were also faster deliveries and shorter lead times from suppliers, but input costs rebounded in April after a slight decrease in the previous month. The risk of a recession this year remains high.
The ISM Services PMI for April increased to 51.9, marking a fourth consecutive month of growth in the services sector due to a faster increase in new orders, rebound in new export orders, and faster supplier delivery performance. However, production and employment growth slowed, and price pressures were slightly higher, while the backlog of orders fell less than in the previous month. Improvements in both capacity and supply logistics contributed to the sector's growth.
The US nonfarm payrolls rose by 253,000 in April, beating consensus expectations for the thirteenth consecutive month. The unemployment rate also fell by one-tenth of a percentage point to 3.39%. Despite the strong figures, downward revisions to the previous two months reduced the three-month average payroll gain to 222,000, its weakest since January 2021. The banking sector turmoil and broader signs of economic slowdown suggest that labour market conditions are cooling, but the data provided little immediate evidence of any impact from the banking stress.
International – Euro Area Consumer Price Inflation Slightly Increases to 7.0% in April, Germany's Retail Sales Contract Unexpectedly, China's Manufacturing PMI Falls to Four-Month Low
The Eurozone's consumer price inflation rate slightly increased to 7.0 percent in April from March's 13-month low of 6.9 percent, with energy prices rebounding and the cost of services rising at a faster rate, while inflation slowed for food, alcohol & tobacco, and non-energy industrial goods. The monthly increase of 0.7 percent marks a third straight month of increase, and the core index eased to 5.6 percent, remaining close to the all-time high of 5.7 percent seen in March.
Retail sales in Germany unexpectedly contracted by 2.4% month-over-month in March, marking the fourth consecutive month of falling sales due to high prices weighing on consumers' affordability. Sales of both food and non-food items went down, and online and mail order retailing fell by 4.8%. Retail sales also dropped by 8.6% year-on-year, with sales of food plunging by 10.3%, the biggest drop since 1994. The first quarter of the year saw a decline of 5.4% in retail sales.
China Manufacturing PMI unexpectedly fell to a four-month low of 49.2 in April, pointing to the first contraction in factory activity since last December, amid weak global demand. Output, new orders, buying activity, and employment levels declined, while export sales fell for the first time since January. The drop in the PMI was attributed to rising raw material costs, supply chain disruptions, and COVID-19 restrictions. The decline in input and output prices indicated weaker demand and highlighted the struggle of manufacturers to pass on cost pressures to consumers. Despite the reading hitting its lowest so far this year, business sentiment remained optimistic.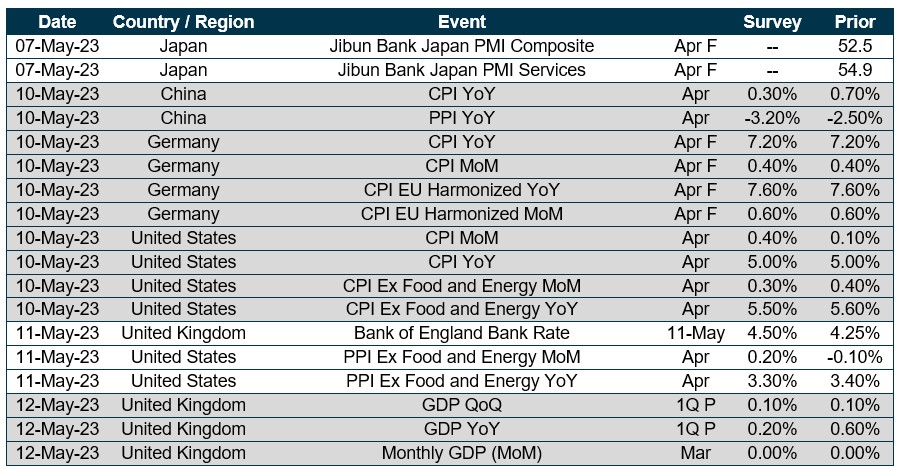 As of May 5, 2023